Selecting the Wrong Light Spectrum
In order to grow efficiently, plants need different types of light for each growth stage. With full-spectrum LED lights this is easily achievable, but if you select the wrong setting, the plant will not develop well. You should also take into consideration the conditions in the room where you're doing the growing. For example, plants benefit most from light in the blue spectrum when they're in the vegetative stage of growth. That means that if you set the light to emit light in the red spectrum, you will only be hindering the plant's growth.
For people who use cannabis derived products on a regular basis, it is very tempting to try growing the plant at home. The benefits are quite obvious: the cost is drastically lower and there aren't any hassles related to the actual purchase of medical marijuana.
Many people all around the world grow cannabis at their homes, be it for recreational or medicinal purposes, and while some of them do quite well and manage to produce a good product, for others it doesn't work so well – their plants wither quickly or produce insignificant yields.
Forgetting to Adjust the Lights
Many people forget to adjust the height of the lights as the plants grow bigger and end up with burnt leaves. Another important thing is to occasionally rotate the pots in order to prevent the plants from leaning towards the light too much.
These issues can be related to improper usage of lighting. (The same issues affect other types of plants as well.) Grow lights are a great tool for making the growing process more efficient, but they can also be harmful to the plant if not used correctly.
Overwatering When Switching from HIDs to LEDs
Regular HID lights produce a lot of heat and generate lots of infrared light. This dries out the plant and the soil and results in the need to water the plant more often. However, LED lights generate no infrared light and don't emit nearly as much heat, so there is no need for abundant watering.
Not Considering the Other Factors
LED grow lights are a great aid when growing plants indoors but by themselves they cannot do much. In order to produce big and healthy yields there are a lot of factors that need to be considered – room temperature, airflow circulation, soil, nutrients, plant genetics, and many others things. Don't just focus on a single part of the growing process. Instead, try to get an overall understanding of the whole chain and how everything is interconnected.
Using the Wrong Light Schedule
You should be careful not to leave the lights on all the time, or worse, the opposite – forget to turn them on. It might sound trivial but it's quite easy to mess up the light schedule and even a minor change might have a negative impact the plant's growth. Cannabis needs about 18-24 hours of light during the vegetative stage and 12 hours of light during the flowering stage.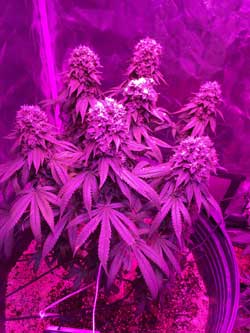 Grow Space: 3'x4′

pics by the very talented LED grower Laughing Buddha!
How Far to Keep from Plants: 12-14″ away
Note: Unlike a lot of other brands, ViparSpectra LED grows lights have both a heatsink and built-in fans to help keep grow lights cool.
Electric Sky LED grow lights (The Green Sunshine Company)
How Far to Keep from Plants: 24″ is the recommended starting distance from the plants.
Today's LED models are much better for growing cannabis than the ones available even a few years ago. Many modern lamps are full spectrum or "wideband" spectrum (instead of only red and blue light diodes, which product a bluish purple light and are sometimes called "blurples"). Full spectrum light is easier on the eyes and adding at least some amount of green light to blurples typically results in healthier growth. Other spectrum colors like red, far red, and infrared are important for the budding/flowering stage. LED manufacturers have developed specialized lenses to point light directly to the plants and increase penetration, resulting in bigger yields for the same amount of light compared to older models. There are also many different form factors, with everything from the casing to the size of the diodes varying from model to model.
Each model is different based on the size of its bulbs and the lenses used to reflect light down. It's important to ask the manufacturer how far to keep LEDs from your plants. Smaller LEDs with 1W chips almost always need to be kept at least 12″ away. However, most LEDs with 3W chips or bigger need to be kept 18″ away or more to get the best results and prevent light burn. Check with the manufacturer to figure out the right distance for your particular model of LED grow light. How can there be too much light if the heat is under control?
Horticulture Lighting Group (HLG) LED Grow Lights
How Far to Keep from Plants: 36″ is the recommended starting distance from the plants.
How Far to Keep from Plants: 36" away in vegetative stage, 18″ away in flowering
A 600W HPS bulb wastes around 450W (75%) of the electrical energy producing heat. A good quality LED light with a 400W power draw would produce around 200W of heat despite having the same productivity as a 600W HPS. So the best LED's only produce about half the heat of an HPS.
Growroom heat levels are totally different with LED
When light levels are too intense the tips of the plants are bleached, they look white instead of green. This can be a sign to raise the LED lights higher, or to tie down the tallest branches of your plants.
Plant bleaching
Due to the lower ambient heat levels associated with LED the plants may often show a reduced need for water consumption. Remember that when watering, since inexperienced LED growers can be tempted to over water their plants which reduces root growth and subsequent plant growth. Cannabis roots need oxygenation to grow fast, over-watering them reduces root oxygenation and reduces plant growth and yield.