If you are willing to step up the quantity of your grow, that is, really take it to the next level, you should be prepared to spend a little bit more cash. A large scale 350-400 watt LED operation that will outdo the average 600 watts HID lighting system is not going to come cheap. However, a larger LED light setup will still be more cost-effective than an HID setup of the same size.
For many, the main reason is that they are relatively inexpensive when compared to the much pricier HID setup. This is especially true if you are growing a smaller number of plants. Our grow lights at A Pot for Pot are specifically designed for growing a small number of marijuana plants and is priced well under $200 – proof that high-quality lighting doesn't need to be expensive.
Finally, LED lights last longer than HID or CFL bulbs, ensuring many years of good use before they need to be replaced. Traditional cannabis grow lights last for only 20 thousand hours. In contrast, LED bulbs last more than twice as long, for up to 50 thousand, or sometimes even 100 thousand hours. That's five times the life of HID lights!
Even if you'd like to grow more than a few plants, you don't have to go for the more expensive HID lights. Simply add to your setup with either a few larger LED bulbs or several of the smaller ones. If you opt to go for the latter option, make sure that your plants and your lights are spaced out correctly, as you want to make sure that each plant gets adequate amounts of light. Using too few lights can cause stretching, whereas using too many lights leaves you at the risk of light burn, as well as energy overconsumption.
Convinced? Check out A Light for Pot to start growing cannabis with LED lights.
With LEDs, you don't have to place your plants as far away as you would with HIDs. Keep lights below 300 watts about 30-70cm away, or just around 12-27 inches. Lights above 300 watts should be kept at 70-80cm away, while gradually decreasing space when flowering. Larger wattage like 450 should be close to 80 cm or 31 inches.
If there is one drawback of using LED grow lights, it is that your plants' grow time will be slower than if you were using HID lights. Again, this is because HIDs emit more energy than LEDs, leading to faster flowering.
Not only are LED lights more energy-efficient , but you'll also save on water usage as well. As you are now aware, HID lights use a lot of energy, which in turn produces more heat. This dramatically increases the temperature of the grow room, causing your plants to consume more water. Cannabis is already quite the water hog when compared to other plants and growing even just a small amount of plants uses a lot of water. Any way to reduce water consumption is great for the environment, not to mention great for your utility bill.
Why Use LED Lights?
This was not always the case. When LEDs were first gaining momentum among growers, the technology was still fairly new and had not entirely been perfected. Think about how expensive and inconvenient cutting-edge technology like smartphones were when they first came out, and it often wasn't worth it. For example, many agree that the first-generation iPhone was not the greatest. However, today's smartphones are much more affordable, and they are everywhere.
Cost is not the only reason to make the switch to LED lights . Experienced growers know that seedlings and plants in the vegetative stage benefit more from blue light, while flowering plants need red light to thrive. Before LEDs, growers would have to purchase two different types of lights: metal halide for the vegetative or blue light stage, and high-pressure sodium bulbs for the final flowering stage.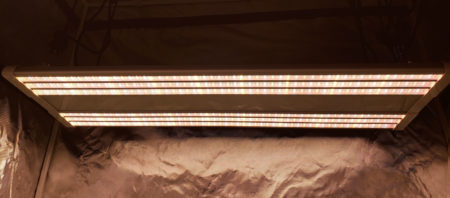 How Far to Keep from Plants: 12-18″ away from tops of plants
Example of a Cannabis Cola Grown Under ViparSpectra LED Grow Lights from Seed to Harvest – Buds Are Dense, High Quality and Potent
LED grow lights are relatively new to the cannabis growing scene, but they have become wildly popular over the last few years with their ability to produce great yields while staying cool and using a reasonable amount of electricity.
Which LED grow light brands can be trusted?
HLG first coined the term "Quantum Board" for an LED grow light with the diodes spread out over a large area (on a board). The board style LED grow lights have become very popular almost as soon as they appeared on the scene. Growers are reporting results that may beat even other LED grow lights when it comes to the amount of yield for the electricity used. I was impressed when I tried one myself. It's probably too early to call it the winner just yet, but it's undeniable these are some of the best LED grow lights available today!
Since growers are getting such great results with these lights, and they come at surprisingly reasonable prices for LED grow lights, I knew I needed to highlight this company as our most recommended LED grow light!
1.) Spread Style
More detailed information coming soon!
Here are those same plants at week 6 of flowering under the ES300 LEDs
Here we will discuss different types of lights, they are HID lights, Fluorescent Lights, HPS, and Induction lights. These lights have been used for many years. They have their own advantages and disadvantages. You will understand why LEDs are the best option for producing high-quality cannabis.
It is important to measure the intensity of lights your cannabis plants require. In that way, you can adjust the height of the lights. If the light has high intensity, you need to keep the lights at a certain distance. Otherwise, you can keep the lights closer to the marijuana at a minimum one-inch distance.
The spread-style type of grow light emits an equal amount of light to a large area. The spread style has panels that have small holes. The small LED lights are fitted in these holes on a large area. The spread-style LED lights are further divided into quantum board and spider-style.
High Quality Weed: It was found in a study conducted by the "University of Tennessee" that plants produce high antioxidants, minerals, and taste compounds if they are provided light with perfect spectrum. The LEDs light do not emit much heat which means they are suitable for your plants. They contain around seven bands in the right proportions. This feature is beneficial for producing good quality plants.
Important things to know before growing cannabis at home
LED grow lights are largely used by growers to produce quality marijuana. They not only produce the same intensity of light but save you from having a high electricity bill. Here we will discuss about the different advantages of LED that you should know.
Growing cannabis indoors requires lots of patience and care. Light is among the main factors to help the plants grow into healthy plants. These grow lights have various benefits that you must take advantage of. You need to make sure that you are providing the cannabis a good amount of light.
These are the top advantages of LEDs which make them stand out from other traditional grow lights. They are easy to manage, cost-effective, and produce high-intensity lights for your plants. Also, they can emit the same amount of light for years, so don't have to change your bulbs frequently. Thus, you should choose LED grow lights for growing cannabis indoors.
Use LED Grow Lights for Growing Indoors
Low Maintenance: Traditional lights need ballast, reflectors, bulb fixtures, sockets, etc. But, LED grow lights are easy to install and they can work efficiently without any maintenance issues. You can simply forget about maintenance after installing LED and focus on the growth of plants. This will save you money by reducing the use of various lighting equipment.
The traditional panel-style of LED grow lights are also efficient for growing cannabis. They are specifically designed with small and medium wattage to provide appropriate lighting. They are compact, and nowadays, manufacturers are now focusing on this style of lights. They resemble similar features of both COB-style light and quantum board.