You also want to consider privacy and security. A lot of people want to conceal their gardens from judgmental neighbors and potential thieves. Tall fences and large shrubs or trees are your best bet, unless you live in a secluded area. Also, most state laws require that you keep cannabis plants concealed from the street.
You may need to put all of your plants in containers if you don't have great soil. Also, if you're unable to perform the heavy labor needed to dig holes and amend soil, containers may be the only way for you to grow your own cannabis outdoors.
Privacy and security
However, plants grown in pots, buckets, or barrels will likely be smaller than those planted in the ground because their root growth is restricted to the size of the container. In a broad sense, the size of the pot will determine the size of the plant, although it's possible to grow large plants in small containers if proper techniques are used.
While shopping for soil, you might be overwhelmed by the options available at your local garden store. The soil type is the basic structure of your soil. From there, look at nutrients, microorganisms, and other amendments that improve the soil. Your choices will be flooded with words like:
Buying the right soil for an outdoor cannabis grow
Garden plot: Probably the most common outdoor growing spot, many will plant cannabis alongside other growing veggies.
Keep an eye on them – Clones are extremely sensitive to transplants, and it's common for outdoor cannabis clones to have issues when they are transplanted from a controlled indoor or greenhouse environment to an outdoor bed or pot. You need to check on your clones regularly to ensure none of them are suffering from transplant shock or other problems.
Know your clones – Certain clones just don't perform well outdoors. If they come from a strain that was bred indoors and is mostly cultivated indoors, you're more likely to encounter problems. Before you just buy an exotic strain clone from your local nursery, do some research into its growth patterns and traits, so you can be sure to avoid strains more prone to problems.
A recent episode of The Real Dirt Podcast went in depth about the best techniques for planting outdoor cannabis clones. Some listeners have never had any issues transitioning their clones outside, but others are doing it for the first time this season.
The Do's of Outdoor Cannabis Clones
Here's how it usually goes: You take the plant out in May. Two weeks later you notice those pretty flowers. Two weeks after that, you get small buds. But then the plant stalls for two weeks to a month and begins to grow weird shaped leaves out of the buds. The plant then reverts back to vegetative growth.
Seems simple enough, but there's some things you need to avoid to increase your outdoor cannabis clones' chances.
There are a few things you can do to ensure that your clones thrive outside, but there's also plenty of things to avoid.
Outdoor Cannabis Clones and Early Flowering
At this point however, it's already the middle of July, so your plant only has two or three more weeks before it goes into flower again under the natural light of the sun. In the end, you end up with less cannabis that doesn't look as good.
Don't stress your clones out – Clones are already delicate. They are raised in a controlled environment, with a specific temperature, humidity and lighting. If you're keeping your clones at a steady temperature 72-74 degrees Fahrenheit indoors, you don't want to transplant them on a 95 degree day. While it is important to keep your keep your clones wet for the first few days after transplanting, you don't want to stress them by overwatering either.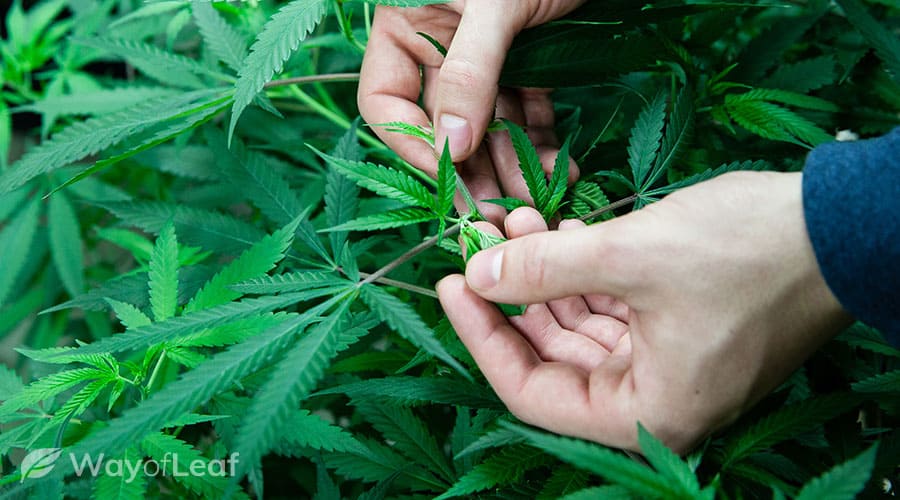 Climate is all-important when growing cannabis, with the primary concern being the amount of available sunlight. While this isn't a problem in sun-kissed California, not every American state has the same luxury. However, don't assume that glorious sunny weather is perfect for growing flowers.
Step #1: Determine the Climate in Which You're Going to Grow the Marijuana
It is best to maintain the temperature between 55-86 degrees Fahrenheit for as much of the growing cycle as possible. Marijuana plants can survive outside this range for short periods.
Step #8: Choose the Right Genetics
Composting is the way forward because it is cheap and relatively simple. You can also add all sorts of organic matter from fruit clippings to animal manure. Avoid using meat or animal fat as it will attract pests.