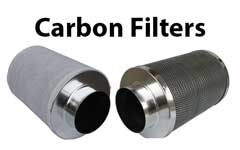 These are hands-down the best option for controlling marijuana grow room odors. Carbon filters (also called 'carbon scrubbers') will actually pull the smells out of the air, neutralizing any odors that pass through.
How to Find & Install The Right Carbon Filter
Recommended Marijuana Odor Neutralizer – Ona Products
Well, ignoring the fact that Ozone is not as effective as a carbon filter at reducing odors, one problem is that they're bad for the environment. So much, in fact, that they're illegal in the state of CA where I live (see: http://www.arb.ca.gov/research/indoor/o3g-list.htm).
Before you actually start growing cannabis indoors you'll need to make sure that air gets in and out exactly where it's supposed to; any leaks would be disastrous and would defeat the point of hiding the smell. Once you've checked everything and set up your filtration system (which needs to be strong enough to filter the amount of air in your grow tent or room) you need to make sure that your extractor and air intake system is creating negative pressure, which makes sure that all of the air inside the tent or room will be sucked out via your extractor fan rather than leaking out anywhere else.
How to Hide the Smell of Growing Weed Indoors | Before growing
One of the best activated carbon filters is the Anti-odor Filter Mountain Air, which is so efficient that it has won prizes for it. These high quality filters made in Canada can filter almost 100% or any aromas thanks to its high quality activated carbon and its innovative design and shape. They usually last for about two years, depending on how intensely you plan on growing cannabis. These filters are perfectly safe and eco-friendly.
Activated carbon filters
Odor Filter + Two Gels; This method involves installing a metal activated carbon filter in your ducting system and using two gels for extra precaution; one at the entrance to your house and another inside the ducting right before your extractor fan.