For most first-time gardeners, we recommend buying a quality potting soil that will provide your plants with enough nutrients to get them through most of their growth cycle without having to add many amendments. This pre-fertilized soil—often referred to as "super-soil"—that can grow cannabis plants from start to finish without any added nutrients if used correctly.
Growing marijuana outdoors is great because you won't need to spend a ton of money on it and you can rely on the power of the sun. If you have access to a sunny spot in a private yard or even a balcony, terrace, or rooftop, you can grow weed outside. You will be tied to the sun and the seasons and local weather, but you won't have to spend a bunch of money on equipment and utilities like indoor growers.
Soil has three basic consistencies, in various ratios:
Clay soils
While some plants thrive in their native soils, which are usually one of the compositions listed above, cannabis plants are best grown in soil that includes a combination of the three consistencies above—this mixture is known as loam.
Indoor grows can be wasteful, using a ton of electricity to power all those lights, fans, and other equipment. The sun and the wind are free!
Heavy rains and high winds can cause physical damage to plants and reduce yields, and excessive moisture can lead to mold and powdery mildew, especially during the flowering stage.
Benefits of growing weed outdoors
Most potting soils used in gardening are loam soils. If you've ever worked with potting soil, you'll know that its composition is rich and diverse, and it looks dark and hearty. Beyond texture and color, the soil should smell rich and alive.
In hot climates, sandy soil should be mulched to help with water retention and to keep roots from getting too hot.
Greenhouses also offer growers the ability to harvest more than once per year, if they are equipped with a light deprivation system. These systems allow growers to control the hours of sunlight their plants receive, much like turning lights on and off in an indoor garden, by covering the greenhouse with a black tarp that deprives the plants of sunlight.
Becoming intimately familiar with your local climate and seasons is one of the most important steps in producing high-quality outdoor marijuana. Before you grow, you'll need to know the ideal temperature your plants require in order to thrive, the best site, optimal timing of planting and harvesting, and the season's photoperiod — the amount and intensity of light available through the duration of the growing season.
After the solstice, the available daylight hours decrease, allowing the plant to naturally transition into the flowering period. Cannabis is a short-day plant, meaning it will begin to flower as the nights get longer and the hours of sunlight decrease.
Determining the optimum location is another important factor that can affect the yield and quality of your plants. Cultivators in the Northern Hemisphere should attempt to place their plants in an area with southern exposure to ensure their plants are getting the most available sunlight. The opposite is true for the Southern Hemisphere.
Security
Daytime temperatures between 75 and 85 degrees Fahrenheit (23.9 to 25.4 degrees Celsius) are ideal for cannabis, while temperatures above 88 degrees Fahrenheit (31.1 degrees Celsius) or below 60 degrees Fahrenheit (15.6 degrees Celsius) can delay growth. Cannabis is considered heat-tolerant, but sustained highs and extreme lows will usually lead to complications that could eventually kill your plants.
Plants grown from seeds are typically heartier and more vigorous than clones, as they produce a sturdier taproot that clones are not able to replicate. Photo by: Gina Coleman/Weedmaps
Cannabis requires more nutrients than many of the other plants you may have in your garden. Quality soil contains enough organic nutrients to start the growth cycle, but as your cannabis plant grows and transitions into flowering, it may deplete the available nutrients and require additional fertilizers.
Using Mother Nature to cultivate cannabis
During the first half of the season, the daytime period increases until the summer solstice, which occurs in the Northern Hemisphere on or around June 21 and in the Southern Hemisphere on or around December 21. While the daylight hours increase, the plant's vegetative stage takes place. During vegetation, the plant will develop the roots and stems that will serve as the foundation for growth until flowering.
Depending on your location, you may need to plan for rain. In most regions, the rainy season is typically aligned with the end of the flowering stage and the start of the harvesting period, but this may not always be the case. Rain can be detrimental to an outdoor flowering crop so being prepared to cover or move plants can help ensure a successful harvest. If it does rain on your plants, make sure to immediately shake off any excess water, as lingering moisture can lead to the formation of mold and nobody likes moldy weed.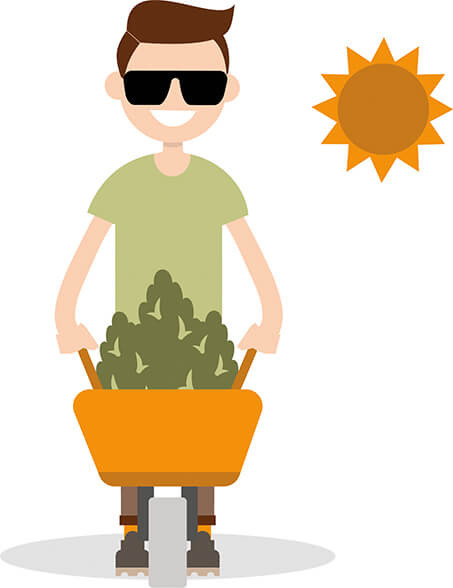 A cornfield is also another ideal location for your cannabis. In such a place, your plants enjoy privacy, and they have access to enough sunlight as well. As long as you plant in the middle of the cornfield at the right time, your plants will do well.
While outdoor growing can be fun and is highly productive, a few challenges are bound to happen along the way. Since the outdoor environment created by you, it's very hard to control it.
Open Field
Growing weed outdoors comes with many advantages, whether your intention is for medicinal or commercial purposes:
If you still want to grow cannabis, but the climatic conditions in your place aren't as good as the above, the next best alternative is to put them in a controlled environment. A greenhouse can do well, provided all the necessary conditions are assured. A greenhouse can help you overcome nature's constraints.
Step 9: Harvest at the Right Stage
Although the seasons vary from one state to another, look to grow your cannabis plants one or two months before June. In most regions of the U.S., temperatures, are good and your plant will likely perform well.