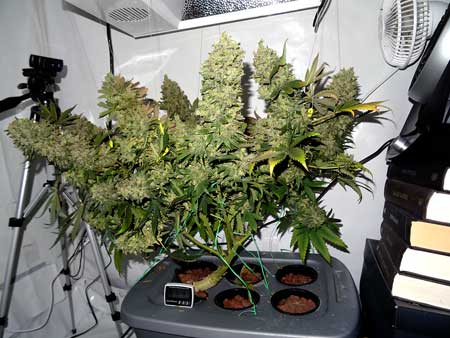 How to Grow Cannabis in DWC
So there are five major parts to getting set up. You need….
Hydro is a no-brainer for me. Whenever I go back to a hand-watered grow like coco coir, I am always surprised by how much extra time it takes to water plants and remove the runoff. The most intimidating part of hydro is just getting started – after that it's actually really easy to take care of your plants. In my opinion, hydro is far easier and less time consuming than growing in soil or coco coir once you're set up. If you are interested in hydro, go for it! If you follow this tutorial you will succeed!
Differences Between Soil & Hydro
Have you seen cannabis plants growing with their roots just floating in a reservoir of water? This type of hydroponics is known as Deep Water Culture (DWC), and has been around for over a 100 years! As more growers gain experience with this medium, DWC has become increasingly popular for growing cannabis. Hydroponic setups are really neat and offer some big benefits over growing in soil!
Hydroponics is when you grow your cannabis plant in an inert medium like coco or a reservoir of water, and provide all the nutrients to the plant directly in the water.
Cons of Hydro
Is Hydroponics Good for Growing Cannabis?
Cons of Hydro
Besides the two most obvious benefits of a hydroponic garden (easier nutrient delivery and faster growth rate), there are several other advantages for cannabis cultivators to consider.
It can be time-consuming and expensive for those setting up hydroponic systems for the first time. There are two other main drawbacks to consider before trying this growing medium.
How does hydroponic growing work?
As a cannabis cultivator, you have an array of choices when it comes to growing your own herb at home — outdoor, indoor, and greenhouse cultivation, to name a few. But what about hydroponic growing mediums? Could this futuristic-sounding, soil-free method be the right solution for you? In this beginner's guide to weed hydroponics, you'll learn everything you need to know to start your own hydroponic garden at home.
Image lightbox
If the pros of hydroponics outweigh the cons, you may be ready to try your hand at employing this growing medium in your home.
Cannabis growers have been using different hydroponic methods for many years as a way to maximize yields and speed up growth, the two main advantages of soilless growing. Working with soils indoors can be inefficient and difficult for a number of reasons:
What Is Hydroponic Cannabis?
I n the previous post, we gave an overview of hydroponic gardening including its origins, the various systems and techniques, and medium options for a hydroponic grow. In this next article, we will focus how to use hydroponic systems specifically for growing cannabis.
Set Up Your Hydroponic Cannabis Growing System
Nutrients will come either pre-mixed in a solution or in powder form. While powder form might be cheaper and less bulky, it is best to stick with liquid pre-mixed nutrients if you are a small-time grower as they mix with water easily and are more forgiving.