A flush can also be done to clear plants of nutrients if they have a nutrient imbalance, such as nutrient lockout, when your plants are overloaded with nutrients and unable to absorb new ones.
Note how often you water plants and write it down in a log. Get your marijuana plants on a watering schedule—as they grow out of the seedling stage, watering every two to three days is ideal.
Below are general estimates and are meant to give growers a rough sense of frequency of waterings; if a plant needs water and it falls outside of these ranges, water it.
When growing weed outdoors, you'll need to water more often as the weather gets hotter and less often as it cools.
How to flush weed plants
The best ways to tell if a weed plant needs water is to:
There isn't an exact science for watering a weed plant. You can't observe the roots in most cases to see if they need water. Also, a plant is constantly growing and the climate it's in will fluctuate, so the amount of water it needs constantly changes.
Leaves of an overwatered plant look slightly similar in that they droop, except the leaves will be dark green and the leaf tips will be curled.
How much should you water marijuana plants?
Roots are constantly on the hunt for water as they grow and stretch out. As a plant gets bigger, so should the watering radius—the area around the stalk of the plant that you water. Doing this will help guide roots to the edges of the pot as they seek available nutrients in soil.
When you find the sweet spot between too wet and too dry, your plants will flourish.

As for pot size, you have to choose your container carefully if you wish to hydrate your marijuana plants properly. Common sense tells us that the plant can't consume all of the water if its roots can't reach! If you have a container where the roots don't reach, you have leftover water. This moisture then becomes a target for root rot, insects, and fungi.
Tip #2 – Employ a Drip Line System
Too many new growers make the mistake of believing that watering their plants is an easy process. The main crime against weed plants is overwatering. For some reason, newbies also tend to think it is essential to saturate their crops. If you add too much water, you run the risk of obstructing your crop's oxygen intake. But if you under-water your plants, they get thirsty, and their leaves start to wilt.
Best Products for Hydrating Cannabis Gardens
We have already mentioned the drip line system, which is a form of auto-watering cannabis plants. It is difficult to emphasize how much time and stress one of these systems will save you. It is only when you attempt to water manually that you genuinely understand.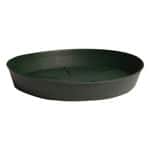 Removing runoff water is a great start to make sure you are watering your cannabis plants perfectly, but it's also important to…
Some growers swear by the "lift the pot" method to decide when to water your plants (basically wait until your pot feels "light" since the plants have used up all the water). It's up to you to decide what's easier for you.
Growing in Super Soil?
In soil, wait until the topsoil feels dry about an inch deep (up to your first knuckle – just use your finger to poke a hole in the soil and see if it feels dry).
It's very important to make sure that water can drain freely from the bottom of the pot, otherwise, the plant can get waterlogged and become overwatered (causing the plant to droop).
How often do you give your cannabis water?
How to improve the drainage of your growing medium