Most outdoor weed growers will either dig a hole and add fresh soil for the plant, or grow their weed in pots. This will allow you to better control the growing medium and the amount of nutrients your plants receive.
It's crucial to have a good understanding of the climate in the area you're going to grow. Cannabis is highly adaptable to various conditions, but it is susceptible in extreme weather.
Soil and other media for outdoor cannabis growing
In general, 5-gallon pots are a good size for small-to-medium outdoor plants, and 10-gallon pots or larger are recommended for big plants. Regardless of size, you'll want to protect the roots of your plants from overheating during warm weather, as pots can quickly get hot in direct sunlight. This will severely limit the growth of your plants, so be sure to shade your containers when the sun is high in the sky.
Sustained temperatures above 85°F will cause your plants to stop growing, while continued temperatures below 55°F can cause damage and stunting to plants, even death.
Choosing the best outdoor cannabis grow site
If you're growing weed outdoors, it's great to find a community of cannabis growers in your area to see how others are growing in your specific climate. Local climates vary, so it can be helpful to see what strains thrive where you are, and also when other growers are popping seeds, harvesting, and more. You can also join online forums or Social media groups, but a great place to start is your local grow shop.
Beneficial insects, fungi, and bacteria can also be used to protect your plants from their parasitic or predatory counterparts. Jumping spiders, ladybugs, and other native, beneficial predatory insects can clear your crop of insects such as aphids and whiteflies. When sourcing beneficial insects, fungi, or bacteria, it's important to research those which are native to your region.
Greenhouse structures range from inexpensive polyvinyl chloride (PVC) tubes, often called "hoop houses," to highly engineered, fully automated, and purpose-built steel greenhouses. Due to their efficiency, greenhouses are quickly becoming the preferred growing method for many large-scale cultivators.
Cannabis has been cultivated outdoors for thousands of years, but before you go putting a seedling in the ground, it's best to know how the process works and how to make the most of Mother Nature's gifts. You should also have some idea of how to handle those unwanted gifts you'd rather return — pests and weeds.
During the vegetative phase, plants need more nitrogen in order to create the roots and leaves that serve as the base for flowering. During the start of the flowering cycle, the plants will require more phosphorus and potassium than nitrogen. Towards the end of the flowering cycle, once the majority of the nitrogen has been depleted, the plants will focus their attention on using the remaining nutrients. The lack of nitrogen is largely responsible for the vibrant purple and orange hues that can be seen on large fan leaves and throughout the plants' colas.
Pest and weed control
Plan to put plants in the ground based on the temperature, season, and light where you live so your cannabis plants have time to finish flowering before cold, rainy weather sets in.
Determining the optimum location is another important factor that can affect the yield and quality of your plants. Cultivators in the Northern Hemisphere should attempt to place their plants in an area with southern exposure to ensure their plants are getting the most available sunlight. The opposite is true for the Southern Hemisphere.
Greenhouses can be a great middle ground between the complexities of an indoor setup and the uncertainty of growing outdoors. They provide ample protection from the elements and use far fewer resources than an indoor grow. Greenhouses can be more costly than an outdoor garden and require more planning, but they also allow you to extend the growing season considerably.
Security
Cannabis is a hardy plant that has adapted to climates all over the world. From the cool and arid mountains of Afghanistan to the humid regions of Colombia, over time the plant has been forced to adapt its defenses against a host of problems. But cannabis is still susceptible to extreme weather conditions. Whether it is heavy winds breaking branches or excessive rain causing mold, the great outdoors presents challenges to growers that can be mitigated with sufficient planning.
Pests come in many forms, from large deer and gophers to small slugs and spider mites. Larger animals and pets can be kept out of the garden with fencing, while gopher wire beneath your soil beds can keep rats and gophers from eating the plants' roots. Weeds will not damage cannabis, but they will compete for the nutrients in the soil and reduce the quality and yield of your crops. A light layer of mulch on top of your soil can prevent weeds from sprouting in the middle of your plants' cycle.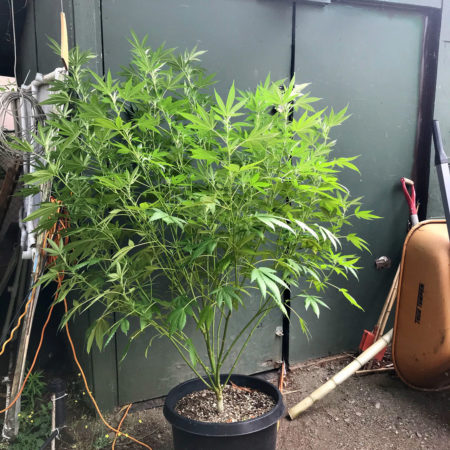 Growing auto-flowering strains can help keep plants from getting so big. This is Night Queen Auto by Dutch Passion not long before harvest.
What you need to get started growing outdoors:
Plants grown outdoors can get huge if you care for them properly
How to Start Growing Cannabis Outdoors
A young outdoor marijuana plant