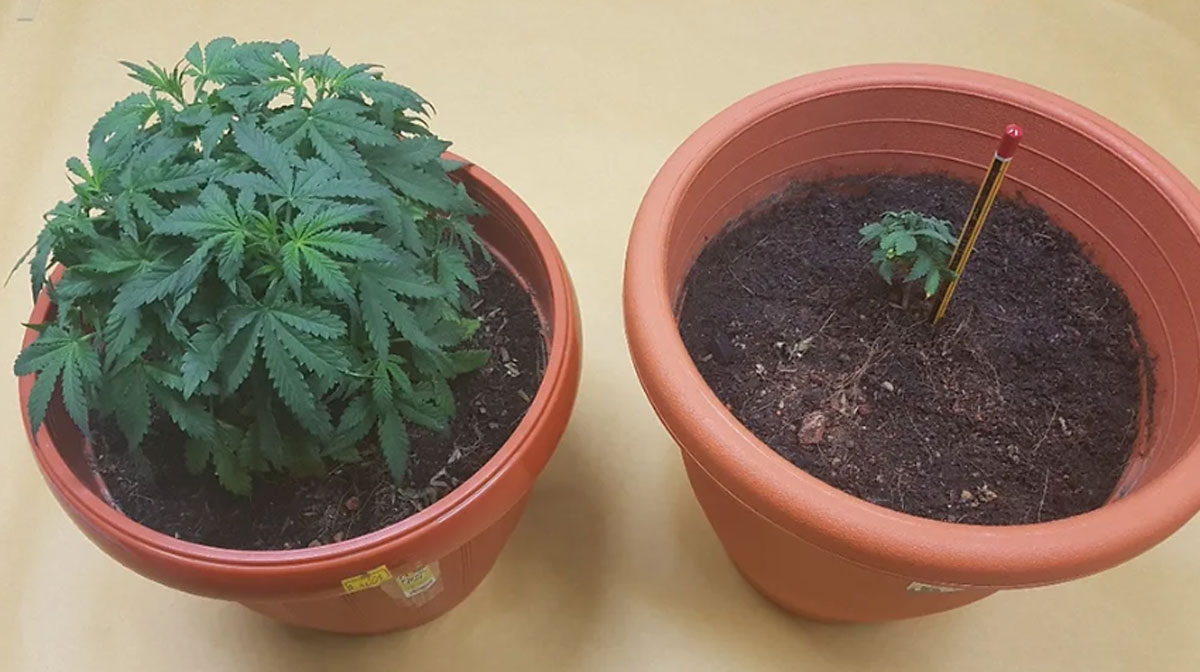 The vegetable matter analysed was found to be a Class A controlled drug, a type of synthetic cannabinoid.
He also used light bulbs, a spotlight and LED lights to boost plant growth.
How he got arrested
Central Narcotics Bureau (CNB) officers raided Artamu's 13th-floor flat at Block 336A, Yishun Street 31 on Sept. 9, 2019.
Laboratory approach to cultivating cannabis in Yishun flat (Photo via CNB)
Science lab at home
A 45-year-old man who grew cannabis plants in his Yishun flat was sentenced to four years' jail on March 25.
The raid was carried out after ICA officers detected a parcel suspected to contain cannabis at the Changi Airfreight Centre.
During the raid on the Yishun residential unit, officers from the CNB found the glass apparatus, two pots of cannabis plants as well as printed and written instructions for cultivating cannabis plants, the authorities said in a statement on Tuesday (Sept 10).
A 44-year-old man and a 52-year-old woman suspected of drug offences were arrested during the raid.
A 35-year-old Singaporean man, who was the intended recipient of the parcel, was arrested at the time.
The raid took place after officers from the Immigration and Checkpoints Authority (ICA) found glass apparatus, suspected to be used to consume drugs, at the parcel post section of SingPost Centre.
In September 2016, officers from the CNB seized two cannabis plants, along with 1kg of cannabis and other drugs worth about $38,000 from a residence in Punggol Place.
SINGAPORE – Officers from the Central Narcotics Bureau (CNB) on Monday (Sept 9) arrested two suspects for cannabis cultivation in a residential unit in Yishun Street 31.
Pictures of the raid show a makeshift greenhouse in the Yishun unit, with reflective surfaces, special pink lighting and controlled temperature to cultivate the cannabis plants.
Cannabis is a class A controlled drug listed under the Misuse of Drugs Act.
CNB caught a whiff of the pair's activities after officers were tipped off by the Immigration and Checkpoints Authority (ICA), the statement said.
The suspects were a 44-year-old man and a 52-year-old woman, according to the CNB statement, which added that officers had found glass drug paraphernalia, two pots containing cannabis plants, and — this is kind of hilarious slash adorable — printed and written instructions on how to cultivate cannabis pasted onto the walls of the room.
No, seriously. Check out their lab below:
So how did they find our sad little attempt at a pot empire? Apparently they found "glass apparatuses" for smoking (bongs? pipes?) while scanning packages at the SingPost Centre in Paya Lebar. Pro tip to future drug kingpins: Don't have drug paraphernalia mailed to you in Singapore.
If you thought growing weed in Singapore was impossible, well, you clearly lack imagination. Thing is, you're almost definitely going to get caught doing it. And if you're these guys, you can remove the "almost."
It looks like the pair had been growing one of the pots of cannabis for some time before starting on the other, judging by photos released by CNB. There was also a DIY greenhouse complete with UV lights set up in the room.
The Central Narcotics Bureau (CNB) revealed last night that they arrested two Singaporeans on Monday after raiding a makeshift marijuana lab (and we're being generous with that description) that the pair had set up in a room of an HDB flat in Yishun (surprise!), along Street 31.
If found guilty, the duo each face up to 20 years' jail, a S$40,000 (about US$29,000) fine, or both.