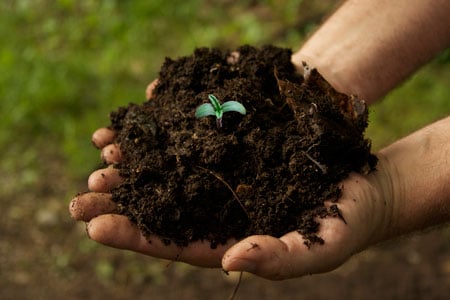 Another cool thing about coco coir is that it's renewable, so it's easier on the environment. Most soils use peat which is a finite resource, and hydro can add nutrient water to the water supply. Properly used coco coir doesn't have any of these problems so you can feel good about using it. Unfortunately, perlite – which is almost always used with coco coir – isn't renewable, so in a sense, coco coir isn't renewable because of its dependence on perlite.
Plants don't really get "rootbound" in hydroponics because the roots are being constantly bathed in a nutrient water solution that provides both nutrients and oxygen to all parts of the roots. However, if the reservoir is too small your plants will drink all the water before you can replace it!
Each growing medium that you can use has different care and watering requirements.
Example of Amended and Composted Living Soil – Just add water!
Common Cannabis-Friendly "Living" Soil Mixes in the US:
Even when it comes to soil mixes, you still often see both coco and perlite in the ingredient list, because they help improve the overall properties of the soil.
Learn how to grow cannabis with coco coir or view the Step-By-Step 250W Coco Tutorial to produce 4-7oz on your first grow with coco using auto-flowering strains. I highly recommend this tutorial for beginner growers looking to get started with their first grow!
Least Chance of Bugs/Pests:
Common Cannabis-Friendly Soil Mixes in the US:
Hydroponics can be really scary, but I've seen so many first-time growers get great results with hydroponics. The most important thing to remember is to follow the instructions and always get a root supplement like Hydroguard. I love hydro. After growing for several years, I think it may be my favorite grow style. You get the fastest growth and most control over nutrients of any grow medium!
Example of Great Soil – Fox Farm Ocean Forest is rich and light, plus it's packed with nutrients in the right ratio for growing cannabis!
Cocodelphia is also ready to go straight out of the bag. Add in some other beneficial amendments such as Biochar Blend or Worm Castings for a punch of nutrition. Or plant in the bag and save yourself the time of potting.
For more information about coco coir, check out the great content on the Maximum Yield site, beginning with THIS ARTICLE.
Our Cocodelphia is also continually tested for heavy metals, and each test result comes back clean. Don't just take our word for it! Our customers have done their own testing and tell us it's the cleanest heavy metal-free coir for cannabis production around. And for you professional cannabis growers out there, you know cannabis that fails a heavy metal test means a lost crop and lost profits.
If you're just beginning to grow cannabis legally, you'll want to grow it correctly. While we won't get into the day-to-day details of cannabis production here, we will explain how to get your cannabis crop off to the best start possible. It all starts with your growing media (and we know growing media). Specifically, one growing media of choice for many growers is coco coir.
The Science of Coir
Coco coir has another beneficial aspect that is good for not just cannabis but also the planet. It's a renewable product. Coir's water-holding-and-water-draining characteristic allows it to be a great substitution for peat moss, which is not a quick-to-renew resource. Less peat being used means less mining, which means less damage to the sensitive and diminishing peat bogs of the northern hemisphere. We came across an article in the New York Times that explains the peat and climate change situation HERE.
I mentioned "science" above, and it turns out "science" is a key aspect of why coco coir is an ideal medium for growing cannabis as well as other crops. Some of the properties of coir that allow crops to thrive when grown in it include:
Watch for salts. If there is a downside of coir it's the fact that the product in its raw form contains salts. You, the end user buying coco coir products, don't really need to worry too much about the salt level because it has been processed and washed extensively before you receive it. But if for some reason you've found some compressed blocks of raw coir, do know the salts need to be rinsed away or else it can harm your crops.
What Is Coco Coir?
High cation exchange rate. This allows nutrients to be stored and used as needed, except for calcium and magnesium, which coir tends to hold on to. Adjust your nutrients accordingly. A calcium and/or magnesium supplement is a must do when growing in coco coir.
Hemp production for CBD at
Pocono Organics