These are just some examples of amendments commonly used in different types of soils. Heavily amended soils will have long lists that break down all organic nutrients they contain. Some companies create soils that offer a great structure with base nutrients, but allow you to fill in the gaps as you desire.
Relying on the power of the sun, you won't need to spend a ton of money on an outdoor grow. You'll need some soil, fertilizer, seeds or clones, and maybe a small greenhouse to get them started. You won't need to pay for electricity for lights, AC units, or dehumidifiers, and you can even collect rainwater.
Balcony: This can be a great spot if it gets good light—ideally, it faces south—and will usually get good wind. However, you may need to cover your balcony from peeping neighbors.
Garden plot: Probably the most common outdoor growing spot, many will plant cannabis alongside other growing veggies.
Loam soils
Soil has three basic consistencies, in various ratios:
Weed plants will need full, direct sun for at least 6 hours a day. You may have a backyard, but it might not be great to grow there if it doesn't get full sun every day.
In hot climates, sandy soil should be mulched to help with water retention and to keep roots from getting too hot.
Benefits of growing weed outdoors
Here are some important considerations before starting an outdoor marijuana grow.
Typically, outdoor growers will add amendments to soil when weed plants are transplanted outside. Outdoor amendments usually come in powder form that you mix in with soil.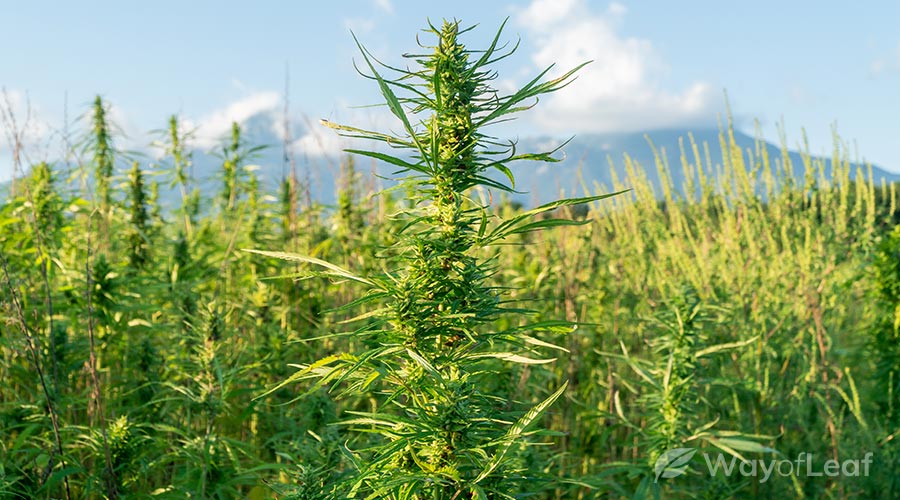 Some claim that people get hemp mixed up with ditch weed. It is an easy mistake to make; even the police find it hard to differentiate. These individuals assert that you will get high if you smoke enough feral cannabis. The amount you need depends entirely on your tolerance level.
Take a trip along the roads of Nebraska, Kansas, and Iowa, in particular, and you will see miles of cannabis growing naturally. In the likely event that you find some, your first thought is probably to fill up your car with the stuff! Think about it; you could easily bring thousands of dollars' worth of it home.
The third option is to try and claim the plants. This is another decision fraught with legal jeopardy. If they are not ready to harvest, you have to tend to them. This is illegal in practically every state unless you have an exclusive grower's license. Even in legal states, growing is only allowed in a private space. Tending to these plants requires being outdoors in a public space, an illegal act.
How High Will I Get if I Decide to Smoke Wild Cannabis?
There is also a possibility that you find ruderalis weed. It usually grows in Russia or Mongolia. However, cannabis lovers have certainly planted some ruderalis seeds in the wild. It is an exceptionally tough plant, more than capable of coping with inclement weather. It has a low level of THC but should provide a better high than the ditch weed you find. Ruderalis plants grow short and sturdy, so you will notice the difference between it and tall ditch weed.
Take a trip to any Himalayan village, and you will likely see the plant thriving. Alternatively, travel to Pakistan, China, India, or any other nation in that region. In northern Pakistan, for example, cannabis bush can grow to the height of a one-story building! In Afghanistan, it is incredibly easy to grow marijuana. Indeed, it became the world's leading supplier of cannabis in 2010!
What About Wild Marijuana in America?
Attempts to eradicate ditch weed have proven futile. The FDA's Herculean efforts only removed a fraction of what is growing wild. Remember, the seeds can lay dormant for a decade. Traipsing through fields and chopping down the growing cannabis plants doesn't solve the problem at all. In Indiana, a police spokesperson said: "You can eradicate ditch weed as well as you can eradicate dandelion."
Despite the best efforts of the government, wild weed also runs riot in the United States. Vast amounts of time and money went into programs such as the New York City Marijuana Massacre. It is a 'problem' that goes back over a century. In 1914, the U.S. Department of Agriculture wrote on the abundance of hemp as a wild plant. Its report said you could find this form of marijuana in southern Minnesota, Iowa, and Missouri.
While this study offers an unprecedented view into the evolutionary history of cannabis, it's still a relatively small sample size. Finding wild samples is hard — and feral samples you find today aren't really wild, they're just grown varieties that escaped and are now feral. Furthermore, even gaining access to cultivars can be difficult.
Many botanists believed the plant emerged in central Asia, but a new study shows that east Asia (including parts of China) is the origin of domesticated cannabis.
Cannabis landraces in Qinghai province, central China. Credit: Guangpeng Ren.
A new study traced back the origin of cannabis agriculture to nearly 12,000 years ago in East Asia. During this time cannabis was likely a multipurpose crop — it was only 4,000 years ago that farmers started growing different strains for either fiber or drug production.
When a study can land you in jail
Cannabis grows pretty much everywhere — that's why it's called "weed" — and just because people in Central Asia were quick to adopt the plant doesn't necessarily mean they were the first ones to grow it.
It's hard to study cannabis, regardless of what your reasons are. You can't just go around picking or buying plants because the odds are that'll get you in trouble. To make matters even more difficult, if you want to see where a domesticated plant originated from, you have to collect samples from different parts of the world — which is even more likely to get you in trouble.
After crossing legal and logistic hurdles, Fumagalli was able to gather around 80 different types of cannabis plants, either cultivated by farmers or growing in the wild. They also included 30 previously sequenced genomes in the analysis.
Diversifying crops
For instance, hemp strains bred for fiber production have mutations that inhibit branching, which makes them grow taller and produce more fibers. Meanwhile, strains bred for drug production, have mutations that encourage branching and reduce vertical growth. This results in shorter plants that produce more flowers. In addition, plants grown for drug productions also have mutations that boost the production of tetrahydrocannabinol (THC).
The team also identified the genetic changes that farmers brought over the centuries through selective breeding. They found that some 4,000 years ago, farmers started to focus on either plants that would produce fibers, or on those better suited for producing drugs.