Garden centers and grow supply chains offer different pots that vary by material composition, shape, size, and perforation style.
Common pots used for cannabis growing
Pros:
Pros:
As previously mentioned, if you have enough room, you may want to consider 5 gallon pots (or even bigger). The draw back of them is that they take up a lot of room, so it can be fairly restrictive in smaller grow areas. However, if you have the space then it can help with the production of some big yields! (light, nutrient and other factors permitting). Having a 5 gallon pot allows enough room and freedom for your roots to grow to their full potential. Cannabis tends to do most of its root growth during the vegetative stage, by encouraging huge root growth early on in this phase you set yourself up for some potentially solid yields – by having an abundance of roots towards the flowering phase your plant can take up all of the water and food it could ever need, accelerating the amount it can grow. It should be noted, large pots are an enabler; they do not directly cause better yields, but have the potential to facilitate a situation where it can happen.
You will want to make sure that your pots are perforated (have holes in the bottom). These should rest on small dishes within your grow room. This allows for easier watering; it makes sure excess water can rest in the dish without flooding your pots – you can then remove this excess water from the dishes at will to ensure that your plants do not end up being over watered. You can also opt for putting your pots into large trays, this a more professional approach as you do not have to worry about each individual dish, but makes it harder to empty out excess water.
3 gallon pots tend to be the most commonly used pots, these offer a good balance between pot size and room to grow – your cannabis roots should have adequate enough room for a decent grow, whilst the pot doesn't take up too much room in your grow room, allowing you to grow more plants in a restricted space.
So what is ideal pot size for a cannabis plant?
It is best to keep your cannabis plants in pots varying between 1.5 – 3 gallons, 3 gallons being the norm (1 gallon is 3.8 liters). If you have a lot of room in your grow space then you may even want to consider 5 gallon pots.
Choosing a plant pot is an important but often overlooked task. They come in all shapes and sizes that are all going to effect the way your plant grows in some subtle way.
Different pot sizes
What is the reasoning behind this? Well, cannabis plants grow long, winding roots; if they are restricted your roots can become "pot bound". This simply means that there is not enough room for your roots; they cannot develop fully and thus will not be able to supply your cannabis plants the nutrients to the extent they require – leading to nutrient deficiencies.
Make sure to thoroughly clean you pots before bringing them into your grow space, there may be chemical residue or other impurities left over from the shop or factory. It is also important to only put one plant in each pot, no matter what the pot size is. This will stop any need for competition between plants as well as make sure that any problems that may occur are isolated – should the soil in one pot accidentally build up toxic levels of nutrients, it will only affect one plant.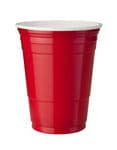 Once your marijuana plants have established healthy root systems that can support the size of your container, you can start watering as normal.
By watering the right amount in the seedling stage, you can speed up growth significantly, especially during that first week or two.
Since growing medium dries out from the sides, smart pots make it difficult to overwater your plants, but that also means you will end up watering more often
When seedlings or clones are started in a large container, it can be difficult to get enough air to the roots until the plant is bigger and drinking a lot. Thisis because when the potting mix gets soaked, the seedling roots just won't be able to drink it fast enough, and the roots will end up sitting in stagnant water with very little acces to oxygen. The growing medium has to dry out on it's own, which can take a while, and your plant will be droopy and overwatered until the roots start getting access to air again.
What do marijuana roots want?
Air pots
Standard plant container with saucer
How much grow medium to get?
Once the leaves reach the edges of the solo cup it's time to transfer to a larger container. These seedlings are getting close!