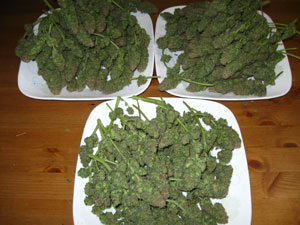 Some people only cure their bud for 1-2 weeks total while others cure their bud for 30 days or more. Because you need to open the jar regularly, you can always sample some as it's curing to get a feel for whether it's done or not.
LED grow lights work great for growing cannabis and some companies have been refining their models for years (the combination of parts is almost like a company's recipe). Each LED model is different and needs to be kept a different distance away from your plants. It can sometimes be hard to find any "standard" advice about growing with LEDs, yet these days there are quite a few brands which are well-tested and trusted by cannabis growers and these brands tend to have good support for questions. When in doubt, it's always a good idea to just ask the manufacturer about how far away the lights should be kept, as that's where new growers are most likely to mess up.
Light
Most strains of cannabis begin this stage once they're getting at least 12 hours of uninterrupted darkness a night. Autoflowering cannabis plants will start the flowering stage without needing a lighting change.
Step 9: Harvest Your Weed
FOR SERIOUS GROWERS ONLY
Of course, when you're growing outside, it's not always possible to control the environment perfectly. If it's dry, you will need to water your plants. If it's too rainy, you need to protect your plants from getting overwatered.
Ok, so you've gotten rid of your male plants. Your female plants will be growing more and more white hairs and before you know it, actual buds/flowers/trees are forming. Woohoo!
Step 3: Choose Your Growing Medium
It's important to pay close attention to your cannabis plants during the flowering stage. This is because in this stage your plant is much more likely to suffer from nutrient problems as they're focusing all their energy on growing buds.
Take a look at a few completed indoor grow journals to get an idea of how much you can expect to harvest in different types of indoor setups. My lastest 315W LEC grow yielded over a pound (497g) of dried and cured cannabis.
A simple loose and airy soil mix in 3-5 gallon buckets are great for beginners and much more forgiving than any hydroponic system. Be sure to cut holes in the bottom of the buckets and use saucers under them to catch any overflow. You'll need to purchase nutrients to feed to your plants as they grow and a watering can as well.
Erik Biksa/High Times
Pruning For Higher Yield
A hydroponic garden, also known as a "hydro" setup, is a very popular implementation to grow high-quality weed. In this video, an expert takes you through the ins and outs of a typical hydro setup, allowing you to see what it takes to successfully implement your own hydro setup at home. For those who are beginners just learning how to grow weed, a hydroponic garden may seem way too complicated to even consider. However, with some assistance from the experts at High Times, you can easily set up a hydro system that will give you an epic yield!
Grow Tools
You'll also need an exhaust fan and activated carbon filter to reduce heat and eliminate odors. Be sure to get one that's rated for your tent's size with the proper ducting size. A clip-on circulating fan will keep air moving and stop it from being stagnant. A thermometer/hygrometer is also a must for keeping track of temperature and humidity.