Most growers using hydroponics for their cannabis choose to do so indoors. That makes sense from the perspective of optimal control over equipment, lighting, and a bunch of other factors. Such control is slightly trickier to achieve with outdoor grows, but theoretically, hydroponics works perfectly well out in the sunshine. In fact, there are serious plans for using hydroponics as a technique for tackling global hunger issues. Of course, outdoor hydroponics calls for some extra attention to typical open-air factors like the weather, disease, and fungi, but it is certainly an option. A little greenhouse can be a big help, but you don't strictly need one. What's more, technology keeps improving all the time, so who knows? You could be running your own water theme park in your back garden come next grow season. At any rate, though, it's good to know we'll solve the world's food problems by the efforts of weed growers such as yourself!
You can target your nutrition more accurately, because you don't depend on what happens to be present in the soil. That allows you to set the perfect nutrient mix without losing valuable ingredients along the way;
Save yourself work: no need to remove weeds, while the system makes sure your plants are fed and watered. Just keep an eye on the water level in your reservoir. Two refill a week will usually do the job. As you can see, hydroponics is perfect for lazy relaxed growers;
Your plants will absorb the exact amounts of water and nutrients they need; no more and no less. The system simply recycles any excess water, making it a very efficient system too. Obviously, as a plant enthusiast, you care about the environment: life's good when you can save the world by growing sustainable weed;
Pest control: hydroponics environments are cleaner than regular soil. That limits the options for pests and bugs – one thing less to worry about;
Better yields: plants grow better in hydroponics. For cannabis, that means better yields than for weed grown in soil, all other factors being equal;
Rapid growth: using a hydroponics setup could reduce the growth phase of your plants by three weeks. Roughly speaking, that could mean two extra harvests every year;
Not dependent on the weather: hot, dry summer? Freezing cold winter? It's all the same for hydroponics, because all the plants get exactly what they need, no matter the weather. You don't even have to keep track of the seasons – if you're growing indoors, that is.
(R)DWC: (Recirculating) Deep Water Culture.
The diagram below shows the basic components of a simple hydroponics setup for cannabis growers.
Outdoor Cannabis Grows Using Hydroponics
3: Aeration or oxygenation; usually in the from of an exhaust unit blowing air bubbles into the water;
In an ebb and flow setup, the roots are not constantly submerged. A pump regularly fills the container with oxygenated and nutrient-rich water. When the container is full, the pump stops working, allowing the water to flow back into the reservoir. It's a bit like running your own little mangrove at home. You set the ebb and flow intervals according to what your plants need.
In hydroponics, plant roots are suspended straight in the water rather than in soil. That makes water the substrate or grow medium. Substrate is just a fancy term for 'bottom layer' ('sub' + 'stratum'). Such layers can be anything from sand or rockwool to coco fibre, gravel, or clay pellets. In cannabis hydroponics, water is the grow medium; even if there's a layer of clay pellets in the top section of a (floating) pot for stability. Nutrients are dissolved into the water and delivered straight to the roots. Any water that is not absorbed is recycled by the system for future use. Roots of plants grown in hydroponics tend to be longer and paler than their soil-grown counterparts, with fewer side branches. This is caused by the low oxygen content of water compared to soil.
The Benefits Of Cannabis Hydroponics
If you're thinking about growing cannabis plants, chances are you'll think about pots filled with soil. However, in hydroponics, weed is grown in water instead of soil. This technique is also known as hydroculture or RDWC (Recirculating Deep Water Culture), but hydroponics is the most usual term. This method is not as complicated as many people think. Actually, growing gets easier with this technique, as plants will grow faster because they can absorb more nutrients. Hydroponics is suited for just about any plant, but it works especially well with vegetables and cannabis. This blog tells you just what hydroponics can do for you as a cannabis grower.
The one thing all hydroponics systems have in common is the lack of soil needed to grow your cannabis plants. Hydroponics gets your cannabis plants everything they need, except light: nutrients, oxygen, and water. This can be done in several ways. Below, you'll find a summary of the most common hydroponics systems.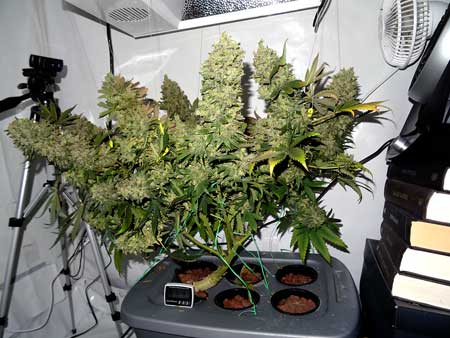 Hydro is a no-brainer for me. Whenever I go back to a hand-watered grow like coco coir, I am always surprised by how much extra time it takes to water plants and remove the runoff. The most intimidating part of hydro is just getting started – after that it's actually really easy to take care of your plants. In my opinion, hydro is far easier and less time consuming than growing in soil or coco coir once you're set up. If you are interested in hydro, go for it! If you follow this tutorial you will succeed!
Differences Between Soil & Hydro
Hydroponics is when you grow your cannabis plant in an inert medium like coco or a reservoir of water, and provide all the nutrients to the plant directly in the water.
Have you seen cannabis plants growing with their roots just floating in a reservoir of water? This type of hydroponics is known as Deep Water Culture (DWC), and has been around for over a 100 years! As more growers gain experience with this medium, DWC has become increasingly popular for growing cannabis. Hydroponic setups are really neat and offer some big benefits over growing in soil!
Pros of Hydro
How to Grow Cannabis in DWC
So there are five major parts to getting set up. You need….
Is Hydroponics Good for Growing Cannabis?
When it comes to hydroponic cannabis…
Electrical conductivity (EC) is a measure of the total dissolved solids (TDS) in your hydroponic water. Like with pH, there are many effective meters on the market and there are many that take both readings (pH and EC). The EC level will tell you how rich in nutrients your circulating water is. If the EC is too low, your plants aren't getting enough; if it's too high, you can "burn" your plants with too high of a nutrient level. The EC for hydroponically grown cannabis will fluctuate depending on the stage of growth.
If you can afford to buy all new equipment to start your growing operations, this step may not be necessary at first, but eventually all tanks, reservoirs, pipes, filters and any other physical part of your hydro system will need to be sanitized to prevent the development and spread of pathogens, especially root rots. Plan on having several bottles of isopropyl alcohol and hydrogen peroxide on hand to disinfect your equipment on a regular basis.
Getting started using hydroponics to grow cannabis can be tricky. Here are ten tips to make it a little bit easier.
Cannabis plants do best in varying levels of humidity based on their stage of development. When your "girls" are young, they need to have humidity levels in the 60-70 percent range. As they develop and move into the blooming phase, they only need about 40 percent humidity. This can be best achieved with a humidifier and dehumidifier used accordingly.
7. Understand pH
The precise course of action taken will depend on your unique space and resources, and of course any unique needs of the particular strain of cannabis that you are growing. All that aside, there are still some tasks and practices that should be observed in any hydroponic growing area to keep your plants as healthy and productive as possible.
As seedlings or clones are first put into a system, the EC levels should be less than 1.3 and can be as low as .5 for clones. When they start to grow however, expect to maintain an EC level that continually climbs toward 2.0. When your plants finally reach the flowering phase, they may need an EC up to almost 2.5 depending on the strain grown. Check your EC levels often. The closer you can maintain proper EC, the more productive your cannabis plants will be.
All of the planning, preparation and procuring of necessary products can't make cannabis of poor genetics into a robust strain. A cannabis plant can only produce what it is genetically predisposed to produce. Improving its growing environment and attending to its needs ensures that it will come as close to this potential as possible.
3. Watch Your Temperatures
There are numerous types of grow lights out there and champions and critics of all. The right types of grow light for your setup will depend on your space, the distance between your lights and your plants and your budget. High Intensity Discharge (HID) lights are better for larger grow rooms with good airflow and ventilation. Compact Fluorescent lights (CFL) are better for smaller rooms. Light from Light Emitting Diode (LED) fixtures is good for small grow areas, but is more costly than the CFLs. Whichever type is selected, make sure that it can produce light in sufficient amounts between 400 and 700 nanometers. A relatively inexpensive light meter can help to determine if your grow lights are getting the job done.
Ideally the water circulating through your hydroponic system is at a pH of 7. If not, a reverse osmosis (RO) system will create and provide neutral water. Distilled water can be used as well until an RO system can be obtained.