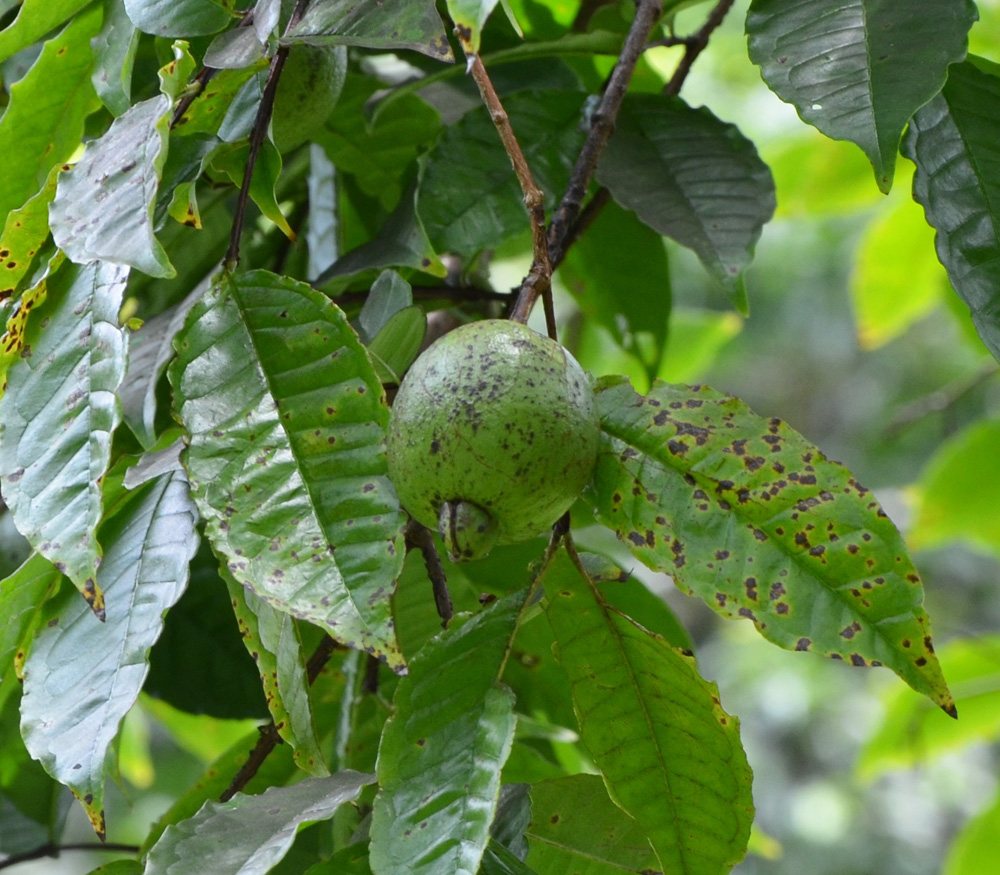 Estimated germination time under optimal conditions: 4-12 weeks, though occasionally longer. Seeds often show staggered germination.
Often by seeds, which remain viable for up to a year. Sprouting can take 3-8 weeks. Better varieties are propagated by grafting, air-layering and root cuttings. Warm soil temperature (70-85F) is important in germination.
Highly fragrant fruit usually with green or yellow skin, about the size of a baseball, with pink or white flesh. The guava is one of the most common fruits in the world and its sweet pulp is used in a wide assortment of drinks, desserts, and other food products.
Germination Info
Seeds are now available at our seed store.
The guava is highly adaptable to tropical and subtropical environments and can be grown outdoors as far North as the San Francisco Bay Area in California, as well as most areas of Florida and gulf coast states. Protect from temperatures below 30F, which can cause defoliation. Harder freezes will kill the plant. In cool winter areas, guava's may partially defoliate, but should begin new growth flushes in spring and summer.
Guava's can be eaten fresh but are often used to flavor drinks, desserts, sauces, preserves, and many other food products.
Growing Environment
A shrub or small tree, sometimes growing as high as 30ft, but usually no more than 10-15ft.
Guava's grow well in full sun, except in hot regions, where partial shade is beneficial. If trying to grow in a marginal climate, plant near a building or provide some sort of protection from damaging cold winds and rain. Generally, guava's are fairly adaptable and will flourish with little care. Flowers will self-pollinate and fruit develops in a few months. There may be multiple fruiting and flowering seasons throughout the year, depending on local climate conditions. Guava's are shallow rooted and prefer lots of moisture throughout the year (except if cold), although they will withstand periods of drought, as well as dry seasonal changes. Keep the soil especially moist during flower and fruit set. The guava will tolerate poor soils, but grows much better when fertilized monthly, or when grown in soil that is high in organic material. They are not tolerant of salty soils.
Includes 1 Packages – A ripe guava softens to the touch. Guavas emit a strong, sweet, pungent fragrance. The flesh is white, red or salmon-colored and flavor ranges from strawberry to lemon to tropical. The largest guava plantation in the United States, with 480 acres under cultivation, is Guava Kai Plantation in Kilauea. Hawaii — half of Hawaii's total crop is produced here. Guava are one of the best fruits available. Guavas are cholesterol, saturated and sodium free, plus low in fat and calories. Guava are high in fiber. Great for indoors or out doors. Great for making jams,jellies, juice, butter or baking.
Материалы: hawaiian fruit, tropical fruit seeds, hawaiian fruit seeds, fruit seeds, fruit plant, exotic fruit seeds, fruit tree, tropical fruit plant, Psidium guajava, hawaiian guava fruit, gauva fruit tree, guava seeds
FREE SHIPPING FROM HAWAII. All of our plants come from a PEST-FREE certified Hawaiian nursery Has proper U.S. Department of Agriculture stamp.
Описание
Read the full description
GROWING INSTRUCTIONS: Please plant my seeds in ½' deep in potting soil media and place in a sunny area. The carpenter bees are needed to fertilize my flower so place soft wood, preferably redwood posts, around my vine. Fertilize with 10-5-20 fertilizer according to the instructions. Please be sure not to leave my vine in temperatures below 60F
Fortunately, there is one flavorful thing that everyone can do at the very basic level of activism to protect precious native Hawaiian species from guava: eat guava. To prevent further spreading of the guava seeds, harvest the fruit before it falls to the ground. Slow Island uses all Hawaiʻi-grown ingredients from local sustainable farms, including guava, picked at peak ripeness. Their Passionfruit Orange Guava Culinary Syrup is the flavors of celebrated Hawaiian POG juice, but made with fresh, local fruit. It is real fruit flavored syrup for alcoholic drinks, to be drizzled on yogurt or ice cream, or as an addition to tropical sauces. By sourcing from their own community, Slow Island is fostering a symbiotic relationship: utilizing what the land can provide to create a product that boosts the economy of the land. In a small way, they are assisting guava trees in giving back to their adopted home.
Guava is not native to Hawaiʻi, though it's made itself quite comfortable. Too comfortable. Likely originating from Central and South America, guava was brought to the Hawaiian islands early on in Western-contact days and has since provided wood, fruit and astringent medicine. But there's one big problem with guava, strawberry guava in particular: it has become the most invasive tree species in Hawaiʻi. Though guava trees provide an abundance of lemon-sized, tart and aromatic fruit, they are in essence lofty weeds. And they are good at being weeds; strawberry guava even produces a chemical in the soil around its base which prevents the growth of other plants. The guavas form monolithic stands, their fruit drops, pigs eat the fruit, then carry the seeds to other areas where new guava trees sprout, vastly reduce the amount of available water and crowd out the plants growing there. This is particularly a problem for the vulnerable native flora of Hawaiʻi.
Another perhaps obvious way to reduce invasive guava trees in Hawaiʻi is to stop large-scale production.
Part of the land that Common Ground Kauaʻi now thrives on was formerly a piece of Kilauea's 600-acre Guava Kai Plantation. In addition to the invasive nature of guavas in Hawaiʻi, the fruit has also fallen steadily in price since 1989 and, from a big picture perspective, exporting the product contributes to Hawaiʻi's lack of food autonomy. Although some guavas still grow on the now divided-up land, Common Ground utilizes their parcel in wholly sustainable and regenerative ways while reinventing Hawaiian food economy.