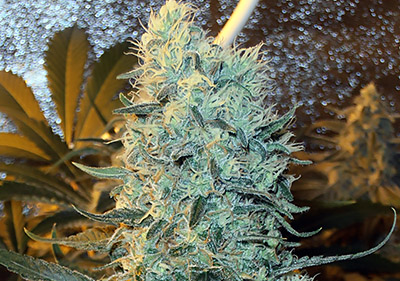 On top of Big Bud's massive bud production, it's easy to grow and produces sweet-tasting flowers that provide a long-lasting euphoric experience. As you pick up Big Bud's dense flowers, you'll quickly notice that this is top-shelf weed that's itching to be smoked.
Critical is known for monstrous yields that'll make any commercial producer, let alone home grower, fall over with joy. Aside from its gargantuan yield, Critical is known for its delightful terpene profile, ease-of-growth, and fast flowering time.
If you want your cannabis garden to look as though it got hit by an avalanche, look no further than THC Snow seeds. From flowers to fan leaves, nothing can escape the extreme resin coverage that THC Snow provides.
Sure, a cannabis strain can yield a seemingly endless amount of bud.
#2 Power Plant
THC Snow is one of our favorite high yielding cannabis strains because it offers a complex mix of potency, flavor, aroma, and ease-of-growth.
If you want the best high yielding sativa strain for outdoor use, Neville's Haze is second-to-none.
There's no way you won't enjoy Medi Bud's spicy, herbal, and skunk terpene profile. Medi Bud is the high yielding cannabis strain for your medical needs from focused awareness to tranquil relaxation.
#6 NYC Diesel
Lastly, Amnesia Haze offers some of the most potent weed you'll ever experience. From psychedelic effects to positive vibes, you won't regret having all of your stash jars filled with Amnesia Haze weed.
THC Bomb is the cheat code for massive outdoor yields, making it the de-facto strain for greenhouse growers and backyard cultivators. Although THC Bomb grows exceptionally well indoors, you'll find the best yield under the great outdoors' bright sun.
The world-renowned breeders at Barney's Farm have successfully crossed two sought-after strains to create this perfectly balanced 50/50 Indica/Sativa hybrid. Zkittlez OG Auto tests at about 19% THC and features the timeless genetics of OG Kush and Zkittlez, married together with an autoflower to produce one of the heaviest-yielding strains available today.
Blueberry Glue Auto – Remarkably Relaxing Strain
Feminized seeds are created when a female cannabis plant is forced to produce pollen. This is then used to pollinate another female cannabis plant – the results of which are seeds that are almost guaranteed to be female. Why is that important? Because only female plants produce smokeable buds. Nowadays, most autoflowering strains come already feminized.
How to Tell if Seeds Are Autoflowering
She can be grown indoors or out, and the yields are excellent either way; expect 600g/m2 (2oz/ft2) indoors and 400g (14oz) per plant in full sunlight, taking between 80-85 days from germination to harvest. You will experience a neutral weed flavor as the smoke or vapor reaches your tastebuds for the first time, which quickly gives way to a sweet, fruity aftertaste.