In summary, relative humidity is vital to cannabis plants as it regulates the respiration process and its subsidiary activities such as water loss. For a cannabis plant to benefit fully from relative humidity, it must be maintained at an optimum level. It will also help if the humidity is also kept constant for an extended period.
If the lights of your grow tent are always on, the temperature of the contained air is raised and hence the relative humidity. Poorly lit grow rooms have cold and dry air (low humidity).
Watering cannabis plants in a grow tent increases the plant's water intake through the roots. High uptake of water by the plant increases the water loss rate through the leaves, making the room more humid. The induced moist environment, in turn, regulates the respiration process keeping the marijuana plant healthy. Again, watering should be optimized to maintain the grow tent in the recommended level of humidity.
What Humidity Should I Have In My Grow Tent?
There are three basic factors that weigh heavily in determining the correct relative humidity when growing cannabis plants. They are region, genetics, and stages of growth. Although there are lessor and differing situations, these three have the greatest impact.
When you cultivate cannabis in a grow tent, conditions such as humidity and temperatures must be appropriately controlled. While by now we know that different growing stages of the cannabis plant require different levels of humidity, it would help if you kept the humidity in your grow tent relatively high for cannabis seedlings. Several factors affect the amount of humidity in your cannabis grow tent. These include:
Ventilation
If your grow tent is adequately ventilated, the relative humidity is reduced due to increased air circulation. Ventilation is required for mature cannabis plants that require low relative humidity.
A good number of cannabis varieties have been developed over the years. Some cannabis species are adapted to warmer and more humid areas while others are adapted to cold and less humid areas.
You may be tempted to speed up the drying process but it has been shown that slow and steady wins the race. Rushing the process and exposing your crop to high temperatures will almost certainly reduce the quality, and result in diminished flavor and even potentially a "poor and uncomfortable high." Good luck explaining that to your investors or to a discerning dispensary that has numerous growers vying for their shelf space.
Here again is the equipment you can use to help you attain these levels:
While it's tough, just know that every grower working at a scale similar to you is going through this as well.
Whichever method you choose for trimming your product, suitable conditions for your drying room are important. You'll want a cool, dark environment with temperatures in the range of 59-71°F and humidity at or near 50% . Yes, even after the growing process is completed, you still need to be concerned with temperature and humidity.
Dry Trimming
Widely regarded as the preferred method, "wet trimming" offers the most control and quality assurance. It also has the added benefit of allowing you to collect the "sugar leaves" which contain lower cannabinoid levels and can be stored separately to be processed into edibles at a later time. Remember that "High THC; low Cannabinoid level oil" states list from before? This is where that product comes from.
Pure n Natural Systems specializes in the sale of commercial and industrial humidifiers, dehumidifiers, drying fans, air movers, and portable heating and cooling solutions. We have the equipment you need to make your growing operation a consistent success. And as we've already discussed, consistency is king.
What are the most important points of growing a consistent crop to build your brand? Again, borrowing from the winemaker's metaphor, it's all about what you're growing, where you're growing it and the conditions it's grown under. Below, we'll look at how to create the best growing environment, with a focus on humidity and temperature controls .
Drying Room Conditions
The curing process breaks down chlorophyll remaining in the plant, resulting in a less-harsh taste. Remember: harsh buds are not quality buds. These procedures can enhance the shelf-life of a crop, which is highly important with a product like cannabis that isn't afforded the addition of preservatives.
As you probably already know, after choosing a substrate (the material you'll be growing your plants in/on), the strain(s) of cannabis you'll be growing, lights, watering mechanisms and nutrients needed, the most important element of your day-to-day operation will be managing temperature and humidity.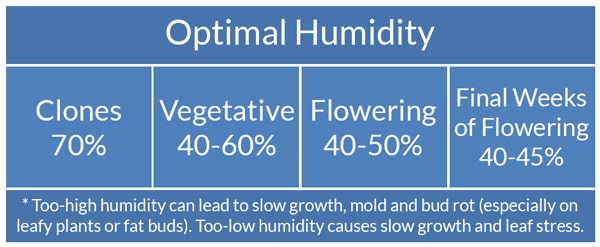 Air Conditioner (some are portable, some ACs fit in your window) – tends to lower humidity (in addition to cooling the air)
Extra resin production
Colder temps will tend to slow down growth. Temps lower than 60°F (15°C) can upset plant growth and freezing temperatures will shock or even kill a cannabis plant.
Young & Vegetative Plants (seedling to end of vegetative stage)
Optimal Humidity is 70% RH
The ambient humidity near Denver is pretty low – the room I plan to grow in sits at 20% on average. Is this too low for my plants to be happy?
It's good to have air circulation in the drying area, but it's recommended that no air is being blown directly over the buds to prevent them from drying too quickly. More information in the link below!
By the beginning of the flowering stage, your cannabis plants have created a large root system to fulfill their water needs. They will still be able to take in water through their leaves, but maintaining a relatively lower humidity than the vegetative stage helps prevent molds or mildews from forming.
Why Humidity Matters To YOU