Buds typically grow the most toward the end of the flowering life cycle. You probably won't notice much budding out at the beginning of the flowering stage, and it will slow down toward the end of the cycle, when buds become fully formed.
The growth stages of marijuana can be broken down into four primary stages from seed to harvest:
It's important to know these stages and how long each lasts to know what the plant needs and when. Knowing where your cannabis plants are in their life cycle will dictate when to prune, train, and trellis your plants, and when to harvest.
The vegetative stage of cannabis is where the plant's growth truly takes off. At this point, you've transplanted your plant into a larger pot and the roots and foliage are developing rapidly. This is also the time to begin topping or training your plants.
Flowering stage
Marijuana light cycle: 16 hours a day
Even if growing outdoors, a lot of growers will start their seeds inside under an artificial light to help them through this delicate stage of marijuana growth.
When your marijuana plant becomes a seedling, you'll notice it developing more of the traditional cannabis fan leaves. As a sprout, the seed will initially produce leaves with only one ridged blade. Once new growth develops, the leaves will develop more blades (3, 5, 7, etc.). A mature cannabis plant will have between 5 or 7 blades per leaf, but some plants may have more.
Notes on marijuana growth phases
The first marijuana plant stage begins with the seed. A cannabis seed should feel hard and dry, and be light- to dark-brown in color. An undeveloped seed is generally squishy and green or white in color and likely won't germinate.
Marijuana light cycle: indoor—16 hours a day; outdoor—at least 6 hours of direct sunlight ("full sun"), plus several hours indirect sunlight
You want to get an auto-flowering strain. These cannabis plants automatically start making buds after about a month from germination, and are ready to harvest by the time they're 2 or 3 months old.
The average indoor cannabis grow takes 3-4 months from seed to harvest. The full range is 2-6 months and depends on the strain and desired size of plants.
Long Anwer:
These factors have the greatest impact on total time from seed to harvest:
3-5+ months from seed to harvest
Strains from warm climates tend to have long flowering periods before their buds are ready to harvest, adding weeks or months to the time needed. Long-flowering strains often produce higher yields than short-flowering strains because buds have more time to grow. For example, Acapulco Gold takes almost 3 months after initiating 12/12 before buds are ready to harvest. However, it produces amazing yields and unique psychedelic effects.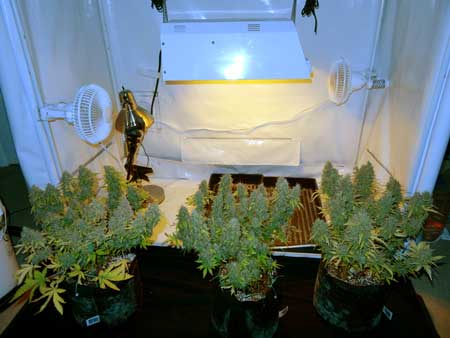 This human-sized plant (one of my very first plants) spent a little more than 3 months in the vegetative stage before I realized I needed to turn it over to the flowering stage. It then spent another 12 weeks in the flowering stage before it was ready to harvest because it was a long-flowering strain. It got way too tall for its space (taller than me!) and started falling over. However, despite the huge size and more than 5 months of growth, it only ended up yielding about 6 ounces. This is because it was under weak CFL grow lights. Though there were a lot of buds, the lack of strong light made them airy, without a lot of weight. Click the picture for a close-up.
Today I will show you how to plan your grow so it takes the amount of time you want!
Additionally, curing gets rid of any 'cut grass' smell, harsh taste and other undesirable traits of some freshly dried buds. Over time with proper curing, those traits will be replaced by the 'real' smell and potency profile of your buds.
Time Needed to Grow Weed, From Seedling to Harvest
It's not exact – There's a 2-3 week harvest window for most plants, and keeping your plants in the flowering stage for a bit longer tends to increase your yields. This is because the plants tend to really bulk up their flowers once they've become 'ripe'.
Long: (12-14+ weeks)
Before You Start Growing Weed
Frisian Dew plant growing outdoors with deep purple buds
Your plant will likely double in size (maybe a bit less, maybe more) from when you first put it into the flowering stage; this is known as the Flowering Stretch. So make sure you end the vegetative stage before your plant reaches half the final height you want, or your cannabis plants may outgrow your grow space during the flowering stage!