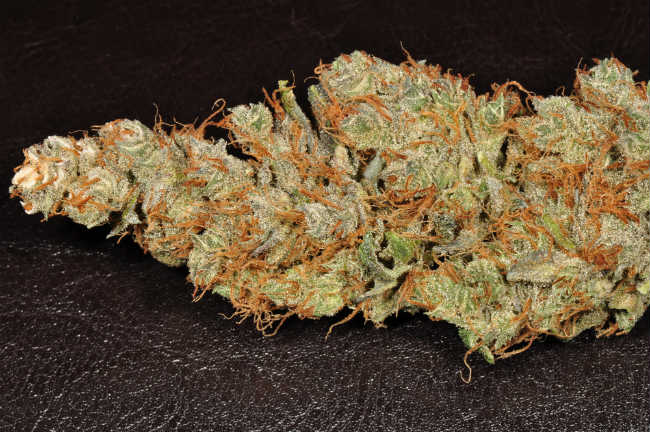 Sativas can also grow to be very tall, up to 20 feet in an outdoor setting, which makes them difficult to conceal from neighbors in an outdoor grow setting. Even when confined inside, they may still grow long and lanky, a challenge for anyone trying to manage a small grow space.
This cerebral and uplifting cannabis variety poses more challenges than growing indica. In addition to their longer ten-to-twelve week flowering period, plants grown from sativa seeds tend to produce a smaller yield (although this is certainly not true of all sativa strains).
A very loose breakdown of a growing timeline could look like this:
Hybrid
Another benefit of growing indica seeds is that they tend to grow shorter and bushier than sativas, making them a better fit for indoor setups or growing in a backyard garden.
A genetic mix of both indica and sativa strains, the growing time for hybrid marijuana strains may vary depending on which way the genetics lean.
Since hybrid seeds are a true blend of both sativa and indica, cultivators often prefer to grow them because of their higher output, generally faster growing time, and consumer appeal.
One seed company says they have a strain that can go from seed to harvest in 49 days. Before you buy seeds from any company, be sure to do your own research on quality and reputability, and make sure you're getting a strain that suits your consumption habits and preferences.
To grow cannabis that can be consumed for its intended purpose, you've not only got to lead the plant through its many stages from germination to curing, but your plants require both attention and time. Which begs the logical question, how long does it take to grow marijuana plants? Let's dig in.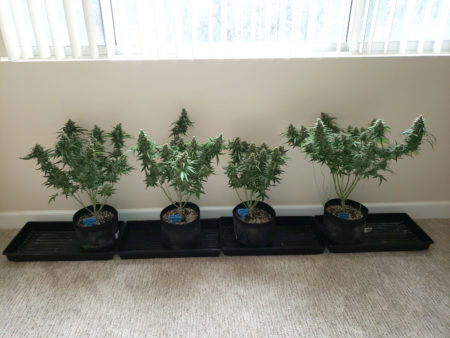 Once your plant is harvested, there is a drying and curing process that takes about a minimum of two weeks before your buds are "ready" for smoking. If you aren't a smoker and plan on turning plants into edibles or concentrates, you should still dry your buds but typically you don't need to cure your buds.
How to grow marijuana as quickly as possible:
Here are some of great auto-flowering strains I've personally grown and recommend. These are all ready to harvest 8-10 weeks from germination:
Depending on how you set up your grow, it can take anywhere from 2 months to 6 months or more to grow a marijuana plant from a seedling to the point where the plant is ready to harvest. Some methods, such as growing hydroponically indoors, give your flexibility to get a harvested plant in as little as 2-3 months. Growing outdoors generally takes longer than growing indoors and is more dependent on when you plant your seeds and how long your growing season is.
Long Anwer:
What if time is not an issue?
Many other breeders also produce great auto-flowering strains (Dutch Passion, FastBuds, Barney's Farm, etc.), but the following breeders stand out for consistency.
You want to get an auto-flowering strain. These cannabis plants automatically start making buds after about a month from germination, and are ready to harvest by the time they're 2 or 3 months old.
Fr om day 1 of your marijuana plant's life to a smokable harvest, you're looking at 2-6 months. Many factors affect the total time (especially the strain and size of the plant) but the average grow takes 3-4 months .
Recommended Autoflowering Breeders
Here are a few things you can do to get your marijuana plants to grow faster.
Curing weed eliminates the grassy smell and harsh flavor of dried buds. It also reduces the head rush aspect when smoking the buds, and makes them better at reducing anxiety, pain or feelings of depression.
How much time it takes depends on a number of factors. That means it is not possible to give an exact time frame. It also means you can speed up the time it takes a bit.
Let's break the time it takes cannabis to grow down into the different stages, so you can get a better idea of how long each stage takes.
Choose A Fast Growing Strain
The flowering (or bloom) stage begins when you switch your lights to a 12 hours on and 12 hours off schedule and continues until harvest. As mentioned, your plants will double in size during this stage of growth.
If speed is the only thing that matters, you could switch to a 12/12 light cycle and begin flowering as soon as possible. Of course, this will result in much smaller plants and correspondingly smaller yields. We definitely do not recommend this, unless it is your goal to have small plants.
This should also help you see where you can cut out some time and shorten the process. For example, you can see in the graph below that the flowering stage takes up the most time, so there should be some opportunity to speed things up there.
Time Required: 3 to 7 weeks
If you let the plants veg for longer, they grow larger and are able to grow a lot more buds. Of course, the size your plants can achieve is also constrained by the size of the pots they are in and the amount and strength of the grow lights.
Because your plants keep growing. If you take them out of the vegetative stage immediately, they will be fairly small, which will limit the number and size of buds they can grow. That said, keeping them small might make sense, if you have a limited grow tent size.