Be sure to keep a grow journal to track the progress of your plants. Looking back on your notes will help you learn from mistakes and maximize the quality and quantity of your buds.
We can't stress enough that the timeframes in the above graphic are ranges of time for the Northern Hemisphere. You'll need to adjust them based on your specific region and local weather and climate.
Important dates for growing marijuana outdoors
Two rounded cotyledon leaves will grow out from the stem as the plant unfolds from the protective casing of the seed. These initial leaves are responsible for taking in sunlight needed for the plant to become healthy and stable.
Notes on marijuana growth phases
Vegetative plants appreciate healthy soil with nutrients. Feed them with a higher level of nitrogen at this stage.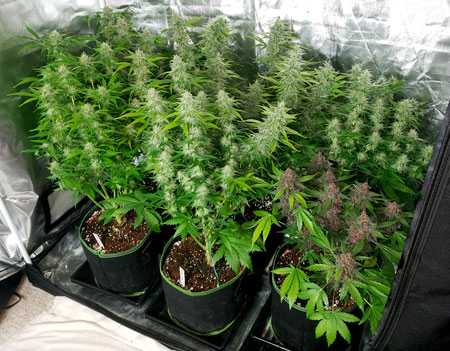 Zkittlez Auto is ready to harvest 8-10 weeks from germination. Every time I grow this strain the smell and bud effects are excellent
Once your plant is harvested, there is a drying and curing process that takes about a minimum of two weeks before your buds are "ready" for smoking. If you aren't a smoker and plan on turning plants into edibles or concentrates, you should still dry your buds but typically you don't need to cure your buds.
Here are some of great auto-flowering strains I've personally grown and recommend. These are all ready to harvest 8-10 weeks from germination:
Long Anwer:
2-3 months from seed to harvest
You want to get an auto-flowering strain. These cannabis plants automatically start making buds after about a month from germination, and are ready to harvest by the time they're 2 or 3 months old.
3-5+ months from seed to harvest
Counter-clockwise from top left: Alaskan Purple Auto, White Widow Max Auto, Candy Kush Auto, Pink Kush CBD 30:1 (short purple plant), Zkittlez Auto, Gelato Auto
Important Milestones in the Marijuana Plant's Life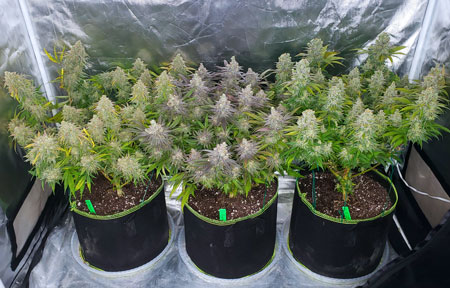 Curing: 2 weeks – 1+ months
Curing really seems to make the effects of buds feel less 'speedy' and be better suited to medical applications like treating anxiety, reducing pain, and improving feelings of depression.
That's why most cannabis growers won't give you a straight answer. The truth is, there are many factors will affect the total time until you have 'ready' buds, by days, weeks or even months. This includes your strain, your setup, and how big you plan to grow your plants (bigger plants need more time!). So instead of giving you a huge range, an easier-to-swallow answer might be to say that the average grow takes 3-5 months for indoor growers.
Get seeds or clones: 0-4 weeks:
If you've found seeds in your bud or have instant access to genetics (like knowing a grower or buying seeds/clones locally), you're already good to go. If you order from a seed bank overseas (especially US residents), expect to wait 1-4+ weeks to get seeds. Shipping time depends on the shipper and how fast the mail gets delivered. Sometimes seeds get caught up in customs for weeks. Make sure to always order from a trustworthy vendor.
Utopia Haze is a mix of Brazilian landrace strains
Time Needed to Grow Weed, From Seedling to Harvest
The size your plant achieves in the vegetative stage has a very large effect on your final yields since bigger plants produce more bud sites than smaller plants. However, you need enough light to cover all the bud sites or they will never develop properly. Light is like food for bud growth!
Here's the breakdown…
Vegetative Stage
Vegetative Stage: 4-8 week average (but if you want big plants it may take longer)
The length of this stage is a matter of personal preference. Most cannabis plants won't start flowering until they're at least 3 or 4 weeks from germination, but after that you get to choose how long your plant spends in this stage (except auto-flowering strains, which automatically start flowering in 3-4 weeks from seed). Except for auto-flowering strains, you have total control over the vegetative stage because you're the one to 'flip the switch' and get your plant to enter the next life stage: flowering.
Before You Start Growing Weed
This plant didn't spend any time in the Vegetative Stage. It was given 12-12 lighting almost immediately after sprouting. It's so small that it spent its whole life in a solo cup, and its only light came from CFLs. I weighed down the bottom of the cup so it didn't fall over. It ended up yielding about 0.75 oz.
This includes the time needed to grow your cannabis plant from seedling to harvest plus an additional 2 weeks (or more) which is used to cure your cannabis buds after harvest (making them more potent and better smelling).