Vegetative plants appreciate healthy soil with nutrients. Feed them with a higher level of nitrogen at this stage.
The flowering stage is the final stage of growth for a cannabis plant. This is when plants start to develop resinous buds and your hard work will be realized. Most strains flower in 8-9 weeks, but some can take even longer, especially some sativas.
Cannabis plants are considered seedlings until they begin to develop leaves with the full number of blades on new fan leaves. A healthy seedling should be a vibrant green color.
Marijuana light cycle: indoor—16 hours a day; outdoor—at least 6 hours of direct sunlight ("full sun"), plus several hours indirect sunlight
Vegetative stage
Marijuana light cycle: 16 hours a day
We can't stress enough that the timeframes in the above graphic are ranges of time for the Northern Hemisphere. You'll need to adjust them based on your specific region and local weather and climate.
The biggest variability in how long a marijuana plant takes to grow will happen in the vegetative stage—after the seedling phase and before flowering.
Flowering stage
It's important to know these stages and how long each lasts to know what the plant needs and when. Knowing where your cannabis plants are in their life cycle will dictate when to prune, train, and trellis your plants, and when to harvest.
Take meticulous notes on when and how you perform each step, as well as what the weather is like. Other notes can include how much water you give plants, at what intervals, and how much nutrients you give them. Pictures will also give you a better sense of how your plants look along the way.
If you let the plants veg for longer, they grow larger and are able to grow a lot more buds. Of course, the size your plants can achieve is also constrained by the size of the pots they are in and the amount and strength of the grow lights.
If you're starting from scratch, you'll need to get all of the necessary supplies together. This can take a few weeks, depending on where you source your supplies.
The amount of time it takes to grow cannabis can vary greatly, but there are things you can do to speed it up. Some, like shortening the vegging time, will have negative effects on yield, so you should always weigh the options carefully.
Flowering
The flowering (or bloom) stage begins when you switch your lights to a 12 hours on and 12 hours off schedule and continues until harvest. As mentioned, your plants will double in size during this stage of growth.
You could also run your lights 24 hours per day. This speeds up growth, but also has negative effects on your plants. We do not recommend this either.
Time Required: 1 to 7 days
We begin before the grow even starts, with a stage we called "preparation", because you will need a number of supplies to successfully grow cannabis. If you already have everything you need, you can obviously skip this stage entirely.
Starting with clones obviously saves a bit of time over starting with seeds.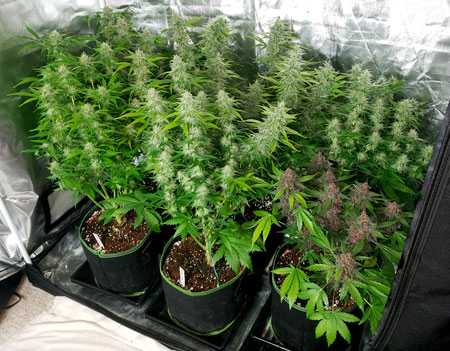 What if time is not an issue?
You want to get an auto-flowering strain. These cannabis plants automatically start making buds after about a month from germination, and are ready to harvest by the time they're 2 or 3 months old.
Many other breeders also produce great auto-flowering strains (Dutch Passion, FastBuds, Barney's Farm, etc.), but the following breeders stand out for consistency.
Long Anwer:
2-3 months from seed to harvest
Depending on how you set up your grow, it can take anywhere from 2 months to 6 months or more to grow a marijuana plant from a seedling to the point where the plant is ready to harvest. Some methods, such as growing hydroponically indoors, give your flexibility to get a harvested plant in as little as 2-3 months. Growing outdoors generally takes longer than growing indoors and is more dependent on when you plant your seeds and how long your growing season is.
Auto-flowering plants tend to stay small since they go from seed to harvest in under 3 months. These auto-flowering plants produced about 7 ounces.
These factors have the greatest impact on total time from seed to harvest:
Recommended Autoflowering Breeders