The Neutralizer is one of the best odor neutralizers that we stock. It's made from various different essential oils from aromatic plants and it modifies cannabis odor particles perfectly, capable of covering large areas effectively. It does not affect your plants' aroma and it's perfectly fine to breathe in.
On the one hand you can use air fresheners or odor neutralizers, which can be found in gel or liquid format and are generally used as an extra measure – they usually aren't potent enough to do the entire job themselves when plants are in bloom. On the other hand you can also use activated carbon filters, which usually come in fabric or metal casings and are used by attaching them to your extraction fan system; they can filter up to 90% of all odors. Last, but not least, you can also use an ozone generator, which is also installed to your extraction ducting, however you must not let the ozone come into contact with your plants.
Ozone generators are some of the most effective devices when it comes to getting rid of the smell of cannabis in grow rooms. They're capable of destroying odor particles one by one, as well as any type of fungi or bacteria in the environment. When used, you need to take extreme care and make sure that no ozone gets out of its contained area in your ducting; it's incredibly devastating for your plants and even for people.
Odor neutralizers
One of the best anti-odor brands out there is called ONA; they produce many different products including air fresheners as well as products that can be sprayed to get rid of the smell of cannabis in a flash. They also come in blocks, which are more compact than the gel format, which slowly release a combination of pleasant, nice aromas that are perfectly safe.
Odor Filter + Two Gels; This method involves installing a metal activated carbon filter in your ducting system and using two gels for extra precaution; one at the entrance to your house and another inside the ducting right before your extractor fan.
How to Hide the Smell of Growing Weed Indoors | Anti-odor products
If you want to make your grow as discreet as possible you'll need to set up a decent air filtration system, as well as some sort of anti-odor method that covers, gets rid of or filters the smell of cannabis. We're going to give you a run-down of some of the best methods that you can use to hide the smell of cannabis plants indoors, which can save you a lot of grief in the future.
When growing cannabis indoors it can seem like a losing battle when it comes to hiding the smell. Cannabis plants let off intensely pungent aromas when flowering, and these aromas can filter out and end up stinking up your entire building; in some cases it may even end up sticking up the block next to you too. This can obviously lead to issues with the law, as well as opportunistic thieves that want to get their hands on your plants. That's why you need to know the best tips and tricks regarding how to hide the smell of growing weed indoors.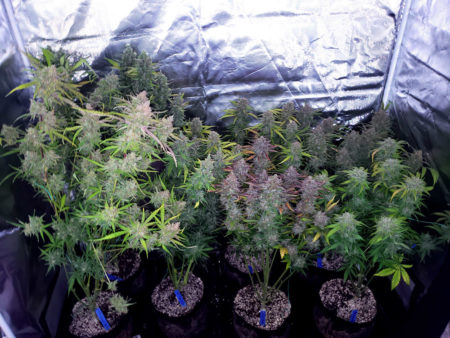 The answer is that each individual strain and plant is different. But here's what to keep in mind:
But when growing weed, do the plants start smelling? And how much?
Short Answer: The smell starts at 3-6 weeks old (depending on strain) even in the vegetative stage. But the smell gets much worse after plants start flowering/making buds.
The cannabis buds we know and love have a noticeable smell. They stink. I love the smell, some people hate it, and every strain is different.
At what age do cannabis plants start to smell?
The leaves of a cannabis plant smell a little, but the buds smell a lot. When plants are young they don't make a lot of smell, but once the plants get big and start growing buds, the smell can be intense.
When it comes to controlling the odor, there is only so much that can be done when it comes to making the environment around it better.
Different types of grow lights produce varying levels of heat, and along with that, plants in different stages of growth have different ventilation needs.
Shop our easy to use growing kits at A Pot for Pot here .
Use Grow Room Ozone Generators
Now that you know how to keep your indoor marijuana grow room smell-proof, check out other products at A Pot for Pot to make the growing process even better.
The best way to tackle this is to install dehumidifiers and air-conditioners in the grow space. Not only will the cannabis plants grow under optimum temperatures and humidity levels, but the scent will also be under control.
Not only is the smell widely recognized, but it is also often seen as taboo by many. Even when it is being grown in a state that has legalized it, there are still many negative connotations associated with growing cannabis.
Neighbors
It is important to remember that as pleasant as growing cannabis is, not everyone shares the same opinion.
It's not a huge surprise to anyone that cannabis smells. It has a very distinct, pungent, and lingering smell that is widely recognized.