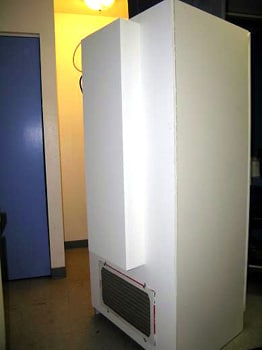 Also, I installed a "Kill-a-Watt" device to monitor my electrical usage so I can easily calculate the total extra cost to my electricity bill each month.
Next to the fan room is space for other more technical things. Here we find the ballast and command switching station.
Final Harvest Weight: 264 grams (9.3 Ounces)
The first thing to deal with was the Intake and exhaust – a clean environment and fresh air for my plants.
Of course I wanted to filter the intake air to keep out dust, pet hair, pollen, mold and the like.
We learned above that the cabinet is 24″ deep. Now this Cool Tube was 20″, hardly enough room to attach two 6″ flex ducts for ventilation without having to keep a door open.
Affordable medicine is a right, and medicinal Cannabis sets a standard for patient autonomy. Enjoy producing your own medicine.
Sirius: This is definitely an advanced method of creating a grow box, but he makes sure to include a lot of things one needs to consider when creating one, such as ventilation and making sure to leave room for everything you need. Do you have a better/more practical/more efficient design? Let us know so we can share with the world!
As you may know, light is vital for growing any kind of plants, including cannabis. Depending on the kind of light fixture you're planning to use, you'll need to make some adjustments so you can adjust the height of your light.
Another great benefit is that it prevents mold and bugs because most pests thrive in hot and humid environments so by keeping the humidity and temperature on point, it's most likely that bugs won't be attacking your plants.
After you have the structure mounted, you need to cut the plywood to start closing the sides of your grow box.
A good ventilation system along a decent-sized fan will also help your plant's stem develop tougher, helping them support the heavy buds in the flowering stage.
Carbon filter
The plastic sheet should be measured on the grow tent before cutting so you don't have to redo it, make sure it doesn't have holes to avoid light leaks and if it doesn't get too hot where you live you can use 2 layers of the sheet to make the tent more resistant.
With some minor differences, obviously.
Cannabis plants need CO2 to perform photosynthesis, which is vital for plant growth. During this process, plants take in water and CO2 and convert them to sugars by applying the energy they absorb from light so with good ventilation you are actually "injecting" CO2 into your grow room, providing what they need for this vital process.
Prevents mold and bugs
You need 1m x 8 wood beams for (A), 2m x 8 wooden beams for (B), and 1m x 2 or x 3 beams for (C). The amount of beams you need on top depends on the weight of your light fixture, exhaust fan, and carbon filter.
A grow box is easier to build, although you cannot disassemble it effectively and the plywood can rot after a while because of the humidity and eventual water spills. To make a grow box out of plywood and wood beams, you'll need a structure similar to the structure of a grow tent.