To employ water germination, fill a glass with tap water and let it sit until it reaches room temperature or around 65 degrees Fahrenheit. Add two to three plant seeds per cup and allow them to sit, watching for any changes. Change the water to fresh tap water every two days, making sure it stays at room temperature.
You can also germinate your seeds by placing them in water. It's slightly faster than the soil method, but you need to adjust your environmental factors accordingly. Remember, successfully germinating seeds requires a perfect balance of ideal growing conditions. When germinating in water, seeds need only 24-48 hours to pop their stems, though cultivators can keep them soaking for up to a week as needed. Water germination is faster because the seed gets all the moisture it needs immediately, and the shell softens and cracks more easily after soaking.
Germination is the first stage of the cannabis growth cycle : the process that brings a cannabis seed out of its hibernation period and starts the cannabis growth process. After all, seeds in a bag don't spontaneously start developing roots. Also known as "popping" seeds, seed germination begins when a seed receives environmental cues letting it know the setting is perfect to start growth.
How to germinate seeds in water
To germinate seeds indoors, use any of the methods described above. Within a few days, you'll have popped seeds ready to transfer to a growing medium.
The downside of water germination is that once they've popped, you'll need to maneuver them into their growing medium manually. This is a delicate process, as germinating seeds are extra fragile, and any harm risks the development of your plants. Make sure to place the seed roots down in the soil when you transfer to a pot.
Image lightbox
The best germination method depends on the cultivator's choice. Here are some of the most common ways to pop your cannabis seeds.
When the seedling stems reach two to four inches in height, it's time to transplant your cannabis into larger pots with more room for roots to spread down and out. After you've done this, you've successfully germinated your cannabis seeds into proper, young plants.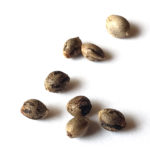 Rapid Rooters (note: extra Rapid Rooters can be stored in a cool place for future grows)
Supplies
Ensure paper towels don't dry out. You may have to add more water occasionally to keep them wet. You can usually tell when the seeds have germinated without looking under the top sheet. This means you can check on your seeds regularly without disturbing them by picking up the top plate.
3.) Add Water & Seeds
If you don't see any progress and leaves still seem trapped after a day or two, you may need to remove the shell to release the leaves contained inside. If leaves can't break free and see the light, the seedling may die.
Daily we reveive the questions like "what is the best way to germinate" or "how do I start germinating", We know this is for lots of people not an easy thing said…. So we tought to make it as a subject in the next weeks
Germinating with Kitchen paper and tupper
Under here we show you a video tutorial how to do it .