Most outdoor weed growers will either dig a hole and add fresh soil for the plant, or grow their weed in pots. This will allow you to better control the growing medium and the amount of nutrients your plants receive.
Growing marijuana outdoors is great because you won't need to spend a ton of money on it and you can rely on the power of the sun. If you have access to a sunny spot in a private yard or even a balcony, terrace, or rooftop, you can grow weed outside. You will be tied to the sun and the seasons and local weather, but you won't have to spend a bunch of money on equipment and utilities like indoor growers.
Soil and other media for outdoor cannabis growing
Typically, outdoor growers will add amendments to soil when weed plants are transplanted outside. Outdoor amendments usually come in powder form that you mix in with soil.
Sustained temperatures above 85°F will cause your plants to stop growing, while continued temperatures below 55°F can cause damage and stunting to plants, even death.
Benefits of growing weed outdoors
Your cannabis plants should receive as much direct sunlight as possible, ideally during midday, when the quality of light is best. As the season changes and fall approaches, your plants will get less and less sunlight throughout the day, which will trigger the flowering stage.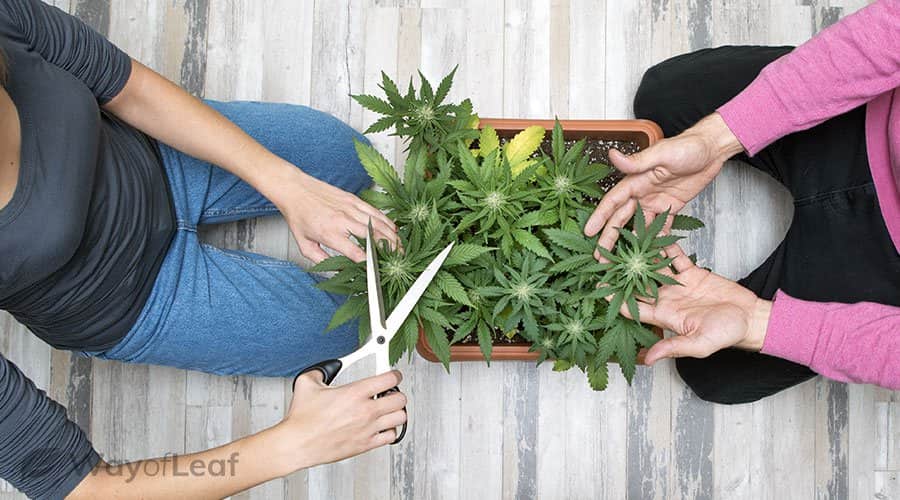 Lastly, make sure female plants are not exposed to males. Otherwise, pollination could occur – a process that decreases the quality of the harvest. If your strain begins flowering during a wet season, excess moisture exposure could prove troublesome. In this instance, find shelter for the plants to prevent mold and mildew growth.
It may also be worth investing in wire cages to keep animals at bay. As already mentioned, some plants often grow over six feet tall. However, some plants, when grown outdoors, can become so tall that they resemble mini-skyscrapers. These plants can sometimes be over twelve feet in height, so make sure you plan for this.
When choosing the ideal location for your outdoor grow, look for the following features:
Don't use a container smaller than five gallons. If you want large plants, try 15+ gallon containers. There are even 100-gallon container bags!
Seeds
If you elect to purchase soil from a store, don't assume that it has a balanced pH level. Also, don't think that it will maintain this standard for the duration of the season, either. Ideally, your soil's pH will be 7.0. However, it may change over the course of a couple of months and become too alkaline or acidic.
Indoor growers tend to grow their marijuana from clones, while outdoor growers prefer to grow from seed. You can get quality buds using either method, and they both have their advantages and drawbacks.
If your crop is in a windy spot, create a windbreak such as a wall. Alternatively, tying perforated plastic sheeting to garden stakes is also effective.
Some Potential Grow Sites for Outdoor Growers
Areas that are subject to high wind will need a wall or hedge to act as a windbreak. Then there is the small matter of privacy and security.
Typically, seeds only begin to germinate when exposed to constant temperatures of 65 degrees Fahrenheit. Experts suggest keeping your plants indoors for up to four weeks before bringing them outside when the weather is more suitable.
In the Northern Hemisphere, cannabis can be planted in early to mid-spring and harvested in mid-fall, depending on the cultivar. In the Southern Hemisphere, the growing season will be reversed with planting in early to mid-fall and harvesting in the middle of spring.
Season
Greenhouses can be a great middle ground between the complexities of an indoor setup and the uncertainty of growing outdoors. They provide ample protection from the elements and use far fewer resources than an indoor grow. Greenhouses can be more costly than an outdoor garden and require more planning, but they also allow you to extend the growing season considerably.
Security
Cannabis requires more nutrients than many of the other plants you may have in your garden. Quality soil contains enough organic nutrients to start the growth cycle, but as your cannabis plant grows and transitions into flowering, it may deplete the available nutrients and require additional fertilizers.