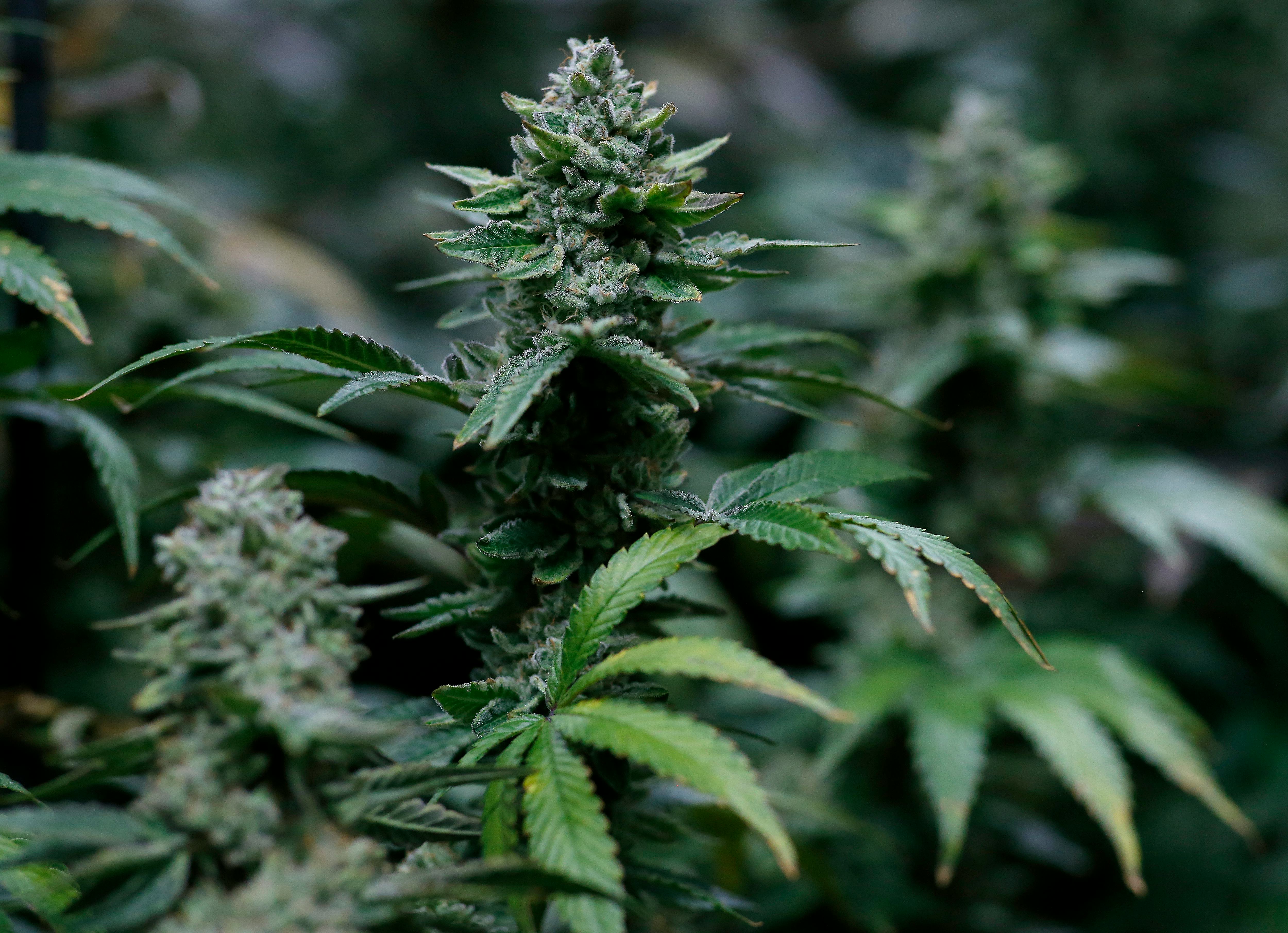 Your cannabis will be ready to harvest at around October. You'll know they're ready when the buds "start to get really, really swollen and packed pretty tight," Johnson says. But it can be hard to tell if you're a beginner. Many growers say that if you think your plant is ready to harvest, wait two weeks, since many newbies tend to harvest too early. Or, you could share a photo of your crop on a forum and ask more experienced growers to weigh in.
Cannabis plants can be either male or female. Female plants yield the plump flowers, a.k.a., "buds," that we know and love, brimming with psychoactive compounds like tetrahydrocannabinol (THC, which gets you high), Modern Farmer explains. Male plants yield much smaller flowers, which people typically don't consume. In other words, if you want to actually indulge in your crop, you'll want female plants.
There are different harvesting methods, but Johnson cuts the whole plant at the base and hangs it upside down with some twine in a dark room at a temperature of around 70 degrees Fahrenheit. Add a fan for airflow — you definitely don't want the room to be humid, which will cause mold to grow, rendering your crop unusable. It'll probably take around a week to dry.
Johnson notes that the outdoor grow season lasts from around April to October, meaning if you plant seeds now, they'd still yield flower, but not much. Since it's late in the season, he suggests buying a large clone, which will have more branches and therefore yield more flower.
Upkeep
If you use organic soil, all you'll really need to do is add water, Johnson says — but don't overdo it. The number one mistake he sees new growers make is watering their plants too often. In general, "watering every day is too much. The rule is, if you pick up your plant, and the pot is heavy, then it has a enough water. If it's light, it's dry, then you need to water." You could also stick your finger knuckle-deep into the soil; if it feels dry, add water.
Since clones come from plants that have been grown indoors, let yours chill in a shaded area for a week before exposing them to full sun, Johnson says. "The clone hasn't tasted sun like that, and the transplant itself will be stressful."
That said, when your plants are fully flowering, you might find yourself watering them daily, based on these indicators. When you do water them, keep going until you see water running off the soil, to ensure the water reaches all of the soil in the pot.
Before you get started
While you can absolutely grow cannabis indoors, outdoor cultivation is much simpler and cheaper, says Ron Johnson, author of How to Grow Organic Cannabis: A Step-by-Step Guide for Growing Marijuana Outdoors, who also runs the website The Cannabis Gardener. "The sun is free," he tells Mic. "You don't have to pay hundreds of dollars a month in electrical bills." An outdoor garden probably won't allow you to turn over product fast enough, but it'll suffice if you just want to grow weed for yourself. Plus, it's gentler on the planet.
If you buy seeds from a seed bank, look for those labeled "feminized" to ensure they give rise to female plants, Johnson says. But if you're a total newbie, he suggests buying clones, which are cuttings from a "mother" female plant, available at some dispensaries, as well as at nurseries. Not only are they easier to obtain, "they're easier to grow. You get a clone, and you transplant it to some soil."

Before someone even begins to consider the genetics of their preferred strain, they should first ensure that their apartment is cannabis-friendly. There are five main factors to consider: space, temperature, humidity, the pH of water, and the amount of light.
Despite the hurdles, many first-time growers still choose to cultivate cannabis indoors (which is legal in Alaska, Colorado, Washington D.C. and Oregon), and there are steps to maximize a plant's chances of succeeding. It all starts with a plant's genetics. "For your typical closet setup, you're going to want a plant that stays short," Lipton said. "A lot of time that means an indica. Sativas are really tall and lanky." (More on the difference between those two families here.)
Find a healthy clone.
Though the 12-hour interval is fairly universal, knowing exactly when to induce flowering is less clear. For the home grower, it usually comes down to space; the longer one waits to trigger the flowering cycle, the taller their plant will be. A good rule of thumb: cannabis will only continue to grow 30 to 50 percent once the light source is reduced. If the plant is growing in a closet, growers should trigger the flowering cycle, understanding that there must be more than two feet of space between the canopy of the plant throughout the entirety of its life.
Relative humidity: 30 to 45 percent. "If you live somewhere humid, you're probably going to want to buy a dehumidifier," said Lipton. "In Boulder, we sometimes have to add humidity." At home, that can be done with a reliable humidifier.
Know the law.
Presented by Florida Man DIPA
Plants in the vegetative stage maintain a low odor as they haven't begun to produce terpenes, the plant's aromatic compounds. As weed plants transition into the flowering phase, trichomes will start to develop and produce terpenes, causing them to smell more.
You'll likely yield about the same amount of weed in both cases, but more harvests mean you'll have fresh weed to smoke more often and have more opportunities to grow different strains. But more harvests also means more work in cleaning up the space between harvests, trimming, etc.
While shopping for soil, you might be overwhelmed by the options available at your local garden store. The soil type is the basic structure of your soil. From there, look at nutrients, microorganisms, and other amendments that improve the soil. Your choices will be flooded with words like:
Inevitably, there will be fluctuations of temperature and humidity in your cannabis garden. These fluctuations can occur both throughout a grow space as well as within pockets inside a given room. They can also occur at different points within a given day or throughout a season as conditions change in the environment outside your grow space.
Odor control in your indoor marijuana grow
The two main types of HID lamp used for growing are:
As much fun as growing marijuana indoors is, having a home that perpetually smells like fresh weed can be a serious inconvenience, if not to you than possibly your neighbors. Although weed odor from a small indoor grow in a closet is much easier to manage than a large grow with several flowering plants, both can produce pesky odors that will permeate an entire home if left unattended.
So when growing weed indoors, you can control the size of your plants by flipping them into flower whenever you think they're big enough in the vegetative stage.
Daily maintenance checklist for your indoor marijuana grow
Check out our buying guide on indoor lights for more info.
Plants need 18 hours of light a day when in the vegetative stage and 12 hours a day when flowering. The reduction in light from 18 to 12 hours a day is what triggers the flowering cycle—when weed plants start to grow buds.