These are just some examples of amendments commonly used in different types of soils. Heavily amended soils will have long lists that break down all organic nutrients they contain. Some companies create soils that offer a great structure with base nutrients, but allow you to fill in the gaps as you desire.
Relying on the power of the sun, you won't need to spend a ton of money on an outdoor grow. You'll need some soil, fertilizer, seeds or clones, and maybe a small greenhouse to get them started. You won't need to pay for electricity for lights, AC units, or dehumidifiers, and you can even collect rainwater.
Silty soil is the ideal growing medium. It's easy to work, warms quickly, holds moisture, has good drainage, and contains a lot of nutrients. The best silty soil is dark, crumbly loam—it's fertile and probably won't need any amending.
For most first-time gardeners, we recommend buying a quality potting soil that will provide your plants with enough nutrients to get them through most of their growth cycle without having to add many amendments. This pre-fertilized soil—often referred to as "super-soil"—that can grow cannabis plants from start to finish without any added nutrients if used correctly.
Loam soils
Once you have an understanding of the climate in your area, you'll need to consider a few things before planting your weed.
If you don't have a suitable patch of earth to make a garden, containers can be placed on decks, patios, rooftops, and many other spots. If needed, you can move them around during the day to take advantage of the sun or to shield them from excessive heat or wind.
The best way to identify loamy soil is by touching it. How does it feel? Sandy soil should be difficult to compact while clay should compact into a tight ball that won't crumble. When squeezed, loamy soils should form a loose ball that will hold its structure momentarily before breaking apart in large chunks.
How to set up your outdoor marijuana grow
We recommend these organic fertilizers:
Environmentally friendly
Quality soil should be dark, rich in nutrients, and have a light and fluffy texture. The structure of your soil should be capable of retaining water but also allow for drainage of any excess. Organic potting soil blends from your local garden center will do just fine, but more advanced growers prefer to blend their own organic super soil from scratch. The soil itself should be slightly acidic with a pH of around 6. This can be tested with a soil pH meter or test kit.
Whether using seeds or clones, many cultivators start growing their plants indoors to ensure they are not exposed to damaging weather conditions as they develop their initial root system. The plants can be transitioned outdoors when the weather and light conditions are ideal. Extending the indoor vegetative growth period can help increase yields and allow growers time to select the best plants to be moved outdoors.
Image lightbox
Keep this info in mind as you embark on your cannabis-growing adventure. The smallest adjustments can make all the difference — planting a week earlier, a week later, watering less, watering more, etc.
Avoid clay pots as they can be costly, heavy, and retain heat that could dry out the plant's soil and roots. Fabric pots are the least expensive and most effective solution, as they allow for ample drainage and plenty of oxygen to get to the roots. Plastic containers are also light and inexpensive but tend to retain more heat than fabric pots. Flowering plants need a container that is at least 5 gallons (18.9 liters) to prevent them from outgrowing their containers and becoming rootbound.
Seeds vs. clones
Wilting plants and dry soil are a direct sign that plants need water. Droopy leaves along with wet soil are a sign of overwatering. Both are common mistakes and can be avoided with some practice.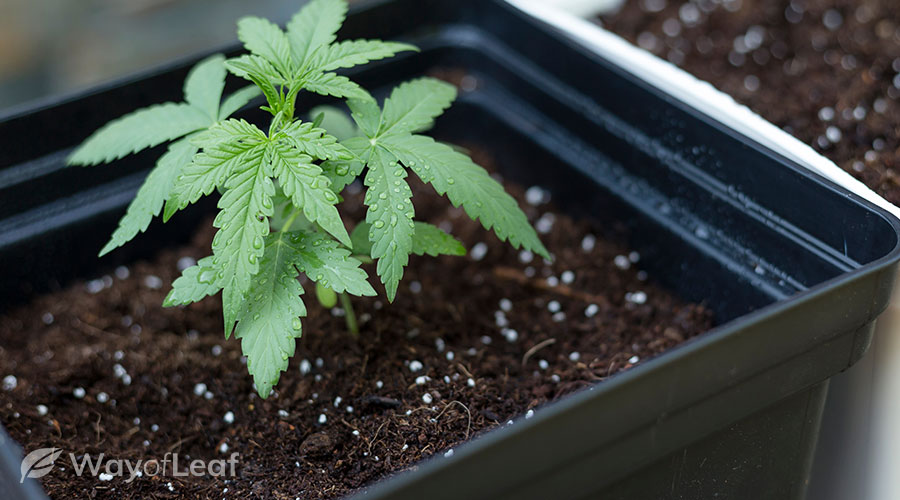 Outdoor cannabis growers face a significant disadvantage compared to their indoor growing counterparts; outdoor plants are vulnerable to inclement weather. Also, plants grown outdoors are susceptible to attack from pests and pets. Rapid changes in the weather can damage or even kill cannabis plants, while animals and aphids are a constant threat.
When harvesting outdoors, make sure you have the requisite tools. When it's time, bring sealable bags. We recommend carrying a holdall if you use Ziploc bags for added security. Cut the marijuana plants into lengths that make them easy to transport. In other words, make sure they fit in your bags!
We are offering this guide with the assumption that it is legal to grow marijuana plants in your state. First and foremost, it is imperative that you have the right climate for optimum growth.
Step #6: Select Carefully the Type of Container You Need
Obviously, your plants need water, and the benefit of growing outdoors is that your marijuana should be exposed to rainwater. However, in places like California, the hot summer months mean minimal rainfall, so you have to water your plants manually. The main danger is overwatering your cannabis. A good rule of thumb is that a large plant needs 10 gallons of water a day during hot weather.
Airflow is also critical, so be sure to invest in breathable containers. These enable air to penetrate the root zone quickly and ensure that oxygen gets to the roots. Once marijuana plants breathe in the CO2, the roots use the most with the highest consumption occurring at night.
Is There a Precise Time to Harvest?
You must be careful not to wait too long to harvest because marijuana plants suffer a decline in health once they have completed the flowering phase.
If your crop is in a windy spot, create a windbreak such as a wall. Alternatively, tying perforated plastic sheeting to garden stakes is also effective.