Greenhouse structures range from inexpensive polyvinyl chloride (PVC) tubes, often called "hoop houses," to highly engineered, fully automated, and purpose-built steel greenhouses. Due to their efficiency, greenhouses are quickly becoming the preferred growing method for many large-scale cultivators.
Becoming intimately familiar with your local climate and seasons is one of the most important steps in producing high-quality outdoor marijuana. Before you grow, you'll need to know the ideal temperature your plants require in order to thrive, the best site, optimal timing of planting and harvesting, and the season's photoperiod — the amount and intensity of light available through the duration of the growing season.
Determining the optimum location is another important factor that can affect the yield and quality of your plants. Cultivators in the Northern Hemisphere should attempt to place their plants in an area with southern exposure to ensure their plants are getting the most available sunlight. The opposite is true for the Southern Hemisphere.
Beneficial insects, fungi, and bacteria can also be used to protect your plants from their parasitic or predatory counterparts. Jumping spiders, ladybugs, and other native, beneficial predatory insects can clear your crop of insects such as aphids and whiteflies. When sourcing beneficial insects, fungi, or bacteria, it's important to research those which are native to your region.
Security
When possible, use natural structures and formations in your garden as windbreaks to prevent excessive stress on your plants that could lead to branches breaking.
In the Northern Hemisphere, cannabis can be planted in early to mid-spring and harvested in mid-fall, depending on the cultivar. In the Southern Hemisphere, the growing season will be reversed with planting in early to mid-fall and harvesting in the middle of spring.
Greenhouses can be a great middle ground between the complexities of an indoor setup and the uncertainty of growing outdoors. They provide ample protection from the elements and use far fewer resources than an indoor grow. Greenhouses can be more costly than an outdoor garden and require more planning, but they also allow you to extend the growing season considerably.
Using Mother Nature to cultivate cannabis
Wilting plants and dry soil are a direct sign that plants need water. Droopy leaves along with wet soil are a sign of overwatering. Both are common mistakes and can be avoided with some practice.
The three primary nutrients required for cultivating marijuana are nitrogen, phosphorus, and potassium.
While shopping for soil, you might be overwhelmed by the options available at your local garden store. The soil type is the basic structure of your soil. From there, look at nutrients, microorganisms, and other amendments that improve the soil. Your choices will be flooded with words like:
Most outdoor weed growers will either dig a hole and add fresh soil for the plant, or grow their weed in pots. This will allow you to better control the growing medium and the amount of nutrients your plants receive.
These are just some examples of amendments commonly used in different types of soils. Heavily amended soils will have long lists that break down all organic nutrients they contain. Some companies create soils that offer a great structure with base nutrients, but allow you to fill in the gaps as you desire.
Low costs
Loam soils
Relying on the power of the sun, you won't need to spend a ton of money on an outdoor grow. You'll need some soil, fertilizer, seeds or clones, and maybe a small greenhouse to get them started. You won't need to pay for electricity for lights, AC units, or dehumidifiers, and you can even collect rainwater.
Once you have an understanding of the climate in your area, you'll need to consider a few things before planting your weed.
Heavy clay soils drain slowly and don't hold oxygen well, so they will need to be heavily amended. A few weeks before you plant, dig large holes where you'll be placing your weed plants and mix in big amounts of compost, manure, worm castings, or other decomposed organic matter. This will provide aeration and drainage, as well as nutrients for the plants.
Types of outdoor grow spaces
Weed plants will need full, direct sun for at least 6 hours a day. You may have a backyard, but it might not be great to grow there if it doesn't get full sun every day.
You can plant directly into the ground, using the preexisting soil, but you'll need to understand your soil's composition and amend it accordingly. If you go this route, we recommend getting your soil tested, which will minimize headaches, and it's easy and relatively inexpensive. A soil test will tell you the makeup and pH of your soil, any contaminants present, and will recommend materials and fertilizers to amend your soil.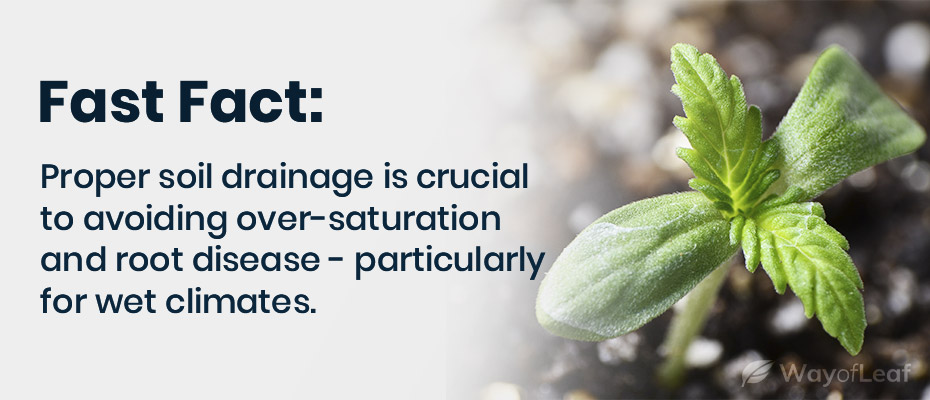 It is tempting to make your soil amendments with store-bought fertilizers, but remember, they are filled with chemicals. This can significantly impact the flavor and aroma of the finished product.
For outdoor growers, it is best if you skip commercial fertilizers and focus on organic fertilizers. You should add it to the soil before planting and throughout the growth cycle. Natural options include:
Different Types of Soil
Garlic is useful for fighting beetles. Check your plants daily for signs of infestation and act immediately if you see any issues.
Step #3: Buy the Best Soil for Your Plants
There's no doubt that growing marijuana outdoors comes with challenges (which we address later on), but it also has a list of cool benefits: