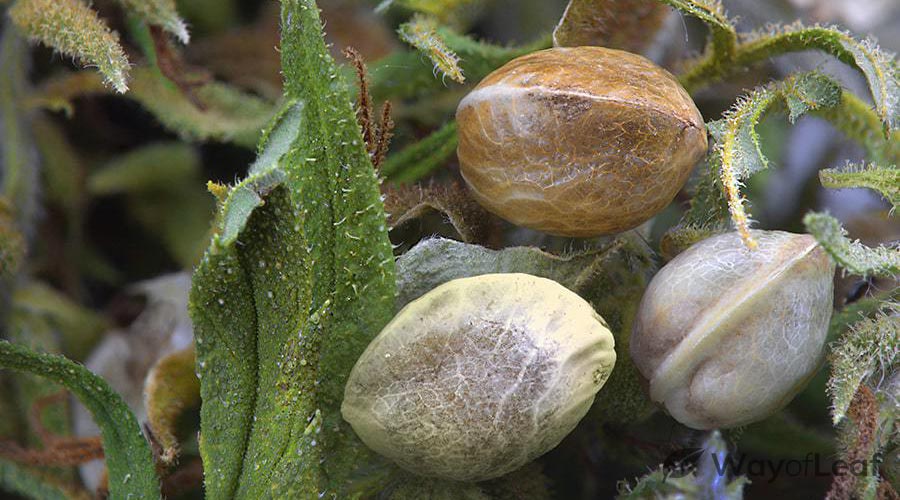 It is relatively easy to buy autoflowering seeds online. There is an increasing number of reputable websites that sell them. Alternatively, you can find them in a local dispensary, but purchasing the best autoflower seeds is a challenge at first.
Many of the same drying, curing, and storing rules apply with auto-flowering cannabis plants. You can dry your buds by hanging them upside down for a few days. Store them in airtight containers but ensure there is a bit of space in each jar. Initially, open the jars once a day for a few minutes.
It was created by breeding an indica-dominant hybrid (possibly White Indica) with an unknown ruderalis plant. It has 30% ruderalis, 55% indica, and 15% sativa genetics. Royal Queen Seeds created it, and its total growing time is 8-9 weeks, whether you grow it indoors or outdoors.
1 – Amnesia Haze Auto
Proper germination is pivotal to the healthy development of your autoflower marijuana plants. You can go down the traditional route of using soil or try a container with a growing medium. The paper towel method is probably the easiest way to germinate your autoflower seeds.
The best method of harvesting auto-flowering plants is to take the colas and allow the lower buds to become denser before harvest. As these plants grow so quickly, they usually don't have time to develop a canopy. As a result, you need to keep the buds that are lower down on the plant. These days, it isn't unusual to find automatics that produce up to 22 ounces per square meter.
Five Awesome Autoflowering Strains
You shouldn't prune an auto-flowering plant in the same way as its traditional counterpart. First and foremost, all pruning should begin early in the life cycle, or else you risk hindering its growth.
For example, strains such as Amnesia Haze Automatic produce up to 14 ounces of bud per square meter planted. Royal Gorilla Automatic contains up to 20% THC. With fewer disadvantages than ever before, it is no wonder that 'auto' plants are becoming increasingly popular.
Most autoflowers reach a height of around 50-100cm but a plant's size depends on the genetics and growing conditions. Also, all strains are different so you will find Sativa and Indica-leaning autos; Most Indica hybrid autoflowers will stay around the 80-120cm mark but Sativa-dominant autoflowers can reach up to 175cm tall.
If the pH drops below 6, the roots will not be able to intake vital nutrients such as magnesium, calcium, and phosphorous. Similarly, if the pH is too alkaline and goes above 7.5, the roots cannot take up micronutrients like copper, manganese, boron, etc. It's very important to regulate the pH at all times to prevent nutrient deficiencies.
A dry pot will be easy to lift whereas container with lots of water will be heavy. The trick is to not let the soil go too dry or too wet, so water the plants only when the pot isn't too heavy or light.
Macro and micronutrients
This solely depends on your climate, you need to remember that autos prefer dry sunny days so if you're planning to have just one grow cycle, you can start them 1-2 weeks into Summer, and if you're planning to have 2 harvests, start the next one right after finishing the first one.
A way to check if the soil is dry is to use your index finger and stick it in the soil, if it comes out moist then the soil is still humid, although by doing this you won't be able to know if the bottom is still wet so in order to get the timing right, lift the pots and check the weight.
The appropriate pot size can also help you control the height of your cannabis plants, usually, a 12L pot will allow your plant to develop to its maximum, an auto in a 7L pot will grow up to 70cm and in a 3L pot will grow around 40cm.
7. Over and under-watering
Autoflower cannabis has always sparked debates among growers in the cannabis community. Due to a dearth of knowledge or experience, many growers avoid growing autoflowers. Beginners are expected to only grow photoperiod plants, and while the fear of something new and unexpected is understandable, you might discover something more amazing if you just try.
Sometimes, it just so happens that the plant refuses to respond even if you've done everything. In such cases, flush the plants with lots of water (at least double or triple the size of the container) to reduce any nutrient or salt buildup so that the plants can breathe again. Flushing is typically done at the end, but it doesn't hurt the plant even if you do it in between because it reduces buildups to a good extent.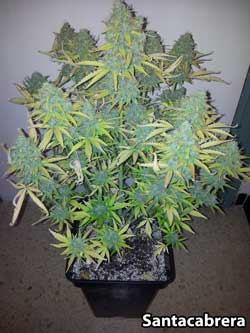 Training methods along with a properly timed light schedule can be used to produce very small or very large plants…whatever the grower wants!
Photoperiod Strains
However, when plants are fast-growing and healthy, many growers defoliate, top or FIM their plants with great results. When is it okay to top an auto?
As breeders have been able to make more specialized strains, they've tailored the effects and growth patterns for different needs and purposes. As a result, each strain grows differently, just like with photoperiod strains. That's why it's always a good idea to read the breeder's description of a strain when buying seeds. Some auto-flowering strains get particularly tall, while others tend to stay short. You'll get the best results if you match your strains to both your setup and each other!
Can I clone auto-flowering plants?
Many growers do not recommend exposing autos to plant training methods that involve cutting the plant (topping, FIMing, main-lining, etc.) as the autoflowering vegetative stage is short and plants often don't have enough time to recover before they begin flowering.
Light Schedule is 20 on and 4 off (20-4). Used that light schedule for the whole grow. This is my first time growing. The plant ended up being just under 2 feet tall at harvest. Harvested on day 67 from seed.