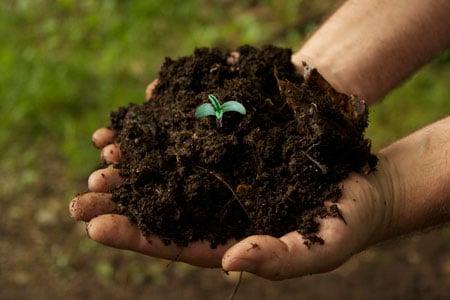 Option 1: Store-Bought Soil + Nutrients – Growers can buy soil online or at a store, and simply add nutrients throughout their grow while watering for thriving, happy cannabis plants.
Standard Miracle-Gro nutrients (their all-purpose plant food) will work "just okay" for the vegetative stage of your plant's growth, but anything with Miracle-Gro in it is a terrible choice for the flowering stage due to its high levels of Nitrogen. Using standard Miracle-Gro nutrients in the flowering stage will cause your buds to grow smaller than they could have, and they may possibly have a chemical taste from nutrient buildup in the plant tissue.
Pests – Soil is an organic material, and there are many types of bugs that can live in soil. Often, soil-growers seem to suffer more often from pests attacking their plants than hydroponic growers.
Quality soil should be dark, rich in nutrients, and have a light and fluffy texture. The structure of your soil should be capable of retaining water but also allow for drainage of any excess. Organic potting soil blends from your local garden center will do just fine, but more advanced growers prefer to blend their own organic super soil from scratch. The soil itself should be slightly acidic with a pH of around 6. This can be tested with a soil pH meter or test kit.
Avoid all-in-one fertilizers as they can be too high in nitrogen for the flowering cycle and damage any beneficial microorganisms that may be present in the soil. Instead, choose a line of nutrients created specifically for cannabis, and use its suggested feeding charts to avoid over- or under-feeding. Organic sources of nutrients are best, as they are a great source of beneficial microbes, but they may take longer to break down and become available to the plant. Both types of nutrients can be found in dry, pre-blended powders or liquid emulsions, but can also be made from scratch with the right ingredients. Organic compost tea, which includes nutrient-rich ingredients, like molasses and earthworm casting compost, is a popular homemade brew for cannabis farmers.
Image lightbox
Plants grown from seeds are typically heartier and more vigorous than clones, as they produce a sturdier taproot that clones are not able to replicate. The vigor that comes from deep roots can be an advantage when dealing with harsh environmental conditions and pest pressures. The disadvantages of growing seeds are the additional attention required to germinate the seeds, the necessity to eliminate any males before they pollinate the females, and the high variability in growth characteristics that results from their genes.
Cannabis has been cultivated outdoors for thousands of years, but before you go putting a seedling in the ground, it's best to know how the process works and how to make the most of Mother Nature's gifts. You should also have some idea of how to handle those unwanted gifts you'd rather return — pests and weeds.
Containers vs. in-ground
While cultivars may vary, here are some general rules that will be useful no matter which one you choose.