During the vegetative stage, water your plants thoroughly, then not again until the top 1 inch (2.54 centimeters) of soil has dried out. This can be every day or every four days, depending on conditions, but the time between watering will become shorter as the plant grows its roots. Container gardens tend to dry out faster than soil beds, so they'll need to be watered more frequently.
Depending on your location, you may need to plan for rain. In most regions, the rainy season is typically aligned with the end of the flowering stage and the start of the harvesting period, but this may not always be the case. Rain can be detrimental to an outdoor flowering crop so being prepared to cover or move plants can help ensure a successful harvest. If it does rain on your plants, make sure to immediately shake off any excess water, as lingering moisture can lead to the formation of mold and nobody likes moldy weed.
Avoid all-in-one fertilizers as they can be too high in nitrogen for the flowering cycle and damage any beneficial microorganisms that may be present in the soil. Instead, choose a line of nutrients created specifically for cannabis, and use its suggested feeding charts to avoid over- or under-feeding. Organic sources of nutrients are best, as they are a great source of beneficial microbes, but they may take longer to break down and become available to the plant. Both types of nutrients can be found in dry, pre-blended powders or liquid emulsions, but can also be made from scratch with the right ingredients. Organic compost tea, which includes nutrient-rich ingredients, like molasses and earthworm casting compost, is a popular homemade brew for cannabis farmers.
Nutrients
Avoid spraying synthetic insecticides on your cannabis plants as further research is needed to determine the health effects of smoking plants treated with synthetic chemicals. Organic pesticide and insecticide solutions can be effective if used properly. If you can avoid it, it is always best to not spray anything on your plants while they are flowering.
Pests come in many forms, from large deer and gophers to small slugs and spider mites. Larger animals and pets can be kept out of the garden with fencing, while gopher wire beneath your soil beds can keep rats and gophers from eating the plants' roots. Weeds will not damage cannabis, but they will compete for the nutrients in the soil and reduce the quality and yield of your crops. A light layer of mulch on top of your soil can prevent weeds from sprouting in the middle of your plants' cycle.
Most cultivars will begin to flower once they receive fewer than 15 hours of sunlight per day. The latitude of your garden has a direct impact on how many hours a day your plants receive light.
Choosing the best site for outdoor cannabis
During the first half of the season, the daytime period increases until the summer solstice, which occurs in the Northern Hemisphere on or around June 21 and in the Southern Hemisphere on or around December 21. While the daylight hours increase, the plant's vegetative stage takes place. During vegetation, the plant will develop the roots and stems that will serve as the foundation for growth until flowering.
Container gardens can be convenient as they can be moved around the garden to maximize sunlight or protect them from harsh conditions Photo by: Gina Coleman/Weedmaps
We recommend these organic fertilizers:
Balcony: This can be a great spot if it gets good light—ideally, it faces south—and will usually get good wind. However, you may need to cover your balcony from peeping neighbors.
Weed plants will need full, direct sun for at least 6 hours a day. You may have a backyard, but it might not be great to grow there if it doesn't get full sun every day.
Garden plot: Probably the most common outdoor growing spot, many will plant cannabis alongside other growing veggies.
Growing containers
You may need to put all of your plants in containers if you don't have great soil. Also, if you're unable to perform the heavy labor needed to dig holes and amend soil, containers may be the only way for you to grow your own cannabis outdoors.
Having a constant breeze is good for your plants, and especially in hot climates. But if you live in an area with a lot of high winds, consider planting near a windbreak of some sort, like a wall, fence or large shrubbery.
The sky's the limit with outdoor plants—you can let them get as big and tall as you want, as long as they're manageable. One plant can potentially yield between a half-pound and full-pound of dried weed! Growing a handful of hands for yourself is more than enough. With an indoor grow, your space is a lot more restricted.
Types of outdoor grow spaces
Relying on the power of the sun, you won't need to spend a ton of money on an outdoor grow. You'll need some soil, fertilizer, seeds or clones, and maybe a small greenhouse to get them started. You won't need to pay for electricity for lights, AC units, or dehumidifiers, and you can even collect rainwater.
Typically, outdoor growers will add amendments to soil when weed plants are transplanted outside. Outdoor amendments usually come in powder form that you mix in with soil.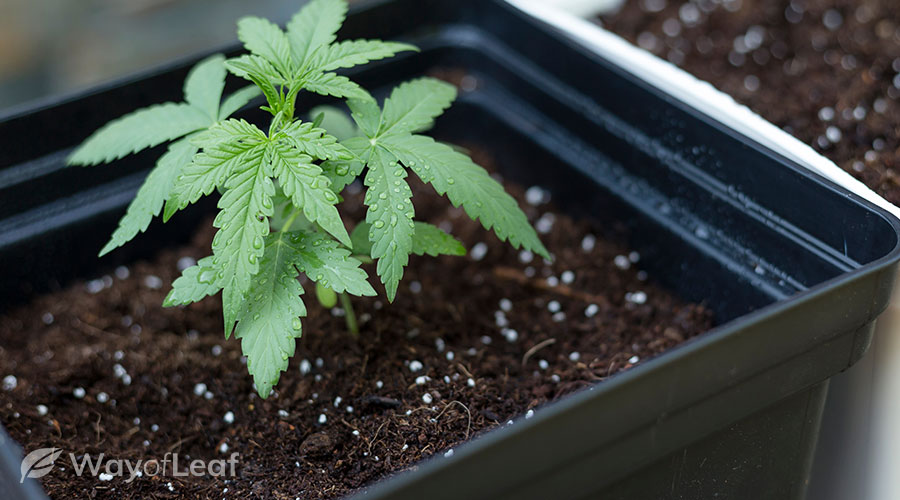 You will have to learn specialized techniques if you wish to grow a few large plants.
When choosing the ideal location for your outdoor grow, look for the following features:
EDITOR'S CHOICE – Homegrown CannabisCo
Areas that are subject to high wind will need a wall or hedge to act as a windbreak. Then there is the small matter of privacy and security.
One of the main advantages of container gardens is that you can place them anywhere. Therefore, you can grow your weed on a patio or even on a rooftop. Make sure you move the plants around to make the most of the available sunlight. You can also use store-bought nutrient-rich soil, which simplifies the fertilization process.
Tips for Choosing a Grow Site
Having the ability to choose the right marijuana strain, the ideal location, and the best possible soil is one thing. Possessing the patience to see the entire project through is quite another.