As a rule of thumb, your Blue Dream seedlings should receive 16-24 hours of light, and clones need 18-24 hours a day. During the vegetative stage, make sure your plants are on an 18-6 light schedule, which changes to 12-12 during flowering. Your Blue Dream plants will not start to flower until you routinely expose them to the 12 hours of light, 12 hours of dark schedule. At this point, they respond as if the fall season is about to come and enters the flowering stage.
In basic terms, humidity is the amount of water vapor in the air, and it plays a crucial role in determining the level of evaporation in marijuana plants. When humidity levels are low, your plants take in more water and nutrition. Like all weed plants, the humidity and temperature requirements for Blue Dream change as it moves through its growth cycle.
Regardless, when you grow indoors, try and make sure that you keep the plant straight and support the branches. The process of 'staking' is one of the best ways to achieve this. As Blue Dream is a tall and dense plant, it is crucial to stake it, or else the plants will lean or even fall over from the main trunk. Most growers use metal stakes in different lengths with a loop at the end to hook the branches.
6 – Adding the Correct Lighting
Now that weed is legal for recreational use in California, residents are flooding to dispensaries in search of Blue Dream. Its popularity is partly because of its delightful aroma, taste, and effects, but also because of its relatively widespread availability.
The main issue you'll have when growing Blue Dream indoors, however, is the height of the plant. It tends to grow into something of a monster! It isn't unusual for a Blue Dream plant to reach the six-foot mark, in fact, without a great deal of effort.
There is little difference in yield whether you grow Blue Dream indoors or outdoors. It is capable of producing an incredible 15-21 ounces per square meter indoors. We have heard of growers generating over 20 ounces per plant outdoors too. Based on L.A. prices, you are looking at up to $9,000 worth of Blue Dream if you dedicate an entire square meter to the plant.
4 – Maintaining the Right pH Level
If you're in a rush to enjoy the fruits of your labor, you can dry and cure Blue Dream for a much shorter period than with many other strains. It is not unusual to spend just eight days drying and seven days curing. Admittedly, you will enjoy a much stronger, more flavorful experience if you wait a few weeks, but you'll still enjoy the relaxing yet energizing effect, which ultimately transitions into euphoria.
For instance, air takes in 7.2 ml of water at a temperature of 68 degrees Fahrenheit and 100% humidity. At 32 degrees, the air takes in 5 ml of water, which explains why the air feels 'drier' during the hot months.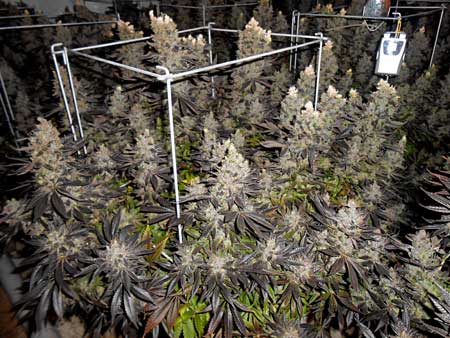 Sometimes you'll see purple leaves because of a nutrient deficiency, but oftentimes purple leaves are actually caused by natural plant processes.
Calyxes are what give the most color to your buds. Even a few purple calyxes can give the buds an overall purple tint, and when you break open the buds there will be some pieces that are completely purple.
Photoperiod (Regular) Strains
For some strains, the leaves may turn purple while the buds stay green.
Sometimes just the pistils/hairs turn pink or purple, while the leaves and buds may still be green.
Colorful Calyxes / Bracts (Buds Themselves)
Peyote Gorilla
Climate: Thrives in most climates and handles cold nightly temperatures well. Blue Dream's ideal temperature ranges between 65-85 degrees Fahrenheit.
Strain overview: Blue Dream is a hybrid cross between Blueberry and Haze. It is deemed the most popular cannabis strain based on reviews and widespread availability. Blue Dream's popularity stems primarily from its sweet berry fragrance and even-keel effects that entice both connoisseurs and first-time consumers.
Indoor/outdoor: Can be grown successfully both indoors and out. Blue Dream is best known for its successful growth outdoors in California, but transitions easily into indoor environments. Consider topping and training to prevent Blue Dream from outgrowing your indoor space.
Grow techniques: Sativa-dominant genetics ensure that Blue Dream will grow tall. With proper pruning and training, this plant will grow beautifully and easily. Give Blue Dream plenty of trellis support as the sativa structure has a hard time supporting heavier indica-like buds. Blue Dream is known for its ability to grow high yielding plants in quality soils.
Yield: High
Flowering time: 9 to 10 weeks
Grow difficulty: A vigorous plant that allows for a large margin of error, Blue Dream is an easy strain to cultivate.
Feeding: Heavy feeding. Blue Dream can take high levels of nitrogen without burning.