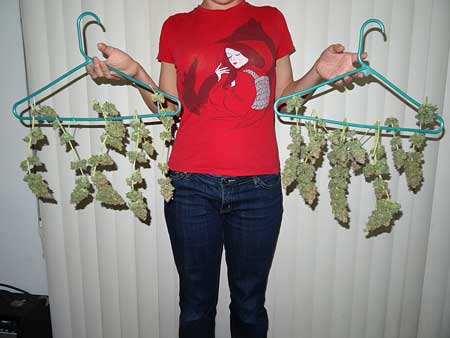 Follow these principles with CFLs to get great yields every time:
Use reflectors (or make your own like WasabiMayo does below!)
When plants are mature, it's time to harvest!
In order to switch to the flowering stage you need to switch your CFLs to a 12/12 light schedule using a timer. This means that the plants should get 12 hours of light and 12 hours of dark each day. It's really important to make sure the plant doesn't get any light during the dark period. Light leaks cause problems! Your grow space needs to be completely light proof in the flowering stage.
What About (5500K) Photography CFLs?
40 or 42W CFLs <— Recommended – great balance of size and brightness (150W equivalent)
◦ Vegetative CFL – 6500k
◦ Flowering CFL – 2700k
Are growing in a very small or short space
Many novice cannabis growers do great with CFL setups during the vegetative stage but fail when the plants go to flower. If you want bigger, denser, more potent buds, you need maximal light intensity.
As mentioned, the coverage of one CFL bulb will only produce enough light exposure to about 12 inches away from the bulb itself. This means that you'll probably need multiple lights per plant to account for lateral growth.
If you are trying to do a single CFL grow operation with only one bulb, you need a small plant that flowers quickly, like an autoflower variety. Keep in mind that the yield of cannabis will be low with this setup. But, if you can't spare more room than this, it's still doable multiple times a year!
To get big, productive buds when using fluorescent light bulbs for growing weed, you need the most light intensity that you can produce. This is the most important factor when flowering with CFL lights.
How Many CFL Lights For One Plant?
Let's take a look at CFL lights for growing weed. There are quite a few options for lighting when looking to grow cannabis indoors. CFL lightbulbs are becoming more popular because they are beginner-friendly and easy to use. The best CFL lights for growing weed will help you produce more marijuana in small spaces than you thought was possible. If you have a small space that you want to utilize for growing ganja, CFL lights may be the best option!
The CFL light spectrum isn't as important as the total wattage of the light produced when growing cannabis, but it doesn't hurt to use daylight simulating CFL bulbs during the growing stage and soft-white CFL bulbs during the flowering stage.
Using CFL bulbs allows you to use daylight mimicking CFL bulbs during the vegetative stage of the plant's life and use a softer light for the flowering cycle. You don't want to use a soft white CFL for vegging as it is closer to the sunlight in Autumn when plants start to flower. However, if soft white is all you can find, it will still work as long as you have enough wattage to supply ample light to each plant.
CFL Grow Light Coverage
Pros
When setting up something like a small CFL closet grow, you might want as little light as possible. Each cannabis plant will require around 80 watts of light, with more being better. Using 2 40 watt CFL bulbs is sufficient for a mini CFL grow.