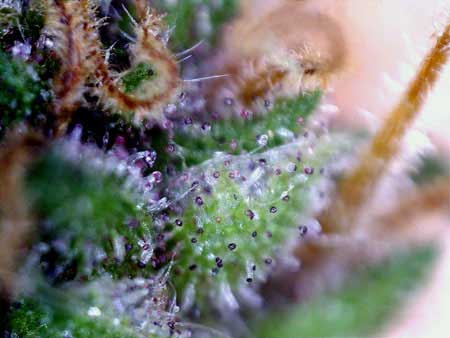 Purple or pink trichomes can make it tough to know when to harvest, but they're exotic and beautiful. The color of trichomes may leave a slight tint on the buds after they've been dried and cured, but the bud color underneath will be the dominant color.
Colorful Leaves – Sometimes It's Not the Buds That Turn Color!
Frisian Duck is based on the famous Frisian Dew strain which also produces purple buds and has been bred for generations specifically for growing outdoors. The Frisian genes thrive under sunlight, and buds are resistant to bugs and mold!
Pictures and Examples of Colorful Strains
It's not just cannabis plants that grow purple leaves. Here's an example of a False Shamrock plant, which has glorious purple leaves from top to bottom!
Orange will mostly affect the hairs and buds, such as Agent Orange, Orange Crush, or Tangerine Dream. These strains are known for their aromas of fresh-cut citrus and are excellent mood enhancers.
Red: Red hairs show up more frequently, but red buds and leaves are not nearly as common. Red marijuana is a genetically selected plant and is created by combining three kinds of cannabis – ruderalis, indica and sativa. It's an extremely rare plant. The "Red" is best known for its hybrid effects, which simultaneously offer great relief to the body and the mind and is known for its intoxicating aroma.
Long before cannabinoid testing began, customers made their choices mostly based on smell and color. After that, taste and of course potency. Even today, with all the knowledge we have available when making our weed purchases, there is nothing more appealing than a jar of colorful buds.
ROYGBIV – Taste the Rainbow
Temperature plays a vital role too. Chlorophyll is the plant component vital to photosynthesis and cooler temperatures inhibit chlorophyll production. For cannabis, depending on the lineage of the strain, certain colors can appear when you drop the temperature and the light cycle shortens, simulating a change in season.
Violet: Purple strains of cannabis are probably the most popular, such as Granddaddy Purple, Purple Haze and Purple Urkle. Marijuana strains that appear purplish or blue as opposed to the traditional green cannabis, tend to be more fruity, due to the high number of anthocyanins.
Indigo: There are some rare strains that are so dark they almost appear black. The origin of these genetics goes back to Vietnamese landraces, like Vietnamese Black. All other strains derived from hybrids, such as Black Willy and Black Tuna, share both the signature ebony buds and leaves.
Yellow strains include Lemon Haze, Golden Lemon, and Strawberry Banana. Known for their sweet and citrusy scents and high-THC content, they are said to produce happy, invigorating effects that sharpen creativity and sensory awareness.