Title: Marijuana: How to Grow Marijuana – A Simple .
Binding: Paperback
"About this title" may belong to another edition of this title.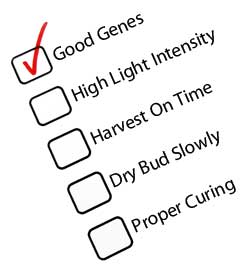 In either case, I would recommend leaving on as much stem as you can as it slows the drying process, and is easy to remove later. I would also recommend hanging your buds upside down to dry before testing any other methods. Anecdotally, I've found that buds that retain their stems and are hung upside down to dry tend to dry much slower than on a rack…which is exactly what you want!
What makes the difference between the two?
In short, dry your buds for as long as you can. Aim for more than 5 days, with a goal of 8-10!
GOOD GENES!
Personally, I trim my buds before I dry them since it seems to be easier for me while trimming and when I'm cutting buds off of the stem. From there the buds can be hung up to dry, or placed on a drying rack.
In any case, growing cannabis from 'bagseed' is an easy way to lower your chances of growing great weed. In a best case scenario with bagseed, you'll get a female seed as good as one from a seed bank. In a not-even-the-worst-case-scenario, you could get a male seed that grows a runt plant from a weak strain. Or even worse…it's not even cannabis!
This means that even if you get seeds from a strain that is known to have 22% THC, the plant will need enough light to allow it to grow to this level of potency. This doesn't mean that you need a 1000 watt HPS to grow great bud, but it does mean that you're probably not going to grow top-shelf buds with a single 26 watt cfl bulb.