Avoid spraying synthetic insecticides on your cannabis plants as further research is needed to determine the health effects of smoking plants treated with synthetic chemicals. Organic pesticide and insecticide solutions can be effective if used properly. If you can avoid it, it is always best to not spray anything on your plants while they are flowering.
After the solstice, the available daylight hours decrease, allowing the plant to naturally transition into the flowering period. Cannabis is a short-day plant, meaning it will begin to flower as the nights get longer and the hours of sunlight decrease.
Planting directly into the ground or a raised bed requires a bit more preparation but has its benefits as well. Without a container to restrict growth, roots can grow deep and thick to support a strong plant. The added surface area also allows the plant to access a greater quantity of nutrients and water in the soil, compared with a container garden. The major downside is that the plants cannot be moved and could require additional structures to protect them in the case of extreme weather.
Even if it is legal to grow cannabis outdoors where you live, you should still take some precautions to hide the plants from public view. And it's often required by law. You can grow your cannabis plants among other plants in your garden to hide them in plain sight. Cannabis can easily grow taller than your average fence, though. Training techniques can help keep your plants shorter. The fewer people who know you are growing cannabis, the better. The ideal situation is to have your grow tucked away on a piece of land where your plants can truly flourish away from prying eyes and nosy neighbors.
Water
During the first half of the season, the daytime period increases until the summer solstice, which occurs in the Northern Hemisphere on or around June 21 and in the Southern Hemisphere on or around December 21. While the daylight hours increase, the plant's vegetative stage takes place. During vegetation, the plant will develop the roots and stems that will serve as the foundation for growth until flowering.
Pests come in many forms, from large deer and gophers to small slugs and spider mites. Larger animals and pets can be kept out of the garden with fencing, while gopher wire beneath your soil beds can keep rats and gophers from eating the plants' roots. Weeds will not damage cannabis, but they will compete for the nutrients in the soil and reduce the quality and yield of your crops. A light layer of mulch on top of your soil can prevent weeds from sprouting in the middle of your plants' cycle.
Some cannabis genetics have adapted to specific climates and are capable of growing more easily in certain conditions than others, so pay very close attention to the cultivars, or strains, that you choose. A little research will go a long way in ensuring you have a successful harvest.
Season
When possible, use natural structures and formations in your garden as windbreaks to prevent excessive stress on your plants that could lead to branches breaking.
Timing is key. A short vegetative phase can cause cannabis plants to flower early, while a long vegetative phase can prevent your plants from finishing their flowering cycle if the weather takes a turn for the worse. The Farmer's Almanac is a reliable source for planning around the seasons and preparing your crop for success.
Soil has three basic consistencies, in various ratios:
In hot climates, sandy soil should be mulched to help with water retention and to keep roots from getting too hot.
There are also commercially available soil blends that already contain the proper mix of these types of ingredients.
Soil and other media for outdoor cannabis growing
Most potting soils used in gardening are loam soils. If you've ever worked with potting soil, you'll know that its composition is rich and diverse, and it looks dark and hearty. Beyond texture and color, the soil should smell rich and alive.
While some plants thrive in their native soils, which are usually one of the compositions listed above, cannabis plants are best grown in soil that includes a combination of the three consistencies above—this mixture is known as loam.
Sandy soils
You may need to put all of your plants in containers if you don't have great soil. Also, if you're unable to perform the heavy labor needed to dig holes and amend soil, containers may be the only way for you to grow your own cannabis outdoors.
Garden plot: Probably the most common outdoor growing spot, many will plant cannabis alongside other growing veggies.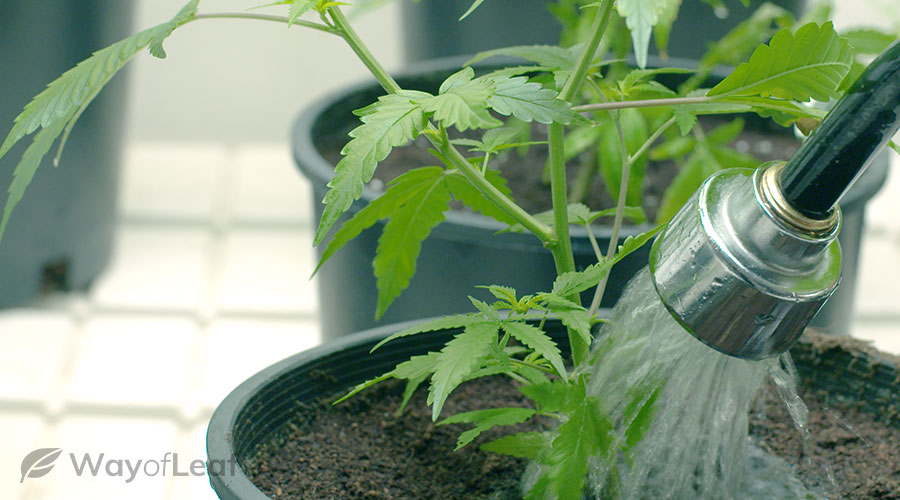 Threats like moles, who push up from the soil beneath your plants, require extra planning. An excellent way to prevent them from causing damage is by building a fence around 2-3 feet beneath the soil. You can also use deterrents such as urine from predators like coyotes, to ward off rabbits, gophers, and raccoons. Household items such as garlic and castor oil are pretty effective deterrents, too.
Climate is all-important when growing cannabis, with the primary concern being the amount of available sunlight. While this isn't a problem in sun-kissed California, not every American state has the same luxury. However, don't assume that glorious sunny weather is perfect for growing flowers.
There's no doubt that growing marijuana outdoors comes with challenges (which we address later on), but it also has a list of cool benefits:
Protecting Your Marijuana Plant from Pets & Pests
Outdoor cannabis growers face a significant disadvantage compared to their indoor growing counterparts; outdoor plants are vulnerable to inclement weather. Also, plants grown outdoors are susceptible to attack from pests and pets. Rapid changes in the weather can damage or even kill cannabis plants, while animals and aphids are a constant threat.
If this is your first outdoor grow, you may not realize that the surrounding soil is unsuitable for growth until you try and use it. If so, you have no choice but to use container gardens.
Step #1: Determine the Climate in Which You're Going to Grow the Marijuana
Homegrown CannabisCo are the masters when it comes to seeds. Offering a massive variety of cannabis seeds that are well categorized, not only does this company create a resource for superb quality options including feminized seeds, it also provides extensive growing information for those looking for some support along their journey.
However, all marijuana growing areas must be enclosed, locked, and they can't be viewed from the outside. In other words, it is tricky to grow cannabis outside and meet all state laws.