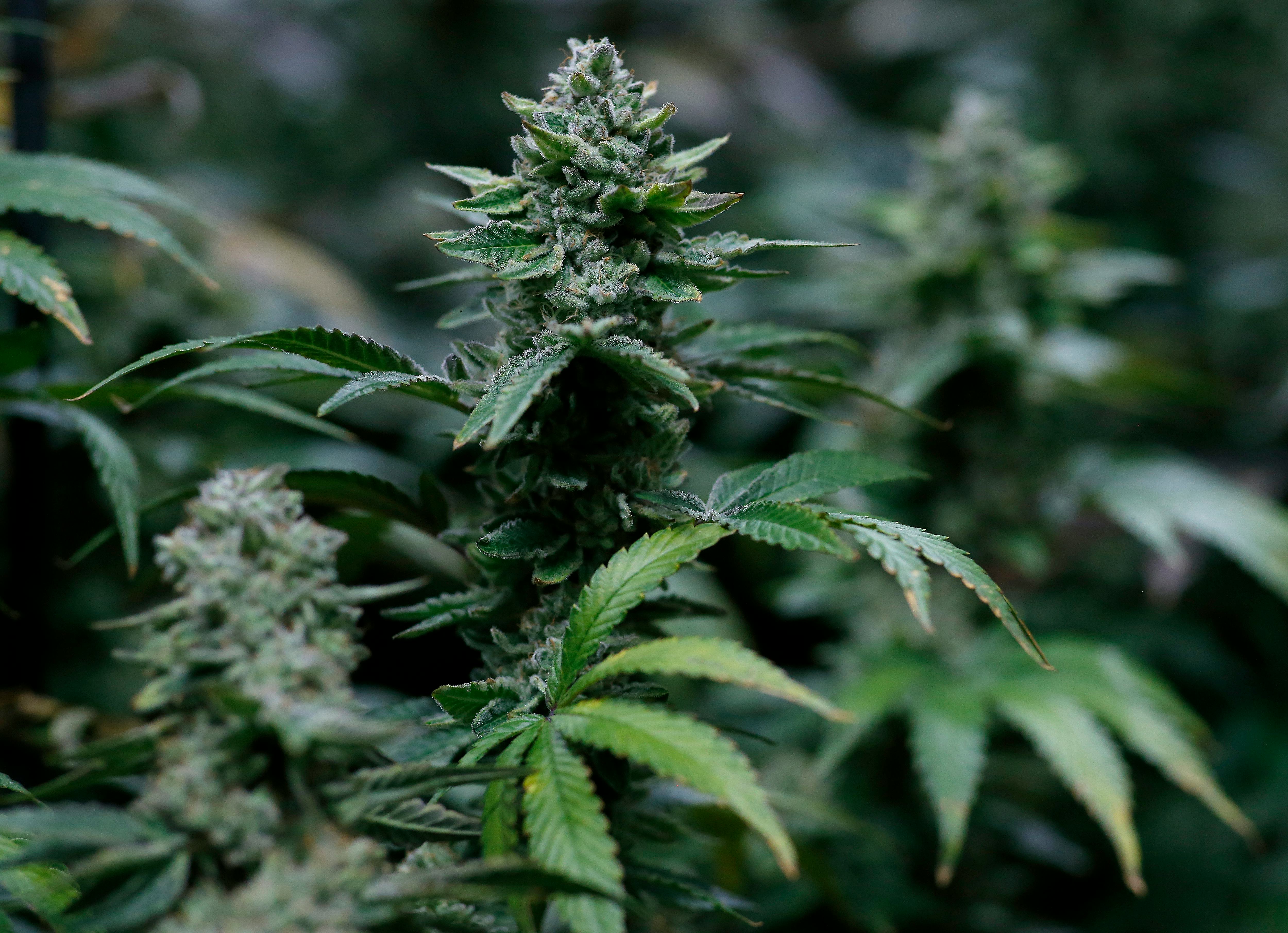 To check if your cannabis is ready for trimming, perform a break test on each branch. If it bends so much it nearly breaks, then it's ready, and if it breaks right away, it might be overly dry, but still totally usable. Trim off the buds and seal them inside a mason jar for curing, opening it periodically over the course of about four weeks to let moisture escape. Johnson outlines a detailed schedule on his website, including instructions on how to look for mold.
Cannabis cultivation laws vary widely state-by-state. Also, we can't stress this enough: Growing cannabis is illegal in a lot of places, and the penalties — which include steep fines and prison time — can be much worse than possession, since growing can imply an intent to distribute. Black and brown folx need to be especially scrupulous about heeding these rules, since law enforcement targets us way more than white people for weed-related charges, even if we consume it at similar rates.
Don't go overboard, though, he warns. Start with growing three plants in five-gallon pots. This way, if one dies, you'll still have two plants, and the pots will limit their growth. A general rule of thumb is that they'll grow one foot for every gallon of soil. He recommends mixing your own organic soil, which he explains how to do on his website and will save you the headache of adding nutrients or pH testing. "The soil is what we call alive," he says. "It's always breaking things down to replenish nutrients that are missing." But if you can't mix your own soil, or don't feel like it, you could buy organic Pro-Mix soil, which Johnson says many outdoor growers use.
If you buy seeds from a seed bank, look for those labeled "feminized" to ensure they give rise to female plants, Johnson says. But if you're a total newbie, he suggests buying clones, which are cuttings from a "mother" female plant, available at some dispensaries, as well as at nurseries. Not only are they easier to obtain, "they're easier to grow. You get a clone, and you transplant it to some soil."
Upkeep
If you use organic soil, all you'll really need to do is add water, Johnson says — but don't overdo it. The number one mistake he sees new growers make is watering their plants too often. In general, "watering every day is too much. The rule is, if you pick up your plant, and the pot is heavy, then it has a enough water. If it's light, it's dry, then you need to water." You could also stick your finger knuckle-deep into the soil; if it feels dry, add water.
Whatever you do, don't plant your clones in the ground. They'll run rampant, and "you'll have pounds of weed in your house," Johnson says, recalling the trays of weed atop his kitchen table when his crop grew wild. "You don't need the stress of plants getting out of control, growing over your fence." If your neighbors can see them, they might complain about them, and having too many plants could get you arrested.
That said, when your plants are fully flowering, you might find yourself watering them daily, based on these indicators. When you do water them, keep going until you see water running off the soil, to ensure the water reaches all of the soil in the pot.
Before you get started
While you can absolutely grow cannabis indoors, outdoor cultivation is much simpler and cheaper, says Ron Johnson, author of How to Grow Organic Cannabis: A Step-by-Step Guide for Growing Marijuana Outdoors, who also runs the website The Cannabis Gardener. "The sun is free," he tells Mic. "You don't have to pay hundreds of dollars a month in electrical bills." An outdoor garden probably won't allow you to turn over product fast enough, but it'll suffice if you just want to grow weed for yourself. Plus, it's gentler on the planet.
Your cannabis will be ready to harvest at around October. You'll know they're ready when the buds "start to get really, really swollen and packed pretty tight," Johnson says. But it can be hard to tell if you're a beginner. Many growers say that if you think your plant is ready to harvest, wait two weeks, since many newbies tend to harvest too early. Or, you could share a photo of your crop on a forum and ask more experienced growers to weigh in.
If you don't know how to tell a male cannabis plant from a female, we've got a great article on the topic.
Whether you're using an organic soil mix or growing hydroponically, your cannabis plants need the "super seven" macronutrients. In no particular order, these are:
Soil is less expensive, easier, and offers a higher margin of error. However, you need to carefully select the soil you use because quality can vary enormously.
DIY indoor growers are unable to perform a 24/7 watch over their plants. However, you can provide adequate care by setting aside a few minutes a day. Routine checks, such as ensuring things like temperature, humidity, pH, and water levels are correct, are essential.
Step 9: Set Time to Care For Your Plant (Every Single Day!)
By "small," I mean nothing more than a few plants at most. You can start with just one or two plants. There's an inevitable learning curve involved with growing weed indoors and you're bound to make some mistakes.
Another idea is "all-in-one" automated hydroponic setups, which may help you experience faster growth and more abundant yields. This is only the case if everything is done correctly – all the time, every time (unlike soil which has natural buffers to give you some wiggle room).
[The information in this article has under no circumstances been created for – or is intended to be used for – illegal purposes. Growing/cultivating cannabis is illegal in many U.S. states. We, therefore, advise that all readers become familiar with current laws and regulations in their region before they learn how to grow cannabis indoors].
Step 5: Be an Artist! [And Choose a Cannabis "Grow Medium"…]
The frequency of watering and the amount you give is determined by a few obvious things. These include the size of the plant, the stage of development, and the rate of photosynthesis (how fast it's growing). However, there's no exact science when deciding how much water to give and how often.
It's very important to grow your cannabis plants to a size suitable to your space and likewise to the container you choose. You will need to transplant every time your plants double to triple their size. Small cups or 4-6" pots are good for starts.

Space: 3 x 3 x 5 feet, minimum. "The bigger the space, the better. With all the lights, closets get hot," Lipton said. That said, closets help growers control light pollution when the plant is in its flowering cycle — one of the main reasons home growers favor them over larger spaces, such as living rooms. "If you have a spare bedroom, or a basement even, you can just use that and close the door," Lipton said.
Relative humidity: 30 to 45 percent. "If you live somewhere humid, you're probably going to want to buy a dehumidifier," said Lipton. "In Boulder, we sometimes have to add humidity." At home, that can be done with a reliable humidifier.
Find a healthy clone.
Before someone even begins to consider the genetics of their preferred strain, they should first ensure that their apartment is cannabis-friendly. There are five main factors to consider: space, temperature, humidity, the pH of water, and the amount of light.
To harvest, many growers begin by removing the leaves of the cannabis plant with trim scissors, followed by the buds (using pruners). "We call this bucking," Lipton said. "Gloves are also extremely important for sanitation reasons as well as to keep your hands from becoming sticky with the resin from the plant."
Plant and maintain the vegetative cycle until the plant is mature.
It's important to remember that cultivating even one cannabis plant for personal consumption is felony on the federal level and punishable by up to five years in prison. Meanwhile, four US states — Alaska, Colorado, Washington D.C. and Oregon — have passed local amendments, allowing citizens who are 21 years old and over to grow a limited number of plants without fear of persecution.