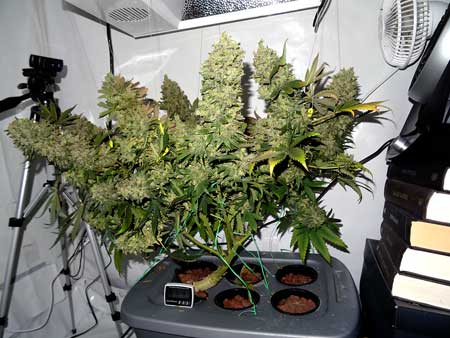 So there are five major parts to getting set up. You need….
Cons of Hydro
Differences Between Soil & Hydro
Cons of Hydro
Have you seen cannabis plants growing with their roots just floating in a reservoir of water? This type of hydroponics is known as Deep Water Culture (DWC), and has been around for over a 100 years! As more growers gain experience with this medium, DWC has become increasingly popular for growing cannabis. Hydroponic setups are really neat and offer some big benefits over growing in soil!
Growing in coco coir can be considered a type of hydroponics since it naturally contains no nutrients and you must provide all the nutrients in the water. However, when you say "hydroponics" most people think of this:
Is Hydroponics Good for Growing Cannabis?
Hydro is a no-brainer for me. Whenever I go back to a hand-watered grow like coco coir, I am always surprised by how much extra time it takes to water plants and remove the runoff. The most intimidating part of hydro is just getting started – after that it's actually really easy to take care of your plants. In my opinion, hydro is far easier and less time consuming than growing in soil or coco coir once you're set up. If you are interested in hydro, go for it! If you follow this tutorial you will succeed!
Pros of Hydro
While this system is built from the ground up, it should be noted that there are plenty of plug and play systems available for those looking for something that is easy to set up. Plug and play systems come with everything you need in a streamlined package to allow growers to get started on the right foot.
A benefit this setup offers is that it can easily be expanded as you want to grow more plants as long as your reservoir has enough capacity to provide all the plants with enough water. To expand a drip line setup, all you need to do is add additional lines to the new pots.
Set Up Your Hydroponic Cannabis Growing System
When growing hydroponically, you are responsible for providing all of the nutrients necessary for plants to survive. Nitrogen (N), Phosphorus (P), and Potassium (K) are the three essential nutrients for plant growth known as macronutrients. Additionally, there are secondary and micronutrients that will help the plant develop as well. These include Boron, Calcium, Copper, Iron, Magnesium, Sulfur, and Zinc.
Browse Hydroponic Growing Supplies
Next, you'll need to balance the pH level. Between 5.5 and 6 is ideal for cannabis to absorb the nutrients. If levels are off significantly, the plants will fail to uptake the nutrients and will suffer deficiencies.