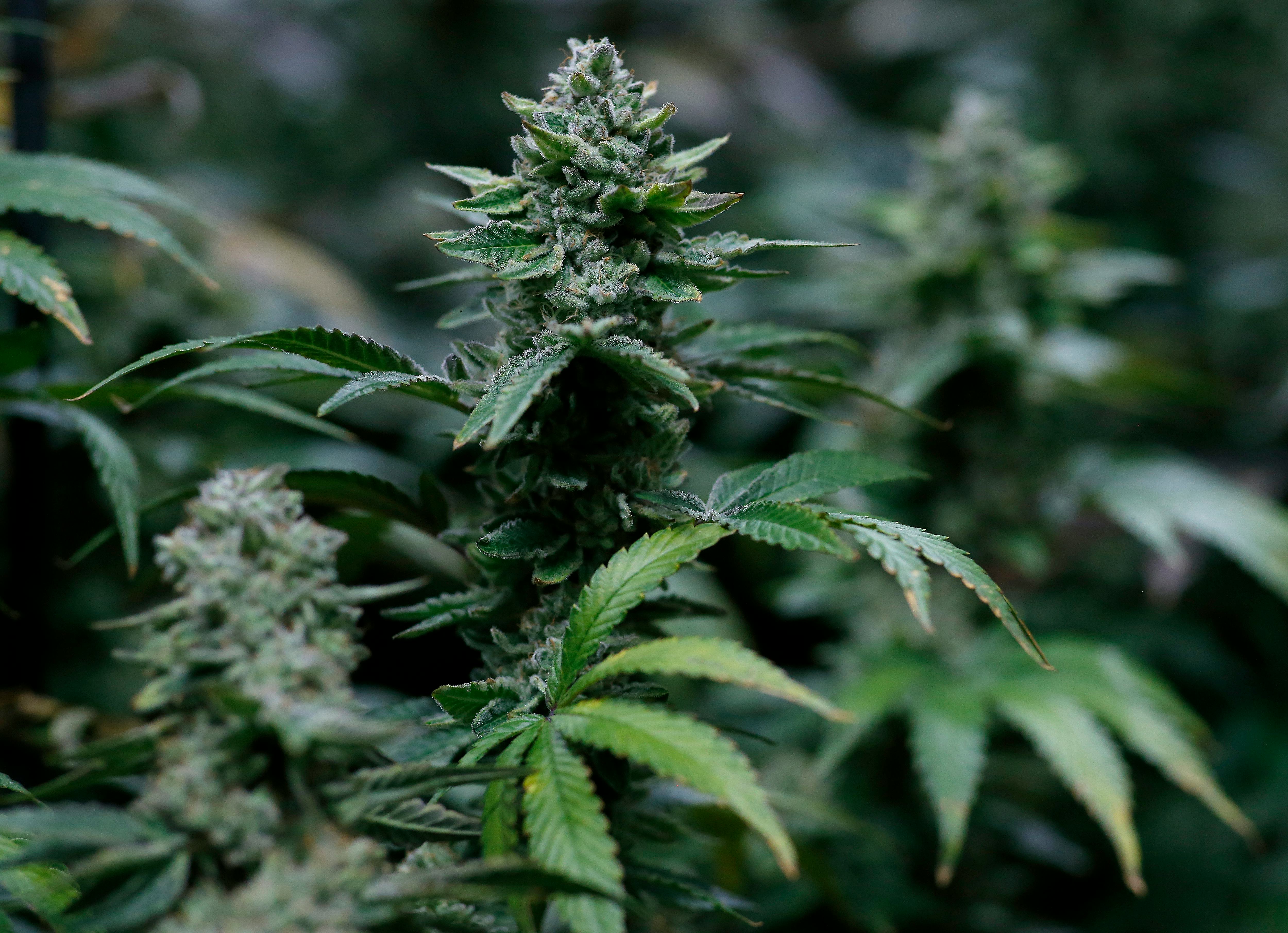 To check if your cannabis is ready for trimming, perform a break test on each branch. If it bends so much it nearly breaks, then it's ready, and if it breaks right away, it might be overly dry, but still totally usable. Trim off the buds and seal them inside a mason jar for curing, opening it periodically over the course of about four weeks to let moisture escape. Johnson outlines a detailed schedule on his website, including instructions on how to look for mold.
Don't go overboard, though, he warns. Start with growing three plants in five-gallon pots. This way, if one dies, you'll still have two plants, and the pots will limit their growth. A general rule of thumb is that they'll grow one foot for every gallon of soil. He recommends mixing your own organic soil, which he explains how to do on his website and will save you the headache of adding nutrients or pH testing. "The soil is what we call alive," he says. "It's always breaking things down to replenish nutrients that are missing." But if you can't mix your own soil, or don't feel like it, you could buy organic Pro-Mix soil, which Johnson says many outdoor growers use.
Whatever you do, don't plant your clones in the ground. They'll run rampant, and "you'll have pounds of weed in your house," Johnson says, recalling the trays of weed atop his kitchen table when his crop grew wild. "You don't need the stress of plants getting out of control, growing over your fence." If your neighbors can see them, they might complain about them, and having too many plants could get you arrested.
If you use organic soil, all you'll really need to do is add water, Johnson says — but don't overdo it. The number one mistake he sees new growers make is watering their plants too often. In general, "watering every day is too much. The rule is, if you pick up your plant, and the pot is heavy, then it has a enough water. If it's light, it's dry, then you need to water." You could also stick your finger knuckle-deep into the soil; if it feels dry, add water.
Upkeep
Cannabis cultivation laws vary widely state-by-state. Also, we can't stress this enough: Growing cannabis is illegal in a lot of places, and the penalties — which include steep fines and prison time — can be much worse than possession, since growing can imply an intent to distribute. Black and brown folx need to be especially scrupulous about heeding these rules, since law enforcement targets us way more than white people for weed-related charges, even if we consume it at similar rates.
There are different harvesting methods, but Johnson cuts the whole plant at the base and hangs it upside down with some twine in a dark room at a temperature of around 70 degrees Fahrenheit. Add a fan for airflow — you definitely don't want the room to be humid, which will cause mold to grow, rendering your crop unusable. It'll probably take around a week to dry.
Johnson notes that the outdoor grow season lasts from around April to October, meaning if you plant seeds now, they'd still yield flower, but not much. Since it's late in the season, he suggests buying a large clone, which will have more branches and therefore yield more flower.
Planting
Since clones come from plants that have been grown indoors, let yours chill in a shaded area for a week before exposing them to full sun, Johnson says. "The clone hasn't tasted sun like that, and the transplant itself will be stressful."
If you buy seeds from a seed bank, look for those labeled "feminized" to ensure they give rise to female plants, Johnson says. But if you're a total newbie, he suggests buying clones, which are cuttings from a "mother" female plant, available at some dispensaries, as well as at nurseries. Not only are they easier to obtain, "they're easier to grow. You get a clone, and you transplant it to some soil."
There's no doubt a bit of a learning curve involved. You'll make your fair share of mistakes. However, trust us when we say it's all worth it in the end.
You don't need a particularly large growing/cultivating space. A typical grow room for a small-scale grower is a small tent, cabinet, or designated area in a spare room, even an unused corner of the house is sufficient! Here are a few helpful tips to get started.
Lastly, some strains indeed require more calcium than others to produce robust, healthy nugs. Perform a little research on the particular strain you are growing. This process enables you to become more familiar with the kind of "food" it needs and prefers the most.
Homegrown CannabisCo are the masters when it comes to seeds. Offering a massive variety of cannabis seeds that are well categorized, not only does this company create a resource for superb quality options including feminized seeds, it also provides extensive growing information for those looking for some support along their journey.
Final Thoughts on Growing Cannabis Indoors
Harvesting hemp and cannabis is a lovely experience. It is one we recommend to any weed lover who has a passion for all aspects of the plant. You learn so much about cannabis and botany/biology in general. Most growers believe they learn something new with every harvest.
Like most living things, cannabis plants need their "rest time." If light from a surrounding source is seeping in during dark hours, the (bud-producing) females could get confused and develop hermaphroditic characteristics.
The drawback is they can cost 3-5 times more than a decent HID setup! If you're serious about getting into growing and have money to spend, however, give serious consideration to LEDs. But do your homework to avoid 'scam' LEDs online.
1 – Begin Growing from a Small Plot & Adjust as Necessary
Lastly, consider using an RO filter as excess levels of chlorine and unfiltered minerals could harm the plants. You may want to choose a distilled option or at least filter it before adding it to your soil. Mineral-laden tap water can cause unwanted build-up in the cannabis root systems, which can lead to detrimental root disease.
Nikola Tesla invented the process of generating heat from magnetic induction in the 19th century. These types of lamps produce bright light with little heat compared to HID setups.