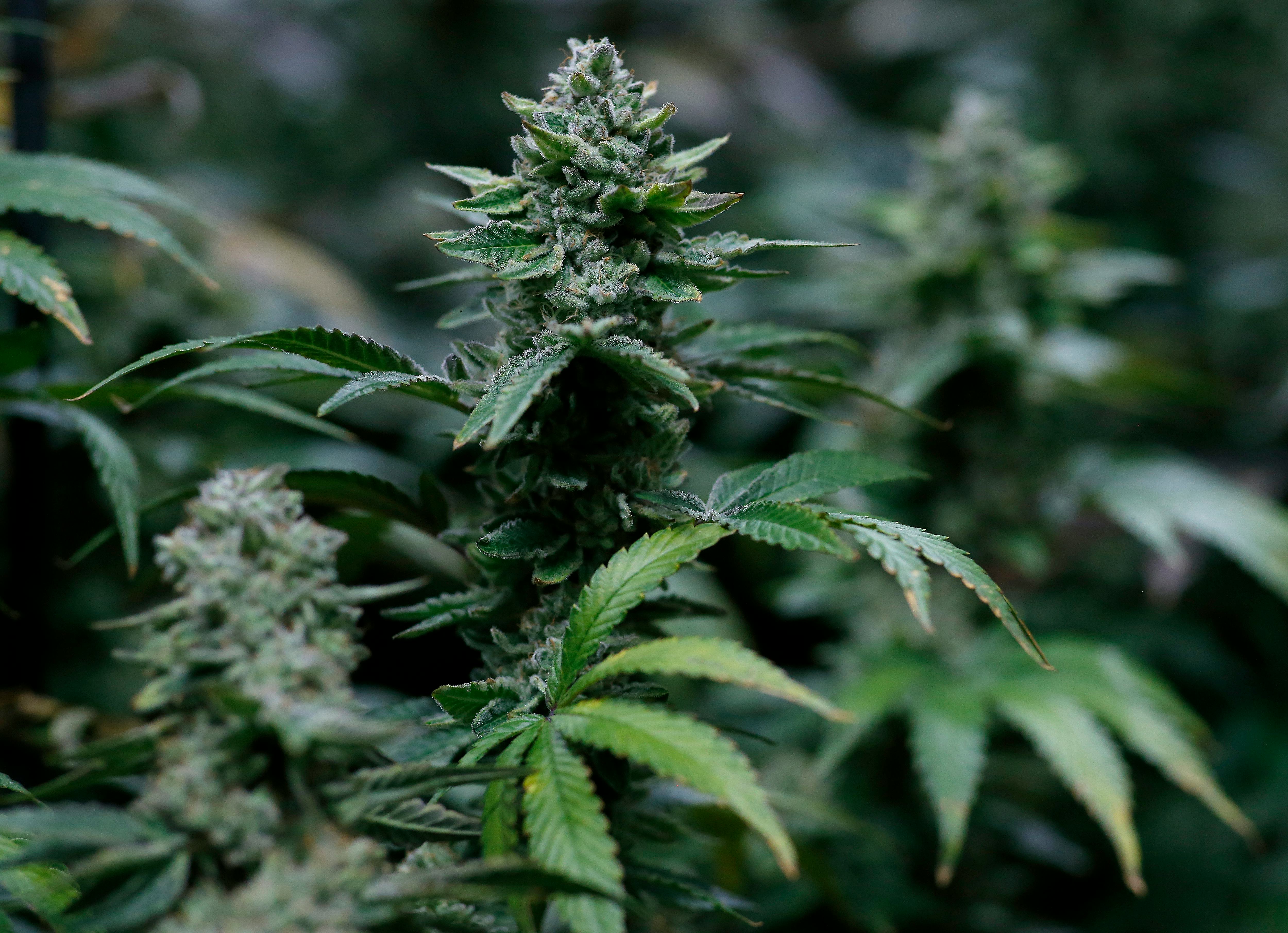 There are different harvesting methods, but Johnson cuts the whole plant at the base and hangs it upside down with some twine in a dark room at a temperature of around 70 degrees Fahrenheit. Add a fan for airflow — you definitely don't want the room to be humid, which will cause mold to grow, rendering your crop unusable. It'll probably take around a week to dry.
If you buy seeds from a seed bank, look for those labeled "feminized" to ensure they give rise to female plants, Johnson says. But if you're a total newbie, he suggests buying clones, which are cuttings from a "mother" female plant, available at some dispensaries, as well as at nurseries. Not only are they easier to obtain, "they're easier to grow. You get a clone, and you transplant it to some soil."
Johnson notes that the outdoor grow season lasts from around April to October, meaning if you plant seeds now, they'd still yield flower, but not much. Since it's late in the season, he suggests buying a large clone, which will have more branches and therefore yield more flower.
Do your homework and read up on the laws in your state. Some states prohibit growing cannabis, while others, like my home state of California, permits anyone over age 21 to grow cannabis, but only up to a certain number of plants. NORML has a pretty in-depth guide to the laws in each state. Colorado, Oregon, Nevada, Vermont, and Maine also allow cultivation, but again, the specifics depend on the state. Definitely clarify what your rights are before you start the glorious path to at-home bud gardening.
Upkeep
Whatever you do, don't plant your clones in the ground. They'll run rampant, and "you'll have pounds of weed in your house," Johnson says, recalling the trays of weed atop his kitchen table when his crop grew wild. "You don't need the stress of plants getting out of control, growing over your fence." If your neighbors can see them, they might complain about them, and having too many plants could get you arrested.
Cannabis cultivation laws vary widely state-by-state. Also, we can't stress this enough: Growing cannabis is illegal in a lot of places, and the penalties — which include steep fines and prison time — can be much worse than possession, since growing can imply an intent to distribute. Black and brown folx need to be especially scrupulous about heeding these rules, since law enforcement targets us way more than white people for weed-related charges, even if we consume it at similar rates.
To check if your cannabis is ready for trimming, perform a break test on each branch. If it bends so much it nearly breaks, then it's ready, and if it breaks right away, it might be overly dry, but still totally usable. Trim off the buds and seal them inside a mason jar for curing, opening it periodically over the course of about four weeks to let moisture escape. Johnson outlines a detailed schedule on his website, including instructions on how to look for mold.
Before you get started
Cannabis plants can be either male or female. Female plants yield the plump flowers, a.k.a., "buds," that we know and love, brimming with psychoactive compounds like tetrahydrocannabinol (THC, which gets you high), Modern Farmer explains. Male plants yield much smaller flowers, which people typically don't consume. In other words, if you want to actually indulge in your crop, you'll want female plants.
Your cannabis will be ready to harvest at around October. You'll know they're ready when the buds "start to get really, really swollen and packed pretty tight," Johnson says. But it can be hard to tell if you're a beginner. Many growers say that if you think your plant is ready to harvest, wait two weeks, since many newbies tend to harvest too early. Or, you could share a photo of your crop on a forum and ask more experienced growers to weigh in.
The two factors you need to control to dial in the environment are temperature and humidity.
One trick to avoid hot temps is to have the grow lights on during the evening, when it's cooler outside, and leave the lights off during the day when it's hot. This may help bring down the temps, but you'll only be able to work on the plants at nighttime when the lights are on.
Regulating temperature
But the benefits are great: LEDs last much longer, use far less electricity, create less heat, and the best designs generate a fuller spectrum of light, which can get bigger yields and better quality.
There should be a comfortable airflow both above and below the canopy, and fans shouldn't blow air directly onto plants—this can cause wind burn, which makes leaves recede into a claw-like deformation.
How to set up an indoor grow room
Terra cotta pots offer a unique set of benefits to growers in hot climates.
Ensuring your plants get the right nutrients is probably second only to lighting in terms of importance. Proper nutrient selection and application are among the most critical factors in growing premium-grade cannabis. While weed is resilient, growing it in sub-optimal conditions means you will miss out on yield and potency.
If cost isn't a consideration, LED (light-emitting diode) lighting is the preferred option for most marijuana growers. These are highly efficient light fixtures for indoor growing. They use less energy and create very little heat. LEDs produce wavelengths across the light spectrum, so they can be used for both the vegetative and flowering cycles.
Harvesting hemp and cannabis is a lovely experience. It is one we recommend to any weed lover who has a passion for all aspects of the plant. You learn so much about cannabis and botany/biology in general. Most growers believe they learn something new with every harvest.
Soil vs. Soilless Growing
There's no doubt a bit of a learning curve involved. You'll make your fair share of mistakes. However, trust us when we say it's all worth it in the end.
There are some outstanding pre-filled soil kits specially designed for increased airflow. Keep these in mind when deciding what to grow your first cannabis plants in.
HID lights produce a substantial amount of heat. Therefore, proper use of air circulation and conditioning becomes vital. Some growers choose air-cooled fixtures to mechanically remove heat.
4 – Successful Indoor Growing Requires the Following Features
Also, watch out for male plants in your crop. If you wish to grow high-THC buds, the only thing you want in your crop is female plants. If you have a male in your crop, REMOVE IT. Once it reaches maturity and its pollen sacs burst, it fertilizes the females. At this point, they'll start developing seeds rather than growing buds. While the plants won't die, their ability to yield buds is ruined.
The 24-hour timer is just as important. When the marijuana plants are in vegetative growth, you need the light supply on for around 16-24 hours per day. Once they mature and reach the flowering stage, your plants need 12 hours light and 12 hours dark.