Once the cannabis plant is a few feet tall, or about 30 days after she pops out of the dirt, she starts her flowering cycle. Autoflowering cannabis is typically ready to harvest in 80 days from seed— regardless of her light schedule. This means the autoflowering cannabis growing season is year-round! Autoflowering cannabis seamlessly integrates into your home and plant family. Make it easy on yourself and go this route.
By far, the easiest and cheapest plant to grow for beginner growers is autoflowering cannabis . It comes from the species Cannabis ruderalis . This type of cannabis flowers, as the name suggests, automatically.
So, you wanna learn how to grow your own pot? Well, you're in luck! Despite popular belief that cannabis a hard plant to grow, there's a reason cannabis is called ' weed '! Soon, you will be growing your own recreational or medicinal marijuana easy.
Step 1 – Pick the Best Marijuana Seeds for You
This guide was written for marijuana enthusiasts who want a cheap way of growing cannabis plants without the tents, timing, and grow lights . It's a small step towards greater accessibility for marijuana home growing. So, flip a middle finger to big corporations, break up with your dispensary, and step into the world of DIY weed growing at home– OG style. Growing sticky, smelly cannabis buds is easier and way more rewarding than you think!
This species of cannabis starts her flowering cycle when she starts receiving equal hours of sunlight and darkness. This means if you are growing this type of pot indoors, the plant needs to consistently receive 12 hours of light and 12 hours of darkness to release the necessary hormones to begin flowering. This is why many people that grow photoperiod cannabis indoors opt for grow tents or dedicated grow rooms.
Steps to Growing Your Own Pot
And there are grow kits that make it easy and accessible. The truth is that there are more ways to cultivate cannabis than there are names for the plant. And every method can grow great, healthy plants. For example, hydroponics might yield more , while soil will grow stronger buds, aeroponics will grow the fastest, and there's no replacement for growing marijuana outdoors. It's as easy to overload yourself with options as it is to add too much fertilizer to your nutrient mix. Below, we describe how to do it naturally and with little work on the grower's part.
Of course, if you can't be bothered to read this entire guide, check out aPotforPot.com . They have a complete marijuana grow kit designed to make the weed farming life easy for you. Get started immediately, and if you get lost during your grow, email the stellar support team for a helping hand at [email protected] .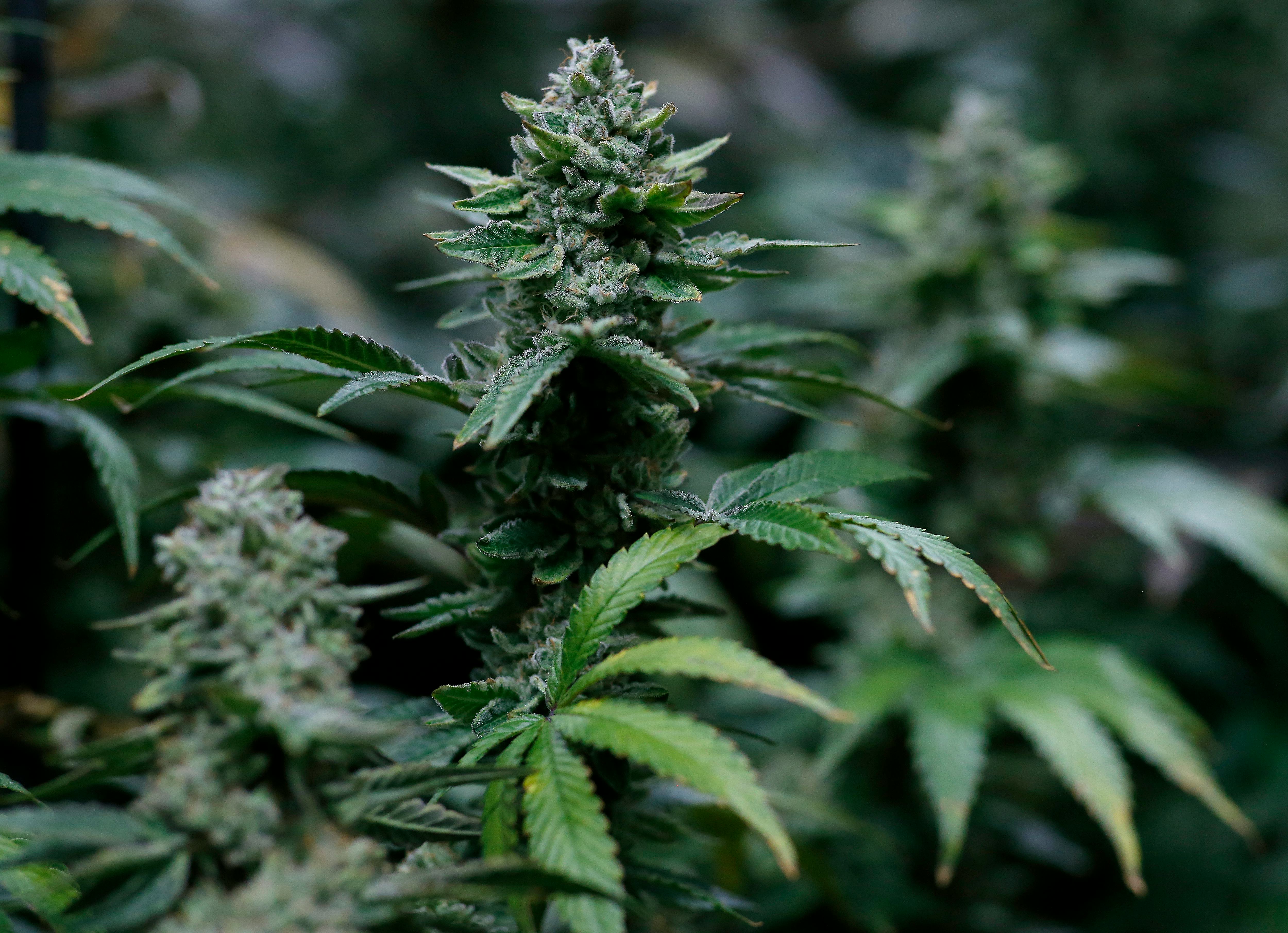 There are different harvesting methods, but Johnson cuts the whole plant at the base and hangs it upside down with some twine in a dark room at a temperature of around 70 degrees Fahrenheit. Add a fan for airflow — you definitely don't want the room to be humid, which will cause mold to grow, rendering your crop unusable. It'll probably take around a week to dry.
Do your homework and read up on the laws in your state. Some states prohibit growing cannabis, while others, like my home state of California, permits anyone over age 21 to grow cannabis, but only up to a certain number of plants. NORML has a pretty in-depth guide to the laws in each state. Colorado, Oregon, Nevada, Vermont, and Maine also allow cultivation, but again, the specifics depend on the state. Definitely clarify what your rights are before you start the glorious path to at-home bud gardening.
Cannabis plants can be either male or female. Female plants yield the plump flowers, a.k.a., "buds," that we know and love, brimming with psychoactive compounds like tetrahydrocannabinol (THC, which gets you high), Modern Farmer explains. Male plants yield much smaller flowers, which people typically don't consume. In other words, if you want to actually indulge in your crop, you'll want female plants.
Don't go overboard, though, he warns. Start with growing three plants in five-gallon pots. This way, if one dies, you'll still have two plants, and the pots will limit their growth. A general rule of thumb is that they'll grow one foot for every gallon of soil. He recommends mixing your own organic soil, which he explains how to do on his website and will save you the headache of adding nutrients or pH testing. "The soil is what we call alive," he says. "It's always breaking things down to replenish nutrients that are missing." But if you can't mix your own soil, or don't feel like it, you could buy organic Pro-Mix soil, which Johnson says many outdoor growers use.
Upkeep
To check if your cannabis is ready for trimming, perform a break test on each branch. If it bends so much it nearly breaks, then it's ready, and if it breaks right away, it might be overly dry, but still totally usable. Trim off the buds and seal them inside a mason jar for curing, opening it periodically over the course of about four weeks to let moisture escape. Johnson outlines a detailed schedule on his website, including instructions on how to look for mold.
When the pandemic hit, many of us turned to quaint pastimes to soothe our existential dread, whether it was baking sourdough, knitting, or doing jigsaw puzzles. If you want to expand your repertoire of distraction methods with an activity that still has that quiet, homey vibe, but with a bit more of an edge, consider growing your own weed.
Cannabis cultivation laws vary widely state-by-state. Also, we can't stress this enough: Growing cannabis is illegal in a lot of places, and the penalties — which include steep fines and prison time — can be much worse than possession, since growing can imply an intent to distribute. Black and brown folx need to be especially scrupulous about heeding these rules, since law enforcement targets us way more than white people for weed-related charges, even if we consume it at similar rates.
Before you get started
Your cannabis will be ready to harvest at around October. You'll know they're ready when the buds "start to get really, really swollen and packed pretty tight," Johnson says. But it can be hard to tell if you're a beginner. Many growers say that if you think your plant is ready to harvest, wait two weeks, since many newbies tend to harvest too early. Or, you could share a photo of your crop on a forum and ask more experienced growers to weigh in.
That said, when your plants are fully flowering, you might find yourself watering them daily, based on these indicators. When you do water them, keep going until you see water running off the soil, to ensure the water reaches all of the soil in the pot.
Get The Wild newsletter.
From art galleries and speakeasies to deli themes and circus vibes, dispensaries have gone next-level
That wasn't the only connection I was hoping for. I saw becoming an L.A. pot-plant parent as a way to gain entree to an invisible social network in this city in the way those who raise children here end up forming lifelong bonds with strangers who happen to have had kids at the same time. Instead of bonding over hastily arranged carpool schedules or sitting on the sidelines at a soccer game together, I imagined mingling with first-time marijuana moms and dope dads in the gardening supply aisle at Lowe's, sharing baby pictures of our leafy green chlorophyll kids and trading curing tips and yield-boosting hacks.
Unlike becoming the parent of a human, there's a minimum age requirement — you have to be 21 — to legally become the parent of a recreational-use pot plant (different regulations apply to medical marijuana). And that six-plant limit? That's per private residence — not resident — which means you can't legally grow a dozen plants just because you split the rent with a roommate. Which brings me to another wrinkle that factors heavily into who does and doesn't get to become a pot-plant parent in this fair city. Although not impossible, it's far easier if you own the place in which you're living and growing a pot plant. Even if your landlord doesn't explicitly forbid the on-premises cultivation of cannabis (which he or she legally can), your lease agreement probably won't cover the sort of modifications you might make to the property in your pursuit of off-the-grid ganja.
The fix was easy enough. Brandishing my P-Touch label maker, I printed out "Lowryder strain, seed two" and stuck the label on the container of curing buds, right over top of the one that read "Diana Prince." I instantly felt better.
But the desire to get my grow on also has a lot to do with how I grew up in rural Vermont.
That's why, when faced with midpandemic boredom, in a state where it's legal to grow (under California law, anyone 21 and older can grow up to six plants for recreational use) and with an unused everything-but-the-seeds kit from A Pot for Pot (purchased while researching The Times' 2020 holiday cannabis gift guide) lurking in the corner of my home office, I decided to connect with my roots by trying to get a pot plant to put down the same. By following the process from start to finish, I reasoned, I'd be able to better appreciate how those dried little nuggets of instant staycation get from the soil to the dispensary shelf.
The essential weekly guide to enjoying the outdoors in Southern California. Insider tips on the best of our beaches, trails, parks, deserts, forests and mountains.
Then it hit me: In my haste to marry the nostalgic farm-to-table experiences of my Vermont childhood to my love of weed, I'd forgotten the part about not forming an emotional bond and had done exactly that. Even worse, I'd given her a name and imagined a personality for her. By naming her Diana Prince, I'd become less of an urban herb farmer about to get his buzz on and more like the Titan Kronos of Greek mythology about to swallow his offspring.