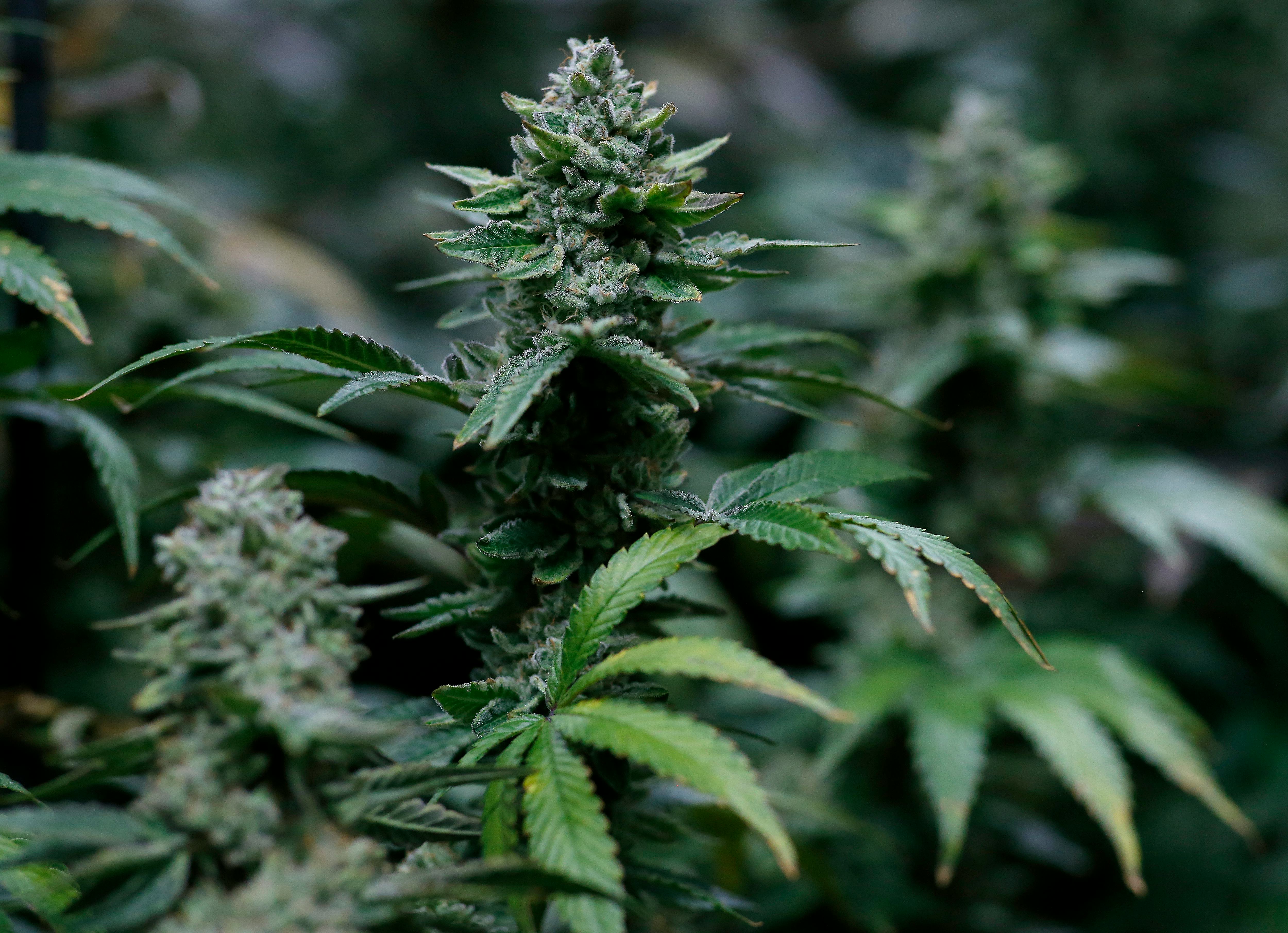 Don't go overboard, though, he warns. Start with growing three plants in five-gallon pots. This way, if one dies, you'll still have two plants, and the pots will limit their growth. A general rule of thumb is that they'll grow one foot for every gallon of soil. He recommends mixing your own organic soil, which he explains how to do on his website and will save you the headache of adding nutrients or pH testing. "The soil is what we call alive," he says. "It's always breaking things down to replenish nutrients that are missing." But if you can't mix your own soil, or don't feel like it, you could buy organic Pro-Mix soil, which Johnson says many outdoor growers use.
Cannabis cultivation laws vary widely state-by-state. Also, we can't stress this enough: Growing cannabis is illegal in a lot of places, and the penalties — which include steep fines and prison time — can be much worse than possession, since growing can imply an intent to distribute. Black and brown folx need to be especially scrupulous about heeding these rules, since law enforcement targets us way more than white people for weed-related charges, even if we consume it at similar rates.
Planting
Your cannabis will be ready to harvest at around October. You'll know they're ready when the buds "start to get really, really swollen and packed pretty tight," Johnson says. But it can be hard to tell if you're a beginner. Many growers say that if you think your plant is ready to harvest, wait two weeks, since many newbies tend to harvest too early. Or, you could share a photo of your crop on a forum and ask more experienced growers to weigh in.
Whatever you do, don't plant your clones in the ground. They'll run rampant, and "you'll have pounds of weed in your house," Johnson says, recalling the trays of weed atop his kitchen table when his crop grew wild. "You don't need the stress of plants getting out of control, growing over your fence." If your neighbors can see them, they might complain about them, and having too many plants could get you arrested.
Before you get started
Do your homework and read up on the laws in your state. Some states prohibit growing cannabis, while others, like my home state of California, permits anyone over age 21 to grow cannabis, but only up to a certain number of plants. NORML has a pretty in-depth guide to the laws in each state. Colorado, Oregon, Nevada, Vermont, and Maine also allow cultivation, but again, the specifics depend on the state. Definitely clarify what your rights are before you start the glorious path to at-home bud gardening.
Examine the tops and undersides of leaves for pests or discoloration—spider mites live on the underside of leaves—as well as stalks and branches. Also, check the soil for pests.
Generally speaking, it takes anywhere from 10-32 weeks, or about 3-8 months, to smoke what you've grown. (It'll be quicker if you start with a clone or an autoflower seed.)
Plants need 18 hours of light a day when in the vegetative stage and 12 hours a day when flowering. The reduction in light from 18 to 12 hours a day is what triggers the flowering cycle—when weed plants start to grow buds.
The main drawback is fluorescent lights are less efficient, generating about 20-30% less light per watt of electricity used; space is another concern, as it would require approximately 19 four-foot long T5 bulbs to equal the output of a single 600 watt HPS bulb.
Check for pests, mold, or nutrient deficiencies
These are just some examples of amendments commonly used in different types of soils. Heavily amended soils will have long lists that break down all organic nutrients they contain. Some companies create soils that offer a great structure with base nutrients, but allow you to fill in the gaps as you desire.
What type of container you use will depend on the grow medium, the system, and the size of your plants.
Growing weed indoors is great because you can grow it any time of year and you'll have complete control over the plant and what you put into it. Live in an apartment or a small house? Don't worry, you can grow weed practically anywhere, even if you don't have a backyard or a lot of extra space.
Equipment
A lot of people these days buy grow tents for their weed, but they aren't necessary. You can grow in a closet, tent, cabinet, spare room, or a corner in an unfinished basement. Just keep in mind that you'll need to tailor your equipment (and plants) to fit the space.
When designing your space, you'll need to take into account room for your plants, as well as space for lights, fans, ducting, and other equipment. You'll also need space to work on the plants. Cannabis plants can double in size in the early stages of flowering, so make sure you have adequate head space!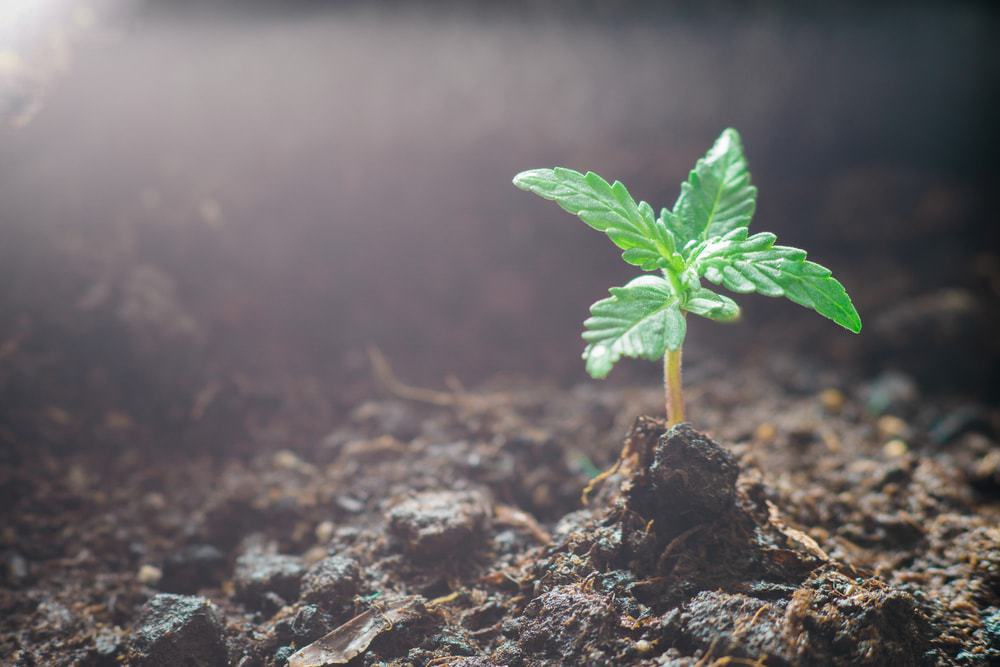 When cultivating cannabis indoors, there are two viable options: Growing in traditional soil or a hydroponic tray. Soil is typically recommended if you're growing indoors for the first time. It's cheaper, more straightforward, and more forgiving than an advanced hydroponic system. Let's take a closer look at each of the two options.
Here's a basic rundown of the most popular types of cannabis grow lights used today.
Other mixes are "neutral," without any nutrients present. These mixes need appropriate amounts of fertilizer right from the start. Amendments to soil ingredients include compost teas and mycorrhizae bacteria, as well as other organic compost nutrients.
Step 3: Fresh Air is the Lifeblood of Healthy Cannabis Plants
It shouldn't take long to get the hang of things and start producing some beautiful, flowering cannabis plants, but you'll need to make room as your plants grow. From the first signs of flowering, you can expect a plant to double or even triple in size by harvest time.
You don't need a particularly large growing/cultivating space. A typical grow room for a small-scale grower is a small tent, cabinet, or designated area in a spare room, even an unused corner of the house is sufficient! Here are a few helpful tips to get started.
4 – Successful Indoor Growing Requires the Following Features
It's very important to grow your cannabis plants to a size suitable to your space and likewise to the container you choose. You will need to transplant every time your plants double to triple their size. Small cups or 4-6" pots are good for starts.
HID lights produce a substantial amount of heat. Therefore, proper use of air circulation and conditioning becomes vital. Some growers choose air-cooled fixtures to mechanically remove heat.