Avoid all-in-one fertilizers as they can be too high in nitrogen for the flowering cycle and damage any beneficial microorganisms that may be present in the soil. Instead, choose a line of nutrients created specifically for cannabis, and use its suggested feeding charts to avoid over- or under-feeding. Organic sources of nutrients are best, as they are a great source of beneficial microbes, but they may take longer to break down and become available to the plant. Both types of nutrients can be found in dry, pre-blended powders or liquid emulsions, but can also be made from scratch with the right ingredients. Organic compost tea, which includes nutrient-rich ingredients, like molasses and earthworm casting compost, is a popular homemade brew for cannabis farmers.
During the first half of the season, the daytime period increases until the summer solstice, which occurs in the Northern Hemisphere on or around June 21 and in the Southern Hemisphere on or around December 21. While the daylight hours increase, the plant's vegetative stage takes place. During vegetation, the plant will develop the roots and stems that will serve as the foundation for growth until flowering.
Plants grown from seeds are typically heartier and more vigorous than clones, as they produce a sturdier taproot that clones are not able to replicate. Photo by: Gina Coleman/Weedmaps
Containers vs. in-ground
Some cannabis genetics have adapted to specific climates and are capable of growing more easily in certain conditions than others, so pay very close attention to the cultivars, or strains, that you choose. A little research will go a long way in ensuring you have a successful harvest.
If you decide to use seeds, make sure you start them about a month before you would typically start clones to give them time to germinate and adequately develop their taproot.
Season
During the vegetative phase, plants need more nitrogen in order to create the roots and leaves that serve as the base for flowering. During the start of the flowering cycle, the plants will require more phosphorus and potassium than nitrogen. Towards the end of the flowering cycle, once the majority of the nitrogen has been depleted, the plants will focus their attention on using the remaining nutrients. The lack of nitrogen is largely responsible for the vibrant purple and orange hues that can be seen on large fan leaves and throughout the plants' colas.
Most cultivars will begin to flower once they receive fewer than 15 hours of sunlight per day. The latitude of your garden has a direct impact on how many hours a day your plants receive light.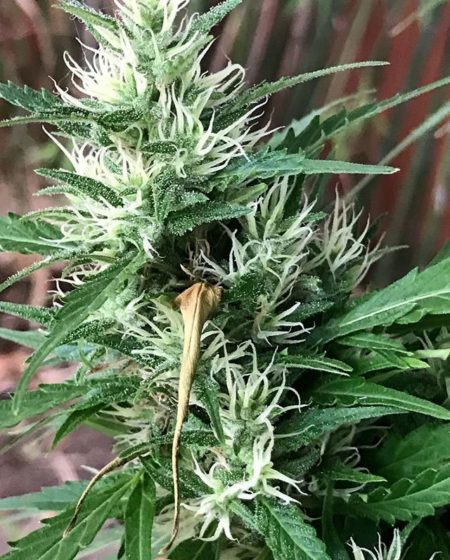 When to Harvest
To test the pH, I use a Bluelab PH Pen. I also use a PPM meter to measure the strength of nutrient solutions.
Here's a complete list of supplies you need to grow plants outdoors.
Do you do any plant training like LST, supercropping, topping, etc?
5.) Plant care
I built my backyard for privacy long before growing cannabis outdoors so it was canna-ready, but if fence height and privacy are an issue I'd recommend growing autos or scrogging photos. Have a dog to keep away cats and rodents as much as possible. Be nice to your neighbors, and a little sharing goes a long way! Sunlight availability is my number one challenge. 2-3 hrs in the morning and 3-4 hrs in the afternoon. The more the better!
A young outdoor marijuana plant
Container(s) – Air pots or Nursery Pots
How to Start Growing Cannabis Outdoors
How often do you water bigger plants?
Cannabis plants like when the root environment is slightly acidic. The optimal ph is 6-7 for cannabis plants grown in soil. It's important to check the pH of your water because plants get nutrient deficiencies if it's too high or too low. The city water where I live has a 6.5 ph so on plain-water days it comes out straight out of the hose.