Every order comes shipped in discreet, privacy wrapped packaging.
Grow your own Marijuana naturally this winter with one of our Complete Pot Grow Kits!
Our grow kits are legal in all 50 states and across the globe.
discreet packaging
Get a $40 coupon for your strain of choice from our seed partner!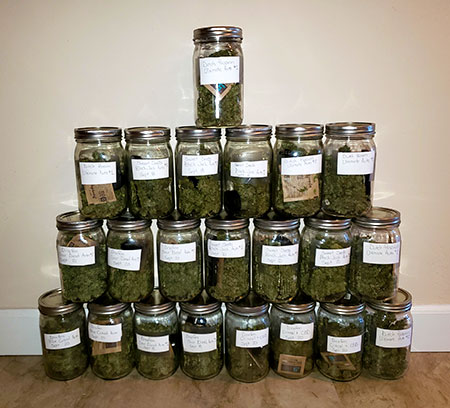 Are you interested in… LED Grow Lights?
Curing for longer than 6 months doesn't do anything, and cannabis can become less potent over time as THC turns to CBN. Keep your harvest in a cool, dry, airtight space for long-term storage.
Even if plants do fine in the vegetative stage, cannabis plants tend to be more picky and prone to problems in the flowering/budding stage. Many growers have written in to tell me they got all the way to the flowering stage without testing pH, then were surprised that they start running into nutrient problems as soon as the plants start budding. In order to make sure this doesn't happen to you, it's important to get in the habit of testing pH right from the beginning!
Young growing cannabis plants grow fastest when temps a bit warmer, in the 70-85°F (20-30°C) range.
Step 9: Harvest Your Weed
Once your plant grows the first "regular" set of leaves, it's pretty much officially in the vegetative stage. How long is the vegetative stage?
Are you ready to start growing?
It's important to pay close attention to your cannabis plants during the flowering stage. This is because in this stage your plant is much more likely to suffer from nutrient problems as they're focusing all their energy on growing buds.
Step 8: Flowering Stage
So if you know it's going to be extremely hot or cold where you live, you may need to take extra steps to protect your plants from the elements, like setting up a small greenhouse.
Soil growers – unless you're growing with composted super soil, you will need to get cannabis nutrients made for soil to make sure your plants produce at their best. Even if you started with an amended soil like FFOF, you will still need to start adding nutrients once you reach the flowering/budding stage as cannabis plants are heavy feeders and your plants will have already used up most of the nutrients in the soil by the time budding begins.