All of the hardware used for each project can be ordered online or bought at a local hardware store or grow shop.
Who should use this build?
No matter what your legal plant limit is, this tent should be able to handle it. At 80" for the main grow chamber, height is not a problem, and just about any cultivar can be propagated successfully under this build. With a 630w 3100k CMH fixture, this room can be used for both vegetative and flowering stages.
Standard cannabis grow setup: $1,000
Total cost: $466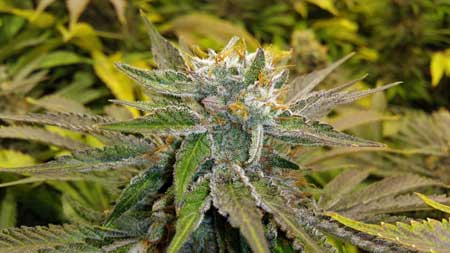 These autoflowering plants were trained to grow short and bushy
For example, these autoflowering plants are bushy and short because I trained them to grow in that shape (starting when they were just 3 weeks old). This bushy shape forces cannabis plants to grow many bud sites as opposed to just one main bud site at the top of the "Christmas tree".
The hardest part of growing is choosing a good setup. Once you create a nice growing environment, nature will do a lot of the work for you.
1.) Set up your grow space
Your plants need a place to put their roots. You have lots of different grow medium options for growing weed, and the most common is good old-fashioned soil.
If you have followed the instructions so far, you're now approaching harvest! I've created a complete guide to harvesting your weed but here's a quick summary of when to harvest:
Seeds or clones – Starting at $30 for 3 seeds
After plants start flowering, double-check to make sure all your plants are only growing white hairs at the joints. This ensures your plants are female and forming buds.
Different strains may have a different bud appearance at harvest, but the general idea is the same (hairs darken and curl in, buds are fat)