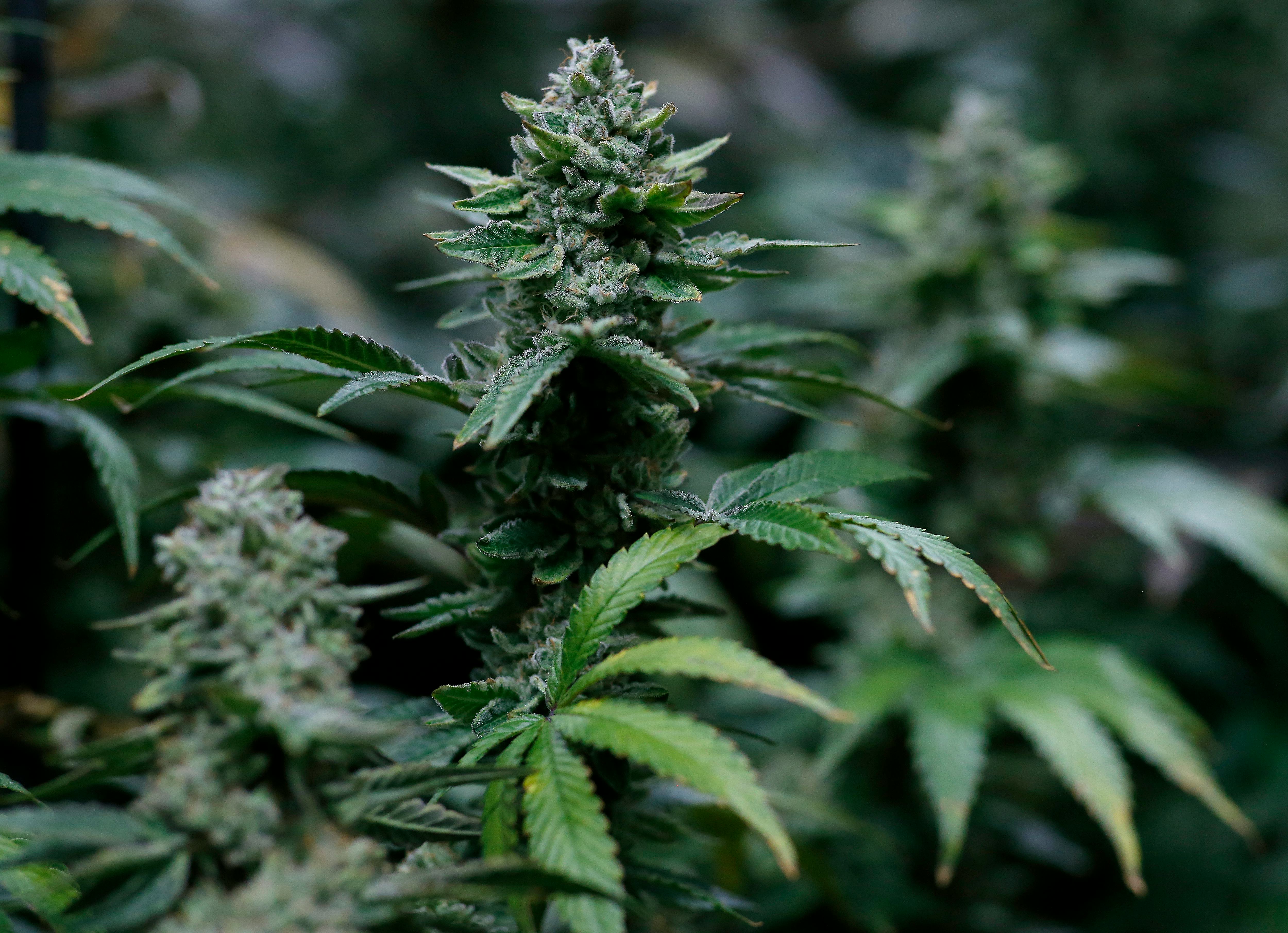 Johnson notes that the outdoor grow season lasts from around April to October, meaning if you plant seeds now, they'd still yield flower, but not much. Since it's late in the season, he suggests buying a large clone, which will have more branches and therefore yield more flower.
Cannabis plants can be either male or female. Female plants yield the plump flowers, a.k.a., "buds," that we know and love, brimming with psychoactive compounds like tetrahydrocannabinol (THC, which gets you high), Modern Farmer explains. Male plants yield much smaller flowers, which people typically don't consume. In other words, if you want to actually indulge in your crop, you'll want female plants.
Planting
To check if your cannabis is ready for trimming, perform a break test on each branch. If it bends so much it nearly breaks, then it's ready, and if it breaks right away, it might be overly dry, but still totally usable. Trim off the buds and seal them inside a mason jar for curing, opening it periodically over the course of about four weeks to let moisture escape. Johnson outlines a detailed schedule on his website, including instructions on how to look for mold.
Do your homework and read up on the laws in your state. Some states prohibit growing cannabis, while others, like my home state of California, permits anyone over age 21 to grow cannabis, but only up to a certain number of plants. NORML has a pretty in-depth guide to the laws in each state. Colorado, Oregon, Nevada, Vermont, and Maine also allow cultivation, but again, the specifics depend on the state. Definitely clarify what your rights are before you start the glorious path to at-home bud gardening.
Before you get started
While you can absolutely grow cannabis indoors, outdoor cultivation is much simpler and cheaper, says Ron Johnson, author of How to Grow Organic Cannabis: A Step-by-Step Guide for Growing Marijuana Outdoors, who also runs the website The Cannabis Gardener. "The sun is free," he tells Mic. "You don't have to pay hundreds of dollars a month in electrical bills." An outdoor garden probably won't allow you to turn over product fast enough, but it'll suffice if you just want to grow weed for yourself. Plus, it's gentler on the planet.
Heavy clay soils drain slowly and don't hold oxygen well, so they will need to be heavily amended. A few weeks before you plant, dig large holes where you'll be placing your weed plants and mix in big amounts of compost, manure, worm castings, or other decomposed organic matter. This will provide aeration and drainage, as well as nutrients for the plants.
Garden plot: Probably the most common outdoor growing spot, many will plant cannabis alongside other growing veggies.
In hot climates, sandy soil should be mulched to help with water retention and to keep roots from getting too hot.
Sandy soils
There are also commercially available soil blends that already contain the proper mix of these types of ingredients.
Big yields
Privacy and security
We also advise against using nutrients designed for indoor weed growing—they are generally composed of synthetic mineral salts and can damage soil bacteria.
We recommend these organic fertilizers: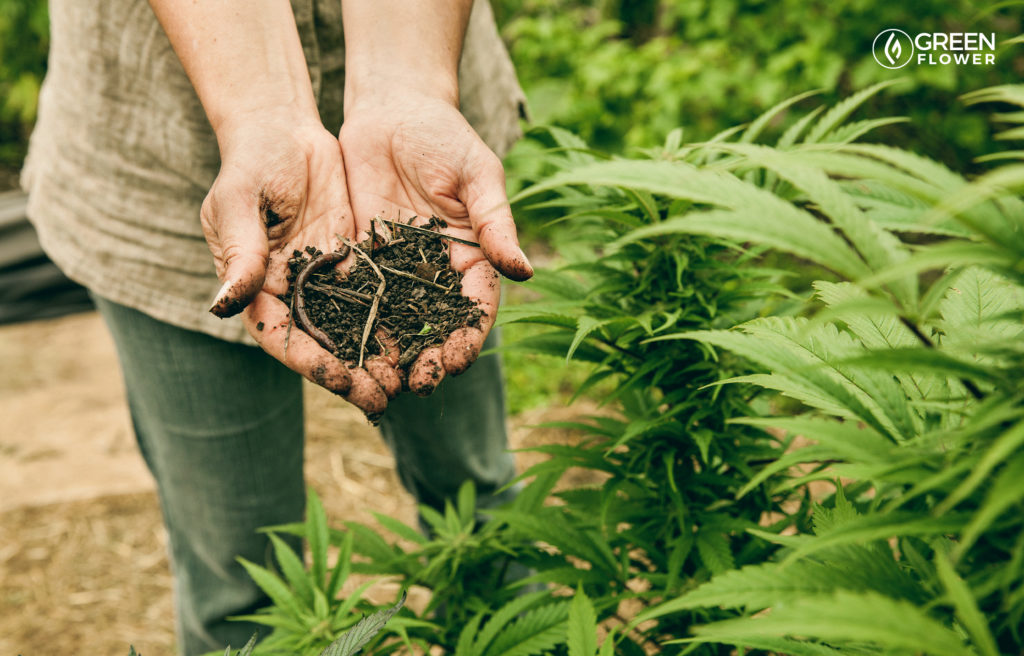 The best cultivators in the Emerald Triangle cultivate cannabis in containers that are as large as 200 gallons, with the soil filling the containers carefully selected for its nutrients (often referred to as 'super soil'). Fiber pots are better than plastic pots, however, having to use plastic pots is not the end of the world.
Knowing what factors are involved and what they entail before you start growing is vital to success. Rather than scrambling in the middle of the vegetative stage or flowering phase to try to incorporate strategies or mitigate disasters, when it is likely too late in the game, it's best to plan ahead.
The quality of the soil and water a cannabis plant uses is vital. Many new growers think the soil in their yard is sufficient to grow a healthy cannabis plant, however, that's rarely the case. It is a far better strategy to cultivate cannabis in a container.
Bracing Is Important
Find a dark, dry place with a consistently moderate temperature to dry your harvest. Keep in mind that you want to be able to have the hanging branches separated to avoid any mildew or mold issues. Also, keep in mind that it is going to smell a lot in that area and that the smell will likely linger long after the buds are gone.
While it is perfectly fine to be ambitious, newbie cultivators need to temper their expectations and know that growing cannabis outdoors takes solid planning, a lot of work, and a predetermined strategy that's been executed well.
Picking The Right Cannabis Strain
When it comes to cultivating cannabis, the learning journey never ends. Even the most famous cannabis cultivators are still learning new things every day about the cannabis plant and how to cultivate it more effectively.
If you succeed at cultivating outdoor cannabis plants that yield big buds, which is obviously the goal, you will want to prepare ahead of time for harvesting and drying those buds. A massive outdoor cannabis plant is going to produce a massive amount of buds.