These bulbs contain mercury and metal halides, produce a blueish light, and are commonly used for vegetative growth. They require a ballast to regulate the current. In the past, ballasts have been big and bulky, but digital ones are now available.
There are many different kinds of lights out there, so it can be daunting to know where to begin. Here's a guide to four basic types of grow lights on the market and the pros and cons of each.
Consider how often you'll be growing weed and how long it will take to pay off the initial investment—if you grow once a year, it'll take a lot longer to pay off an expensive light than if you grow multiple harvests a year.
MH (Metal halide)
Both types of HIDs are usually inexpensive to buy but will eat up electricity. HIDs throw off a lot of light and heat, which the plants need to bulk up and get potent. But, they run hot, contain heavy metals, and ballasts can fail.
These HID bulbs usually contain sodium, mercury, and xenon, and produce a yellow/orange light, and are commonly used for flowering plants. Some growers will start plants under MH bulbs and switch them to HPSs when plants go into the flowering stage, using the same hood. These lights also require a ballast.
Here are a few different HID grow lights at different price points.
How much does a grow light cost?
Make sure you have enough outlets and power available in your breaker board for your grow space to comfortably accommodate all equipment. Figure out all pieces of equipment, such as lights, fans, possibly an AC or dehumidifier, and calculate how much power they'll require. You'll be running this equipment every day for months, so if you don't have enough power it can be dangerous. Never overload an electrical outlet.
Fixtures come in all shapes and sizes and can usually accommodate 4-12 long fluorescent bulbs; a standard size is 8 bulbs. Fixtures usually have a reflective material to bounce light in one direction, down on your plants.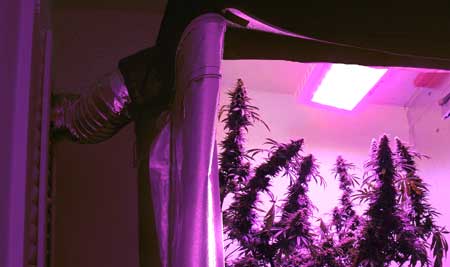 3.) LED Grow Lights
Fluorescent grow lights come in many different shapes and sizes, from twisty bulbs to long tubes. Fluorescents are popular because they make efficient and pleasant lighting for humans, and also work great for herb gardens and other types of low-key indoor gardening without using a lot of electricity.
HIDs are very well suited to growing cannabis and very easy to use once they're set up. If your main goal is to get the highest yields possible, then HIDs are the way to go! However, they do require extra setup compared to the other grow lights because chances are you will need a fan to vent out heat from your grow space.
Compare the Pros and Cons of Each Grow Light
High Pressure Sodium (HPS) Grow Lights
These are actually just two names for the same thing. This type of metal halide bulb uses ceramic as part of the lamp just like an HPS. As a result, CMH bulbs are more efficient than regular MH lights (though still not as efficient as HPS bulbs).
T5 grow lights are one of the most easily available types of grow lights and are used to grow many different types of plants. As a result, they're available in many garden and home improvement stores.
Pros of Fluorescents
HID grow lights are much more efficient than fluorescent lights and are powered by large, oddly-shaped bulbs. They are usually screwed into a reflector or hood to reflect more light down onto the plants. HIDs are great at growing cannabis, but they also get very hot and are usually hooked up to an exhaust to help vent out heat.
Overwatering When Switching from HIDs to LEDs
Regular HID lights produce a lot of heat and generate lots of infrared light. This dries out the plant and the soil and results in the need to water the plant more often. However, LED lights generate no infrared light and don't emit nearly as much heat, so there is no need for abundant watering.
For people who use cannabis derived products on a regular basis, it is very tempting to try growing the plant at home. The benefits are quite obvious: the cost is drastically lower and there aren't any hassles related to the actual purchase of medical marijuana.
Many people all around the world grow cannabis at their homes, be it for recreational or medicinal purposes, and while some of them do quite well and manage to produce a good product, for others it doesn't work so well – their plants wither quickly or produce insignificant yields.
Not Protecting and Maintaining the LED Lights
LED grow lights are your friend and an important investment, so you need to take proper care of them. They bring numerous benefits to the growing process and a little maintenance and preparation can save you a lot of trouble. It is recommended that you set up a power stabilizer and connect it to the lights in order to equalize the incoming voltage, thus protecting the chip inside the LEDs.
These issues can be related to improper usage of lighting. (The same issues affect other types of plants as well.) Grow lights are a great tool for making the growing process more efficient, but they can also be harmful to the plant if not used correctly.
Selecting the Wrong Light Spectrum
In order to grow efficiently, plants need different types of light for each growth stage. With full-spectrum LED lights this is easily achievable, but if you select the wrong setting, the plant will not develop well. You should also take into consideration the conditions in the room where you're doing the growing. For example, plants benefit most from light in the blue spectrum when they're in the vegetative stage of growth. That means that if you set the light to emit light in the red spectrum, you will only be hindering the plant's growth.
Using the Wrong Light Schedule
You should be careful not to leave the lights on all the time, or worse, the opposite – forget to turn them on. It might sound trivial but it's quite easy to mess up the light schedule and even a minor change might have a negative impact the plant's growth. Cannabis needs about 18-24 hours of light during the vegetative stage and 12 hours of light during the flowering stage.
In this article, we'll provide you with the 10 most common things you should pay attention to when using LED grow lights so you can grow healthy looking plants and avoid any unnecessary hassle. This information is extremely relevant to beginners.
Overheating the Plants
You will know the plant is taking too much heat if the leaves that are closest to the light start turning brownish. The first signs look like thin outlines on the outside of the leaves, so if you catch this quickly you will have a chance to avoid further damage. If some of the leaves start curling up, it might also be a sign that the plant is too close to the light. Good ventilation usually also helps with this issue.
Setting the Lamps at an Improper Distance
Overheating or insufficient lighting can result from having too many or not enough lights, but it can also result from placing the lights too close or too far from the plants. There is no universal rule for setting the distance but it's recommended that LEDs are placed 12 to 18 inches away from the plants.