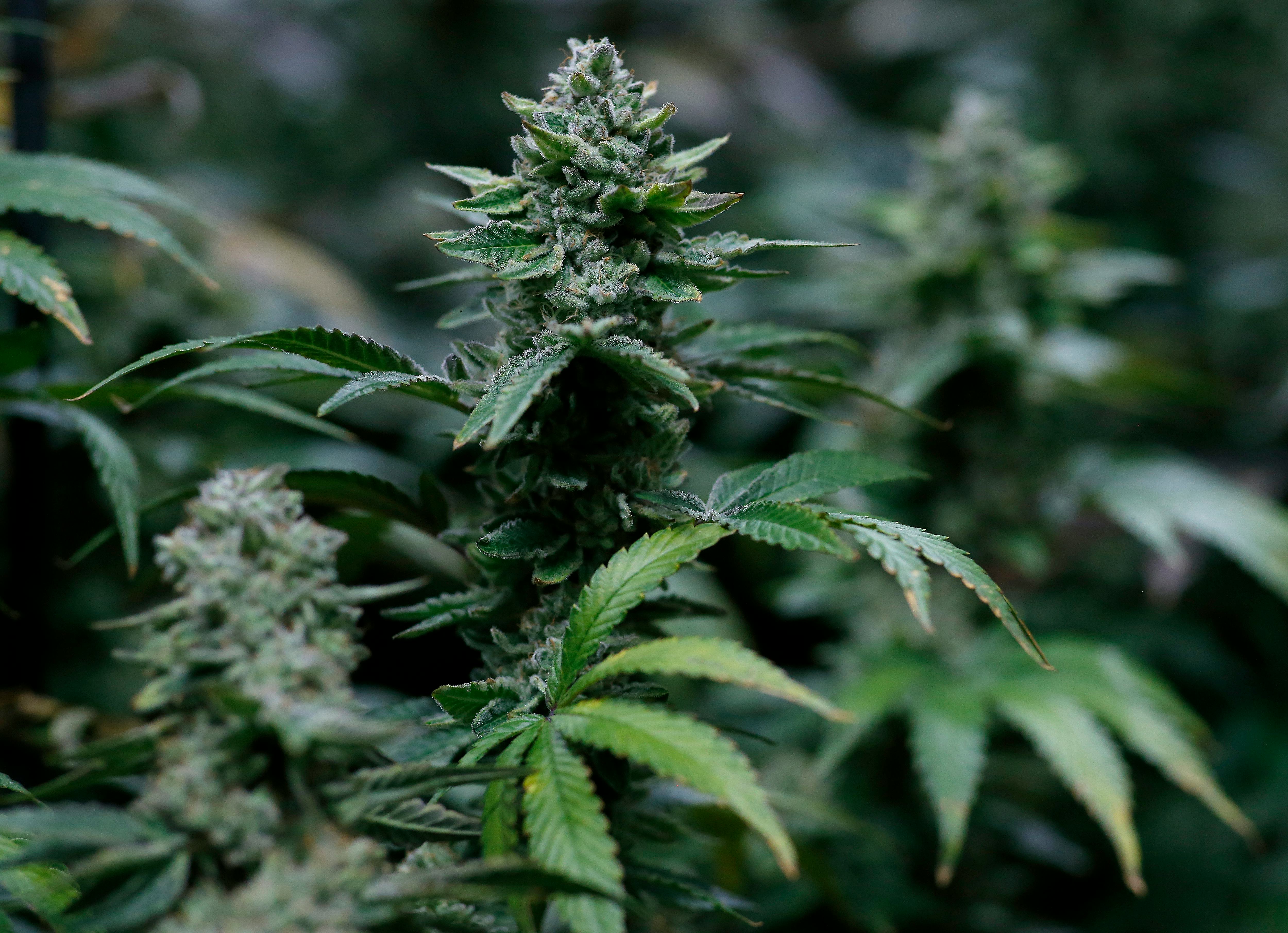 If you use organic soil, all you'll really need to do is add water, Johnson says — but don't overdo it. The number one mistake he sees new growers make is watering their plants too often. In general, "watering every day is too much. The rule is, if you pick up your plant, and the pot is heavy, then it has a enough water. If it's light, it's dry, then you need to water." You could also stick your finger knuckle-deep into the soil; if it feels dry, add water.
Whatever you do, don't plant your clones in the ground. They'll run rampant, and "you'll have pounds of weed in your house," Johnson says, recalling the trays of weed atop his kitchen table when his crop grew wild. "You don't need the stress of plants getting out of control, growing over your fence." If your neighbors can see them, they might complain about them, and having too many plants could get you arrested.
Cannabis cultivation laws vary widely state-by-state. Also, we can't stress this enough: Growing cannabis is illegal in a lot of places, and the penalties — which include steep fines and prison time — can be much worse than possession, since growing can imply an intent to distribute. Black and brown folx need to be especially scrupulous about heeding these rules, since law enforcement targets us way more than white people for weed-related charges, even if we consume it at similar rates.
Upkeep
Johnson notes that the outdoor grow season lasts from around April to October, meaning if you plant seeds now, they'd still yield flower, but not much. Since it's late in the season, he suggests buying a large clone, which will have more branches and therefore yield more flower.
If you buy seeds from a seed bank, look for those labeled "feminized" to ensure they give rise to female plants, Johnson says. But if you're a total newbie, he suggests buying clones, which are cuttings from a "mother" female plant, available at some dispensaries, as well as at nurseries. Not only are they easier to obtain, "they're easier to grow. You get a clone, and you transplant it to some soil."
Cannabis plants can be either male or female. Female plants yield the plump flowers, a.k.a., "buds," that we know and love, brimming with psychoactive compounds like tetrahydrocannabinol (THC, which gets you high), Modern Farmer explains. Male plants yield much smaller flowers, which people typically don't consume. In other words, if you want to actually indulge in your crop, you'll want female plants.
Planting
When the pandemic hit, many of us turned to quaint pastimes to soothe our existential dread, whether it was baking sourdough, knitting, or doing jigsaw puzzles. If you want to expand your repertoire of distraction methods with an activity that still has that quiet, homey vibe, but with a bit more of an edge, consider growing your own weed.
Since clones come from plants that have been grown indoors, let yours chill in a shaded area for a week before exposing them to full sun, Johnson says. "The clone hasn't tasted sun like that, and the transplant itself will be stressful."
Heavy rains and high winds can cause physical damage to plants and reduce yields, and excessive moisture can lead to mold and powdery mildew, especially during the flowering stage.
Garden plot: Probably the most common outdoor growing spot, many will plant cannabis alongside other growing veggies.
Sunlight
Relying on the power of the sun, you won't need to spend a ton of money on an outdoor grow. You'll need some soil, fertilizer, seeds or clones, and maybe a small greenhouse to get them started. You won't need to pay for electricity for lights, AC units, or dehumidifiers, and you can even collect rainwater.
Types of outdoor grow spaces
You can plant directly into the ground, using the preexisting soil, but you'll need to understand your soil's composition and amend it accordingly. If you go this route, we recommend getting your soil tested, which will minimize headaches, and it's easy and relatively inexpensive. A soil test will tell you the makeup and pH of your soil, any contaminants present, and will recommend materials and fertilizers to amend your soil.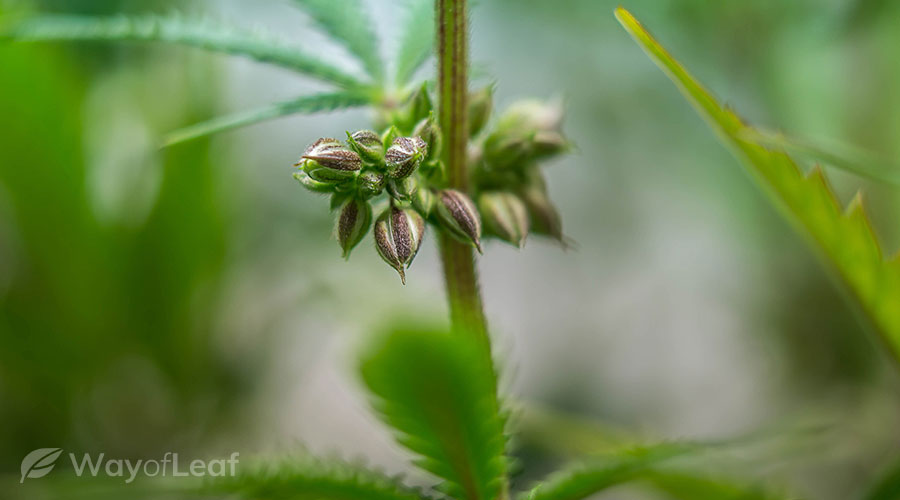 The chief downside to growing from seed is that the outcome is less predictable than it is with clones. If you don't choose an inbred seed line, you could end up with a different plant to the one you expected. Also, cannabis seeds produce males and females. This means you have to sex your plants when they achieve sexual maturity. This process involves culling the male plants. You can avoid this issue by purchasing feminized seeds.
Even if it is legal to grow outdoors in your location, there will always be judgmental individuals and possible thieves. Try and plant your marijuana so that it is hidden behind tall fences or shrubs.
The plant's trichomes should have turned an opaque white color at this stage, too. This is a good indication that they are fully mature and ready for harvesting.
If you live in a warm climate, be wary of excessive heat damaging the roots. It is normal for container-grown pots of soil to exceed 90 degrees on a hot day. Always water the plants generously in the morning to ensure they don't dry out during sweltering afternoons.
Clones
The type of strain you're growing dictates the duration of flowering. For example, most sativa strains will go through the full growth and flowering cycle in a little over three months.
Take note that growing the weed in containers will impact the size of the plant. Container-grown marijuana will be smaller because root growth is restricted. In other words, the size of the container determines the size of the plant.
It isn't easy to find the best location. Not only must it offer ideal growing conditions, but it must also be safe from discovery, even when planting legally. If you are adhering to the law, private property is best because you have full access and can control security. Otherwise, you have to risk public property, which increases the chances of discovery.
Some Potential Grow Sites for Outdoor Growers
Threats like moles, who push up from the soil beneath your plants, require extra planning. An excellent way to prevent them from causing damage is by building a fence around 2-3 feet beneath the soil. You can also use deterrents such as urine from predators like coyotes, to ward off rabbits, gophers, and raccoons. Household items such as garlic and castor oil are pretty effective deterrents, too.
There's no doubt that growing marijuana outdoors comes with challenges (which we address later on), but it also has a list of cool benefits: