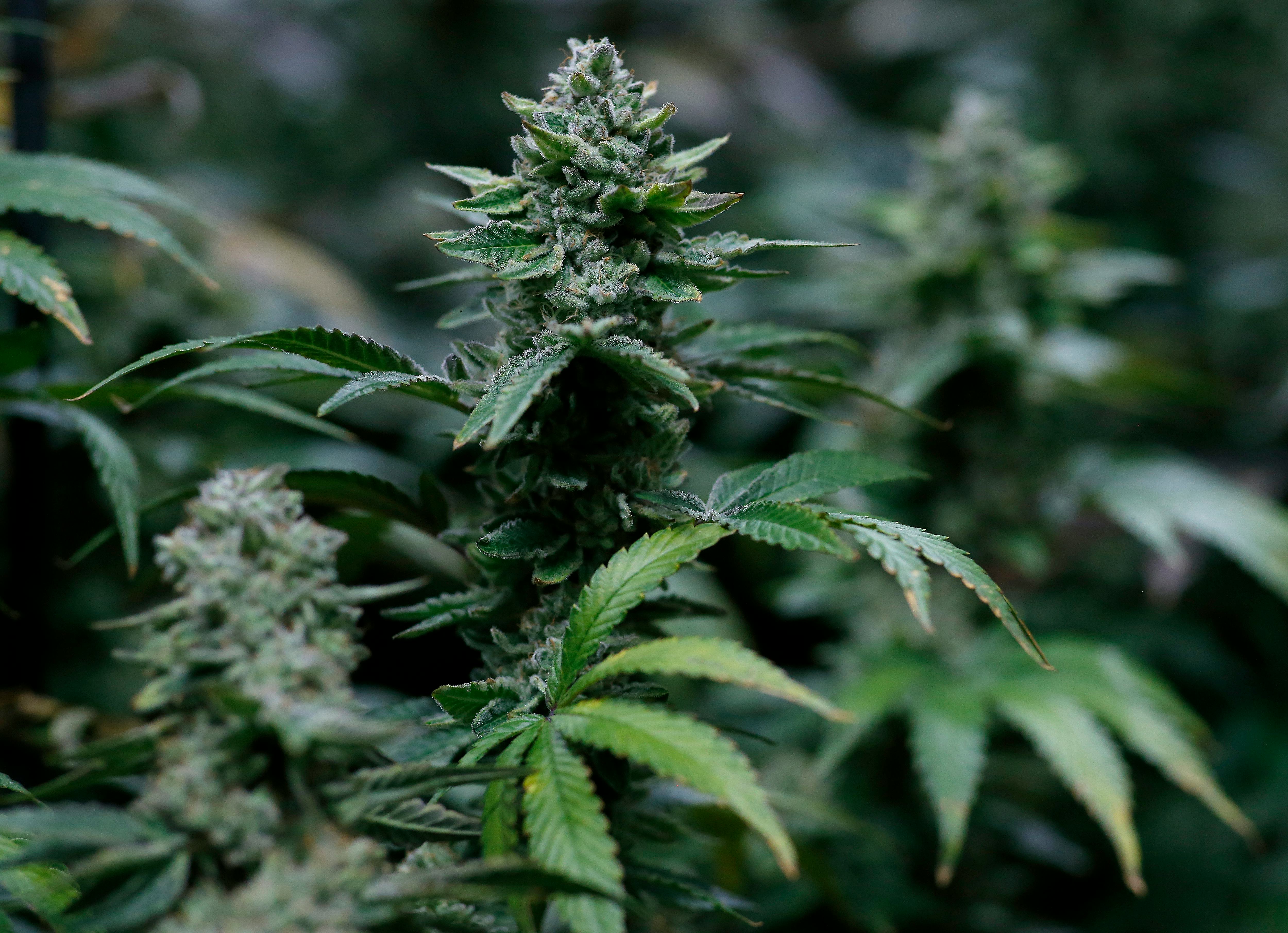 Your cannabis will be ready to harvest at around October. You'll know they're ready when the buds "start to get really, really swollen and packed pretty tight," Johnson says. But it can be hard to tell if you're a beginner. Many growers say that if you think your plant is ready to harvest, wait two weeks, since many newbies tend to harvest too early. Or, you could share a photo of your crop on a forum and ask more experienced growers to weigh in.
Don't go overboard, though, he warns. Start with growing three plants in five-gallon pots. This way, if one dies, you'll still have two plants, and the pots will limit their growth. A general rule of thumb is that they'll grow one foot for every gallon of soil. He recommends mixing your own organic soil, which he explains how to do on his website and will save you the headache of adding nutrients or pH testing. "The soil is what we call alive," he says. "It's always breaking things down to replenish nutrients that are missing." But if you can't mix your own soil, or don't feel like it, you could buy organic Pro-Mix soil, which Johnson says many outdoor growers use.
Do your homework and read up on the laws in your state. Some states prohibit growing cannabis, while others, like my home state of California, permits anyone over age 21 to grow cannabis, but only up to a certain number of plants. NORML has a pretty in-depth guide to the laws in each state. Colorado, Oregon, Nevada, Vermont, and Maine also allow cultivation, but again, the specifics depend on the state. Definitely clarify what your rights are before you start the glorious path to at-home bud gardening.
When the pandemic hit, many of us turned to quaint pastimes to soothe our existential dread, whether it was baking sourdough, knitting, or doing jigsaw puzzles. If you want to expand your repertoire of distraction methods with an activity that still has that quiet, homey vibe, but with a bit more of an edge, consider growing your own weed.
Upkeep
There are different harvesting methods, but Johnson cuts the whole plant at the base and hangs it upside down with some twine in a dark room at a temperature of around 70 degrees Fahrenheit. Add a fan for airflow — you definitely don't want the room to be humid, which will cause mold to grow, rendering your crop unusable. It'll probably take around a week to dry.
Cannabis cultivation laws vary widely state-by-state. Also, we can't stress this enough: Growing cannabis is illegal in a lot of places, and the penalties — which include steep fines and prison time — can be much worse than possession, since growing can imply an intent to distribute. Black and brown folx need to be especially scrupulous about heeding these rules, since law enforcement targets us way more than white people for weed-related charges, even if we consume it at similar rates.
If you buy seeds from a seed bank, look for those labeled "feminized" to ensure they give rise to female plants, Johnson says. But if you're a total newbie, he suggests buying clones, which are cuttings from a "mother" female plant, available at some dispensaries, as well as at nurseries. Not only are they easier to obtain, "they're easier to grow. You get a clone, and you transplant it to some soil."
Planting
Since clones come from plants that have been grown indoors, let yours chill in a shaded area for a week before exposing them to full sun, Johnson says. "The clone hasn't tasted sun like that, and the transplant itself will be stressful."
If you use organic soil, all you'll really need to do is add water, Johnson says — but don't overdo it. The number one mistake he sees new growers make is watering their plants too often. In general, "watering every day is too much. The rule is, if you pick up your plant, and the pot is heavy, then it has a enough water. If it's light, it's dry, then you need to water." You could also stick your finger knuckle-deep into the soil; if it feels dry, add water.
As your indoor weed plants grow, they'll need less attention, but you'll still need to check up on them every 2-3 days.
Carbon filters usually work best when positioned at the highest point in your grow space, where the most heat accumulates.
Light emitting diode (LED) technology has been around for a while, and they are getting more efficient all the time. The main drawback to LED grow lights is their cost: well-designed fixtures can cost 10 times what a comparable HID setup would.
Ceramic pots
It can be tricky getting the right balance of temperature and humidity because they affect each other—turning up your dehumidifier will lower the humidity of your grow space, but it will also increase the temperature of the area. This in turn may require you to turn on an AC unit—everything's connected!
Fluorescent light fixtures, particularly those using high-output T5 bulbs, are quite popular with small-scale cannabis growers because:
Plants need 18 hours of light a day when in the vegetative stage and 12 hours a day when flowering. The reduction in light from 18 to 12 hours a day is what triggers the flowering cycle—when weed plants start to grow buds.
Odor absorbing gels may help
The two factors you need to control to dial in the environment are temperature and humidity.
Cannabis, like all plants, prefers certain environmental conditions in order to thrive. Temperature, humidity, light intensity, and airflow are all factors that will need to be monitored and regulated in order to keep cannabis healthy through its different phases.
The final step involves harvesting your plants. Once you get used to the process, you'll find it more enjoyable than tedious.
It shouldn't take long to get the hang of things and start producing some beautiful, flowering cannabis plants, but you'll need to make room as your plants grow. From the first signs of flowering, you can expect a plant to double or even triple in size by harvest time.
Harvesting hemp and cannabis is a lovely experience. It is one we recommend to any weed lover who has a passion for all aspects of the plant. You learn so much about cannabis and botany/biology in general. Most growers believe they learn something new with every harvest.
Marijuana plants are "bioaccumulators," which means they "suck up" everything around them (both in the air and the soil). Make sure the area surrounding the plants is clean enough to keep potential contaminants out.
Step 10: Cut Your Cannabis Plants Down — Carefully!
Induction lamps are an odd choice for indoor growers. However, some companies have recently adapted them for the cannabis industry. They can potentially represent decent value in terms of cost and efficiency.
Nikola Tesla invented the process of generating heat from magnetic induction in the 19th century. These types of lamps produce bright light with little heat compared to HID setups.
Make sure you have consistent airflow across your entire plot. Depending on the size of your grow room, you can achieve this easily. Utilize several types of fans, including oscillating wall mount, stand fans, and box fans. Place them strategically to create good air flow throughout the space.
1 – Begin Growing from a Small Plot & Adjust as Necessary
Whether you're using an organic soil mix or growing hydroponically, your cannabis plants need the "super seven" macronutrients. In no particular order, these are:
Here's a basic rundown of the most popular types of cannabis grow lights used today.