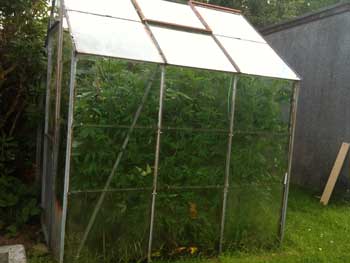 You should be able to visit the spot at least once a week to tend to your plants.
Outdoor growing has some incredible benefits, including the availability of free light. Light is like food for cannabis plants and in the flowering stage, the amount of bud produced is directly proportional to the amount of light received by the plant (especially at the bud sites). The plant is converting light energy into buds.
Smell
However, consider that a greenhouse might look suspicious if it's all by itself in the middle of the yard, especially if you don't typically do a lot of yard work or gardening
Check out any possible grow spot at least 3 different times, and on both weekdays/weekends to make sure you never see hikers or other people in the area.
Consider planting your cannabis in a decorative planter or container that causes it to grow in non-typical growth patterns. Adding flowers to some of the empty pots would complete the illusion.
Consider that people might be able to smell your plants. Some plants smell a little "weedy" in the vegetative stage, but by the time your plant is flowering and getting close to harvest, the smell can be overwhelming, especially with certain "high-smell" strains.
Even if you're certain no one will be around except yourself, you should still try to camouflage your plants as best you can by using the tips given above.
Bonus: Outdoor Plant Health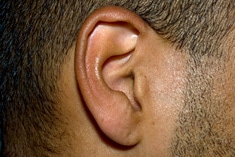 Technology and the way we communicate changes so rapidly these days, that many of us aren't aware that we now do things that give away a lot of information about what we do. You don't need to be a computer wizard, but these terms will definitely help you maintain your privacy in the digital age:
Low odor strains definitely aren't fool-proof, but they can help make things easier. These are just a few examples of strains that are known to have a relatively low or neutral smell, but there are many others. Learn more about researching strains.
If you've ever gone to a forum for advice on growing cannabis, you'll know that there is no shortage of opinions on what you can do to become a better grower.
Sight
In the U.S., many states have their own laws on how marijuana is treated. Some states will send marijuana users to jail for years, some will give them counseling, others will just give a fine, and some do nothing at all.
Low Odor Marijuana Strains – Strains known for producing low/non-marijuana-like odor:
Smell
Note: Smells are usually more intense when the environment gets hot and humid.
There are benefits to both of these growing methods, but when it comes purely to stealth, indoor growing is the way to go. Indoors, you can completely control smell and sound, plus your plants are out of view. Outdoor growing has one potentially major problem that indoor growers are pretty much safe against… people wandering by. This is especially problematic when the plants are being grown on your property. Many outdoor growers have been busted by nosy neighbors, city/utility workers, or just bad weather (floods have revealed hidden outdoor grows, for example). If you can grow indoors, you'll make yourself that much harder to find.
A decent ozone generator is the Uvonair generator, which uses a diffusor crown to produce ozone; you'll need to replace it every now and then. Like every other ozone generator on the market, you'll need to place it right before your extractor fan outlet. It should have at least 5m of ducting in front for it to work properly. In order to avoid issues with ozone leaks, we recommend using a non-return valve in between the extraction fan and the ozone generator. Place your intake fan on the opposite side to the extractor, down low.
Neutralizers are products created from various different plant extracts and chemical products. They are capable of trapping, modifying or even destroying cannabis odor particles with incredibly efficiency. These types of products usually come with a small electric diffusor that is used to heat the mix and spray it around the room.
One of the best activated carbon filters is the Anti-odor Filter Mountain Air, which is so efficient that it has won prizes for it. These high quality filters made in Canada can filter almost 100% or any aromas thanks to its high quality activated carbon and its innovative design and shape. They usually last for about two years, depending on how intensely you plan on growing cannabis. These filters are perfectly safe and eco-friendly.
Before you actually start growing cannabis indoors you'll need to make sure that air gets in and out exactly where it's supposed to; any leaks would be disastrous and would defeat the point of hiding the smell. Once you've checked everything and set up your filtration system (which needs to be strong enough to filter the amount of air in your grow tent or room) you need to make sure that your extractor and air intake system is creating negative pressure, which makes sure that all of the air inside the tent or room will be sucked out via your extractor fan rather than leaking out anywhere else.
Activated carbon filters
On the one hand you can use air fresheners or odor neutralizers, which can be found in gel or liquid format and are generally used as an extra measure – they usually aren't potent enough to do the entire job themselves when plants are in bloom. On the other hand you can also use activated carbon filters, which usually come in fabric or metal casings and are used by attaching them to your extraction fan system; they can filter up to 90% of all odors. Last, but not least, you can also use an ozone generator, which is also installed to your extraction ducting, however you must not let the ozone come into contact with your plants.
ONA gel products can be used inside cannabis grow rooms or tents without damaging the plants at all. These products are generally used to back-up carbon filters by placing them inside your ducting. They're also used to camouflage the aroma when drying cannabis or for areas near your grow room like the hall or your garage. You can also acquire sprayers and the like so that you get the absolute most out of it.
If you want to make your grow as discreet as possible you'll need to set up a decent air filtration system, as well as some sort of anti-odor method that covers, gets rid of or filters the smell of cannabis. We're going to give you a run-down of some of the best methods that you can use to hide the smell of cannabis plants indoors, which can save you a lot of grief in the future.
Anti-odor gels
One of the best ways to guarantee total odor filtration and stop the aroma of weed getting out of your room or grow tent, is to use various products at the same time. Let's have a look at some examples:
Carbon filters are classic cannabis filtering devices. Not all carbon filters work the same when it comes to filter power and lifespan; you may want to pick a high quality device – you may need to shell out a bit more money. You'll also need to pick one that's right for your extractor or else it won't work correctly.